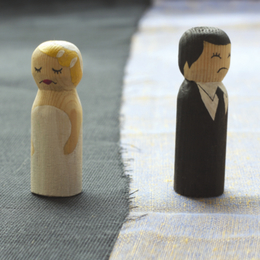 Bent but Unbroken
The end of a marriage, however difficult, represents an opportunity for reinvention and renewed happiness.
Fifty percent. It's an ironic figure, as an illustration of 50 percent might appear as a whole cut in half, a pie chart split precisely down the middle, two separate parts divided equally.
As many as half of all U.S. marriages end in divorce, according to commonly accepted statistics. Millions of Americans every year find themselves on the uneven footing that comes from having to start over, rebuilding a life after the often-excruciating process of telling someone they once loved, "I'm sorry, but it's over." In the aftermath, they're also left trying to answer a question that can be both liberating and terrifying: "What now?"
This applies not only to where each party will live and how they will go about pursuing new lives separate from each other, but also solving a more immediate issue: the "nuts and bolts" of getting divorced, including finding the right team to aid in the process—namely, an attorney, a financial advisor, and, perhaps, a skilled therapist who treats individuals and families alike. Putting the right team in place is essential, quite possibly the key to not just surviving the divorce process but also thriving once the divorce decree has been issued.
Traditional litigated divorce may still be the most frequent way for two people to become legally uncoupled, but an increasing number of folks are choosing options such as mediation and collaborative divorce, two options that attorneys suggest tend to be less combative, less expensive, and easier on families. Sometimes, though, a litigated divorce may be the best path forward, particularly in cases that involve abuse or contentious custody disputes.
We spent much of the past year accumulating the knowledge of men and women who deal with divorce day in and day out. These family law attorneys offered their perspective on making decisions before, during, and after the last I is dotted and the last T crossed.
Here's what they told us.
"The perception surrounding divorce and custody needs to change. People need to prioritize their children above their personal animus towards one another when divorcing. They can and should strive to be better co-parents despite being unsuccessful as husband and wife. I encourage clients to treat co-parenting like a business relationship, to be respectful, and to communicate constructively as if they were speaking to a co-worker or boss. This helps them, and their children, transition to a happier and more stable place."
—Randi L. Rubin, Klehr Harrison Harvey Branzburg LLP
"Going through a divorce can be a terrifying process, and taking the first step—just going to meet with an attorney—is often the most difficult part. That's why I've always made it a point to provide free consultations. The information from a consult is empowering. Knowing their legal rights can help people make the decision whether to proceed because they're no longer living in fear of the unknown."
—Jennifer J. Riley, The Law Offices of Jennifer J. Riley
"No one goes into a marriage thinking a divorce is possible. That's why there is often a need for a pre-nuptial agreement, especially in second or third marriages. When you're 21 and getting married for the first time, the need for a pre-nup is not all that great unless you're coming into the marriage with family money. But when you're over 50 and have children, retirement assets, and everything else that comes with success, a pre-nup is very important to consider."
—Jeffrey A. Liebmann, Liebmann Family Law
"There are many ways to win a case, and convincing an opposing counsel that you are in a confident position and well prepared often avoids the need for a court hearing. I'd say I'm a mediator first, a negotiator second, and, as a last resort, a litigator. Litigation is expensive and often has unintended consequences. I try to keep clients out of court and negotiate a good settlement at a reasonable cost. Most importantly, I must make sure my clients' rights for an equitable distribution of the marital assets and household income are protected."
—Jill E. Trayer, Trayer Law
Leaders in Family Law
When it comes to divorce, it takes a strong hand, a nimble mind, and a compassionate shoulder to lead someone safely to the other side. We polled our readers for their perspective regarding who they turn to when they need expert legal guidance and representation in family law matters. The results of that poll are listed here, along with some additions of our own based on attorneys we highlighted in the past year.
Robert E. Angst
Valerie Rosenbluth Angst
ANGST & ANGST P.C.
Doylestown, Harleysville
angstlaw.com
Michael E. Bertin
Cara A. Boyanowski
Tara Burns
Julie R. Colton
Samantha J. Evian
Jennifer L. Iseman
W. Frank Johnson Jr.
David L. Ladov
Hillary J. Moonay
Michelle L. Ringel
Lanique A. Roberts
Leslie B. Spoltore
Adam Tanker
Shari B. Veisblatt
Robert I Whitelaw
Stephanie H. Winegrad
OBERMAYER REBMANN MAXWELL & HIPPEL LLP
Multiple local offices
obermayerfamilylaw.com
Phyllis T. Bookspan
BOOKSPAN FAMILY LAW
Media
bookspanlaw.com
Jennifer A. Brandt
Bernard E. Zbrzeznj
COZEN O'CONNOR
Philadelphia, West Conshohocken
cozen.com
Megan Brooks
Shannon Kanavy
Robert T. Repko
María Judith Rodríguez-Martyak
Jill M. Vogenberg-Richter
REPKO LAW LLC
Doylestown
repkolaw.com
Catherine Cardozo
THE LAW OFFICES OF CATHERINE CARDOZO LLC
Abington
cardozofamilylaw.com
Lee Ciccarelli
CICCARELLI LAW OFFICES
West Chester
ciccarelli.com
Patricia H. Cooley
Kevin J. Handy
COOLEY & HANDY ATTORNEYS AT LAW
Doylestown, Bala Cynwyd
cooleyhandy.com
Jennifer Courtney
THE LAW OFFICES OF JENNIFER COURTNEY
Yardley
courtneylaw.net
Amy P. De Shong
WISLER PEARLSTINE LLP
Blue Bell
wislerpearlstine.com
Susan Levy Eisenberg
SUSAN LEVY EISENBERG ATTORNEY AT LAW P.C.
Newtown
susaneisenberglaw.com
Kevin L. Hand
Marisa M. Perini
Marc I. Rickles
Abigail F. Tuttle
KARDOS, RICKLES & HAND
Newtown
krhlaw.com
Melissa A. Iacobucci
David S. Kaplan
O'DONNELL, WEISS & MATTEI P.C.
Phoenixville, Pottstown
owmlaw.com
Lydia Fabbro Keephart
PELLETTIERI, RABSTEIN & ALTMAN ATTORNEYS AT LAW
Newtown and Princeton, N.J.
pralaw.com
Kimberly J. Krzyzaniak
KJK LAW
Wayne
lawkjk.com
Christin Kubacke
Kim Denise Morton
MORTON & KUBACKE FAMILY LAW LLC
West Chester
mortonfamilylaw.com
Michael Kuldiner
THE LAW OFFICES OF MICHAEL KULDINER P.C.
Multiple local offices
phillyesquire.com
Gregory P. LaMonaca
LAMONACA LAW
Media
lamonacalaw.com
Erin C. Lentz-McMahon
MCMAHON, MCMAHON & LENTZ
Multiple local offices
mcmahon4law.com
Jeffrey A. Liebmann
Mindy J. Snyder
David J. Sowerbutts
LIEBMANN FAMILY LAW
Newtown
liebmannfamilylaw.com
Scott A. Lisgar
KELLER, LISGAR & WILLIAMS LLP
Havertown
klwllp.com
Russell J. Manning
Chris Little Simcox
April M. Townsend
Karen Ulmer
KAREN ANN ULMER P.C.
Langhorne
ulmerlaw.com
Carla Marino
LAMB MCERLANE PC
West Chester
lambmcerlane.com
Charles J. Meyer
HOFSTEIN WEINER & MEYER P.C.
Philadelphia
hwmfamilylaw.com
Clare L. Milliner
BRUTSCHER, FOLEY, MILLINER LAND & KELLY
Kennett Square
bfmlk.com
Lou Mincarelli
MCCULLOUGH, MCLAUGHLIN, MINCARELLI & MCCLOSKEY ATTORNEYS AT LAW
Philadelphia
mcmclawoffice.com
Carolyn R. Mirabile
Lawrence J. Persick
John A. Zurzola
WEBER GALLAGHER SIMPSON STAPLETON FIRES & NEWBY LLP
Norristown
webergallagherfamilylaw.com
Colleen M. Neary
SWEENEY & NEARY LLP
Media
sweeneynearylaw.com
Sheryl R. Rentz
LAW OFFICES OF SHERYL R. RENTZ
Ardmore
srrentzlaw.com
Jennifer J. Riley
LAW OFFICES OF JENNIFER J. RILEY
Blue Bell, Wayne
jjrlawfirm.com
Carla V. Risoldi
RISOLDI LAW OFFICES LLC
Langhorne
risoldilawoffices.com
Randi L. Rubin
David J. Steerman
KLEHR HARRISON HARVEY BRANZBURG LLP
Multiple local offices
klehr.com
Lori K. Shemtob
SHEMTOB DRAGANOSKY TAYLOR P.C.
Blue Bell
shemtoblaw.com
Jill E. Trayer
TRAYER LAW
Doylestown
trayerlaw.com
Joseph D. Visco
LAW OFFICES OF JOSEPH D. VISCO
Doylestown
viscolawoffice.com
Randi J. Vladimer
RANDI J. VLADIMER P.C.
Radnor
vladimerlaw.com
Published (and copyrighted) in Suburban Life magazine, February 2020.