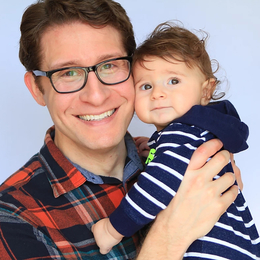 Holding the Stage
'Take the bull by the horns,' says Marc Ginsburg, Philly-born star of The Band's Visit.
It's always special when Philadelphia native Marc Ginsburg has the opportunity to "come home." Last month, when he took the stage of the Academy of Music in Center City, he helped spread a message of hope through the universal language of music.
Ginsburg was back in his hometown to perform in the 10-time Tony Award-winning stage musical, The Band's Visit, from Jan. 7 to 19. The story centers on a band of Egyptian musicians that gets stranded in a tiny town in Israel, where music helps people with seemingly little in common form connections and appreciate their respective cultures. The overarching message: Even the simplest moments can have an impact that last a lifetime. The U.S. tour of The Band's Visit has taken Ginsburg to prominent theaters across the country, including The Kennedy Center in Washington, D.C.
"The show is about communication, human kindness, love, and loss; it's basically about the human experience," Ginsburg says. "There are no flashy production numbers, no big sets or lavish costumes. Instead, it's about what we can do for our fellow man—something we sorely need in this day and age."
Ginsburg resides in Los Angeles when he's not on the road, but Philadelphia will always be in his heart. Now 39, Ginsburg grew up in Northeast Philadelphia and went to middle school and high school in Bensalem. Last month's homecoming represented the culmination of years of hard work, and the realization of a boyhood dream he nurtured at local playhouses.
His parents, Barry and Rona, planted the seed early on by playing original Broadway albums at home. As a young child, he enjoyed performing at local acting classes and drama camp. In fact, he saw Annie, his first live show, in Valley Forge when he was five years old. He was 13 years old when he played Billy Ray in On Golden Pond, staged by The Playmasters in Bensalem. Later, as an understudy in Conversations with My Father at Walnut Street Theatre, everything started to "click" for him.
"I saw top-notch performers in a show that I had a passion for, and I thought that this was something I could do for the rest of my life and never be bored," Ginsburg recalls. "This is both emotionally and artistically rewarding."
After graduating with a bachelor's from Penn State, he earned roles in a range of shows, including his first performance at the Academy of Music in 2004 during the tour of Oliver. Now, more than 15 years later, he appreciates that so many of his friends and family members come to see him perform. For those would-be thespians who dream about following in his footsteps, he's happy to pass on the wisdom he has accumulated along the way.
"Wake up every morning ready to take the bull by the horns," he says. "Go on multiple auditions, get a day job, go to acting class, and go on more auditions. Get the training you need. Be well rounded. Develop a thick skin, and if at any point you can see yourself doing something else, go ahead and do it. And always be true to yourself."
Ginsburg's willingness to embrace experiences that encompass the full spectrum of emotions—both on and off the stage—has a great deal to do with his family. He is fiercely close to his parents, happily married to Liza, a voice actress, and the doting father of their three-year-old son, Phoenix (pictured, with Ginsburg). Both his wife and son are on tour with him.
So, what life lessons does he hope to pass on to his young son in the not-too-distant future?
"I am a major proponent of respect," he says. "As [The Band's Visit] teaches, there is basic human kindness and respect that we can share. I want to have people say [my son] is a kind, nurturing, and respectful man, who is there for his friends."
Photograph courtesy of Marc Ginsburg
Published (and copyrighted) in Suburban Life magazine, February 2020.