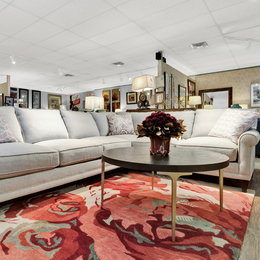 Furnishing Guidance on Home Design and Décor
A Q&A with Nancy Mastroieni of Mastroieni Furniture
When it comes to furniture and home décor, homeowners have nearly endless options in terms of style, size, and cost. That's why homeowners stand to benefit from the guidance and expertise of the design-and-décor specialists behind Mastroieni Furniture, a Montgomeryville-based retailer that has been a leading furnisher of homes throughout the Delaware Valley for nearly 100 years. We spoke with Nancy Mastroieni to talk about current design trends, things to keep in mind before you start looking for new items, and other topics that may help homeowners make informed decisions about the look and feel of their homes.
Q&A
As homeowners go about redesigning their homes, what factors should they keep in mind before they start shopping for new looks?
As most homeowners embark on this journey, it is important for them to be aware of their room sizes. Catalog pictures are designed to bring out the best of the furniture, and pictures can be very deceiving. What looks great in a catalog may not work in their current environment. I think everyone should keep an open mind about some of the choices they may have to make. You may have set out for one thing in mind, only to realize that it will not make sense in the room setting. We at Mastroieni's have the experience to guide you in the right direction and offer suggestions that will fit your needs.
In terms of current design trends, what's popular right now and why?
We are seeing an increase of interest in American-made products and solid wood furniture. Custom wood finishes are a welcome addition to the industry. Now, if you like a style of furniture, chances are you can have it in a variety of different colors or finishes. Upholstery companies are offering different seats, backs, legs, and arms, all in a sort of "have it your way" thinking. With the ability to have different fabrics and complementary pillows, you can customize your rooms to your liking. You do not have to settle for what is on the sales floor anymore.
A new design may involve something big and involved, or it could involve a minor change. Can you offer an example of a small design change that can freshen up or even transform a room?
One of the most obvious changes can be as simple as an area rug, which can add color or even change the style of the room, based on whether you use a traditional format or a contemporary format. Another example is window treatments. These simple changes can freshen up a room and complement your current furniture.
If a homeowner comes to an establishment such as Mastroieni Furniture, should they bring anything specific with them as a guide, such as images of their current home or pictures of styles or designs they like?
We recommend they do all the above. Furniture buying is a complex process in that it can be deceptive in size. We like to have our customers take measurements of the area they want to put the furniture in. This will help our sales staff map out a room and ensure that the sizes will work. We also like to have measurements of potentially complex stairwells or small doorways. Our goal is to make your purchase as rewarding as possible. We can assist on every level if need be to make sure you are a satisfied customer.
How can Mastroieni Furniture help homeowners as they consider new design choices, both in terms of items they choose as well as expertise or complementary services?
At Mastroieni Furniture, we are up to date on the current trends. We have furniture that is American made and can be custom ordered. We have a staff with combined experience of over 40 years, who enjoy helping with the decision-making process. We offer complimentary design services and a white-glove delivery experience both before and after the purchase. We do all of these things because we want you to shop Mastroieni furniture for all of your furniture needs.
To learn more, call (215) 643-6372, go to mastroienifurniture.com, or visit Mastroieni Furniture at 1113 Bethlehem Pike in Montgomeryville.
Photography by Jody Robinson

Published (and copyrighted) in Suburban Life magazine, February 2020.