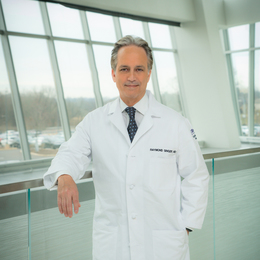 Care from the Heart
Through uncommon compassion and cutting-edge technology, Einstein Medical Center Montgomery offers best-in-class cardiac care in an atmosphere where "patients feel like family."
Be compassionate, show empathy, and be generous to others, even in the face of great challenges. These are the guideposts of a life well lived, according to Raymond L. Singer, M.D., FACS. As a cardiothoracic surgeon and chief of cardiac surgery at Einstein Medical Center Montgomery, he brings this philosophy to his practice at the seven-year-old hospital in East Norriton.
In fact, the sense of community and genuine warmth are what drew Dr. Singer to Einstein Montgomery after a successful 27-year career at Lehigh Valley Hospital, where he performed more than 7,000 surgeries and served as physician in chief of the Institute for Special Surgery. At Einstein Montgomery, the cardiac surgery program provides its patients with highly trained and experienced physicians, nurses, and advanced practice providers, assisted by cutting-edge technology.
"I refer to Einstein Montgomery as a neighborhood gem," says Dr. Singer, a native of Cheltenham, who is thrilled to be practicing back home and making a difference in the community where he grew up. "Einstein is an excellent example of a facility where patients can receive the highest quality of care, using cutting-edge technology and advanced techniques, right in their own community. The care here is personalized and professional, and in most cases patients no longer need to travel to Center City Philadelphia to get state-of-the-art, advanced heart care."
Dr. Singer leads a team of board-certified cardiothoracic surgeons at Einstein Montgomery. Together, they offer the full gamut of cardiac surgical services, including aortic valve surgery, atrial fibrillation surgery, cardiac tumor resection, congenital heart surgery, coronary artery bypass, heart failure and heart valve surgery, as well as minimally invasive cardiothoracic surgical procedures.
"We offer some of the most advanced technology to perform minimally invasive heart surgery," says Dr. Singer. "We can now replace aortic valves without opening the patient's chest, which results in a much quicker recovery time and less postoperative pain."
The procedure, known as transcatheter aortic valve replacement, or TAVR, is used to treat aortic stenosis, when a patient's aortic valve is restricted from opening, typically due to the development of calcium deposits on the valve. During the procedure, a catheter is inserted into the groin and, using X-ray guidance, a new valve is placed inside the patient's own valve, pushing aside the calcium deposits with a stent, explains Dr. Singer. Patients typically can go home within two days of the procedure.
"Advanced procedures like TAVR offer a hybrid approach to cardiology and surgery," says Dr. Singer. "Our cardiologists and surgeons work in collaboration to get patients back to their normal lives as soon as possible. Over 90 percent of our patients are no longer put on a breathing machine, and in most cases the patient can return to their quality of life faster than with traditional open-heart surgery."
Patients treated at Einstein Montgomery quickly learn that they're in very experienced hands throughout treatment.
"Our patients and their family members need to feel that their care team truly has empathy and truly supports them, and that's something that's unique at Einstein," says Dr. Singer. "Everyone from our front-line leaders to the doctors and nurses, to the volunteers and cafeteria staff make an effort to greet patients and say hello. We constantly hear comments about how everyone is always smiling and making patients feel welcome. Our primary focus is on providing uniquely personalized, empathetic, and holistic care for our patients."
Close to Home
Dr. Singer knows firsthand how it feels to have a family member with a life-threatening illness. Both of his parents had cancer and heart disease during their lifetimes.
"I've often said that I come from a family of patients, not doctors," he says. "I've sat in many doctors' offices and surgical waiting rooms, praying for their recovery, so I know what it feels like to be on the other side. I always try my best to treat my patients and their family members as if they were my own family."
That sense of empathy carries over into the entire cardiothoracic team at Einstein Montgomery.
"I truly have the best partners," says Dr. Singer. "Alexandra Tuluca, M.D., FACS, for example, has the exact same philosophy and goal of collaborative, empathetic, personalized care for our patients. In fact, in addition to knowing everything about her patients, Dr. Tuluca knows everything about mine as well, and is always available to provide assistance or support. It's wonderful to have a team of heart surgeons working together where ego is not an issue."
In addition to its best-in-class surgeons, Einstein Montgomery has a collaborative team of nurse practitioners, physician assistants, anesthesiologists and anesthetists, perfusionists, nurses, and administrative staff. Their shared goal: to assist patients with whatever needs they may have during their stay.
"We can provide patients with fully customized surgical care, tailored to their individual needs," he adds. "Patients who used to travel into the city to receive the best cardiac care can now receive the same exceptional care much closer to home, in a more personalized way and get back to living their lives with as little disruption as possible. When it comes to having heart surgery, ultimately, we want patients to ask themselves, 'Why would I go anywhere else for my care than Einstein Medical Center Montgomery?'"
Dr. Singer recalls the story of a patient he recently treated whose three sons were very concerned about their father and wondering whether they should have taken him to one of the larger, university-based hospitals downtown. He reassured them that everything would be fine, and their father was in good hands, and then mentioned that their name sounded familiar to him. It turned out that the family was also from Cheltenham, and the older brother had graduated with Dr. Singer's younger sister. They also realized they had attended summer camp together and commented on what a small world it was.
"By the time the conversation was over, everyone was smiling and the family was relieved and felt comfortable having a doctor who was so personal and empathetic," says Dr. Singer. "It's been a dream come true for me to have this opportunity to come home and to give back to the community where I grew up. It's a privilege to work in an extraordinary facility like Einstein Montgomery that provides excellent care and where patients feel like family."
Einstein Medical Center Montgomery
559 W. Germantown Pike
East Norriton, Pa.
(484) 622-1000
Photograph by Jody Robinson
Published (and copyrighted) in Suburban Life magazine, February 2020.