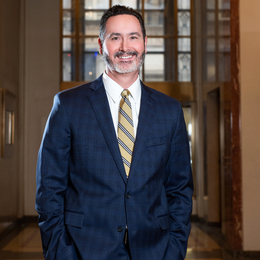 Justice for All
When non-citizens need help navigating the complexities of the U.S. legal system, John Vandenberg of the immigration law firm Hogan & Vandenberg LLC stands ready to help.
The experienced and dedicated attorneys at the Hogan & Vandenberg LLC immigration law firm share an unwavering commitment to ensuring that all clients receive justice. This, according to W. John Yahya Vandenberg, has served as a foundational cornerstone for 15 years and counting.
"When a lot of people think of immigration or an immigrant, they think only of a landscaper," says Vandenberg, who co-founded Hogan & Vandenberg LLC with former Villanova University School of Law classmate Rick Hogan. "But look at the number of immigrants in Silicon Valley who created the technology you use every day. Like to watch videos on YouTube? Two out of the three founders of YouTube are immigrants. The Google search you do to find a recipe or help a child with their homework? Thank co-founder Sergey Brin, an immigrant. That shiny Tesla? Yep, it wouldn't be there without Elon Musk, an immigrant from South Africa. A lot of people forget about those immigrants with high-level education. When the United States attracts and retains these people, it makes us stronger as a nation.
"Immigrants want to come here and compete, go to colleges and universities, and graduate," he continues. "They want to stay, start families here, and become productive members of society."
With six full-time lawyers and a team of highly skilled paralegals staffing offices in Philadelphia and Wilmington, Del., Hogan & Vandenberg strives to provide innovative legal services to a broad swath of individuals, corporations, and educational institutions. The firm's experienced attorneys take pride in their ability to successfully guide clients through the complexities of immigration law, whether the case involves a large corporation, a family or just one person.
The role of an immigration lawyer is somewhat unique compared with other types of law practices. Most immigration lawyers deal primarily with counseling and advising people who are experiencing difficulty dealing with immigration requirements and interactions with U.S. immigration authorities. Matters of guidance and advice include visa applications, green cards for family members and fiancées, citizenship and naturalization, deportation issues, and employment-based green cards.
Vandenberg's practice includes all of the above and more. An example of a case might include offering counsel to an immigrant from Morocco who, while still a graduate student, developed a technique to accurately image damage to a child's spinal cord. Her work allowed physicians to target stem cells directly to areas most likely to trigger repair.
"We put together a strong case that she deserved to stay," Vandenberg says. "After months of deliberations, the U.S. Citizenship and Immigration Service agreed. We did everything to make it happen. And when it did, it was a life-changing moment for her, her family, and the children who will benefit from her research."
At Hogan & Vandenberg, the rights of the client are paramount. The law firm's current caseload includes engineers building America's infrastructure, scientists developing cures for diseases, and entrepreneurs starting businesses, as well as asylum seekers and victims of domestic abuse.
Finding a Home
A Navy veteran, Vandenberg earned a B.A. from the University of Texas and his Juris Doctor from the Villanova University School of Law. He is a former Chair of the American Immigration Lawyers Association Philadelphia Chapter, and a member of the Society for Human Resource Management, Goldman Sachs 10,000 Small Businesses, and the National Eagle Scout Association. Vandenberg also has made the SuperLawyers list in Immigration Law for six of the last seven years.
"I originally thought about doing international law," Vandenberg says. "But one summer I got a job with a local immigration attorney's office, and I fit right in. Everyone in the office was from somewhere else. There was a different cacophony of languages in the office, and I loved it. I found a home."
Likewise, Hogan & Vandenberg's diverse attorney and support staff helps clients from points around the world feel at home. In addition to having extensive international experience, the firm's team speaks most of the major world languages, including Arabic, English, French, Hindi, Portuguese, Punjabi, Spanish, and Urdu.
"When someone walks into our office for a consultation, we have someone who speaks their language well," says Vandenberg, who speaks Bosnian, Croatian, Serbian, and Portuguese, and understands Arabic and Spanish. "A language is an eye into a culture. If you've ever been overseas and struggled with the language and had difficulty communicating, then you can understand the concerns of some immigrants who come to us. We have someone on staff who can relate and understand them."
Hogan & Vandenberg, LLC
1608 Walnut Street, No. 1301
Philadelphia, Pa.
(610) 664-6271
4 E. 8th Street, Suite 400
Wilmington, Del.
(302) 225-2734
Photography by Jeff Anderson
Published (and copyrighted) in Suburban Life magazine, February 2020.