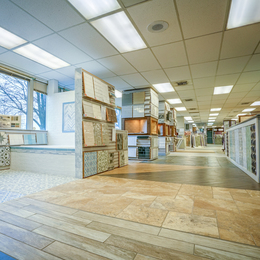 Renaissance Tile and Floor
Welcomes homeowners to its Designer Showroom in Horsham, where they will discover boundless variety, informed guidance, and professional design expertise.
"Our story": Renaissance Tile, which opened in 1990 as a distributor and importer of ceramic tile and stone, has deep roots in the wholesale business. These wholesale roots were greatly enhanced when the company recently entered into a partnership with another major East Coast importer. The end result of this merger is Renaissance, now one of the largest proprietary importers on the East Coast, if not the largest. Renaissance now inventories more than 2.5 million square feet of ceramic and porcelain tile, natural stone, glass tile, mosaics, and decoratives—all stocked in one of four strategically located warehouses, to create a showroom selection the company describes as "unmatched in the region."
In addition to its expansive inventories and selection, the professionals at Renaissance Ceramic Tile and Floor in Horsham can provide expert guidance to homeowners every step of the way. Renaissance has been a family-owned leader in the industry for 30 years, with more than 100 years of collective experience. This experience allows Renaissance to offer customers the knowledge and expertise they can rely on, says Jeffery Halasy, the company's General Manager.
"Another thing that people really appreciate is that we don't have this revolving door of employees; you see the same people every time you come in," says Halasy, who has been in the business since he was an eight-year-old boy helping his father, Jeffery Sr., who founded the company, and still serves as company President. "This allows us to build relationships with customers that span many years, working with them on many different projects. It's not uncommon for us to help clients design their second, third, and even fourth homes. Our customers become like family."
A Guide in Design Expertise
Shopping for flooring and tile options often leaves many homeowners feeling overwhelmed. While most people appreciate a wide selection featuring an array of unique options, those same people might struggle with narrowing the selections down to one ideal choice.
What people value most about Renaissance is the support the team provides when it's needed most. Julie Broderick, Showroom Manager and Designer, says everyone in the showroom is eager to help a client, whether the individual needs assistance choosing an accent tile for a small project or guidance for a whole-home renovation.
In other words, Renaissance has design experts ready to assist no matter the project or budget. This easy accessibility to professional design expertise may be a welcome change compared with walking into a big-box store and having to track down someone whose design expertise and knowledge on the subject matter may be woefully lacking.
"Even if you want to just come in to get ideas, we really want to help," says Broderick, who has been with the company for six and a half years, and has a passion for what she does. "Everyone's home is different, and we get excited about helping them with their individual project. We love forming relationships with our clients and helping them achieve their dream look. As employees, we really want our clients to be happy."
While Renaissance remains a go-to destination for contractors and designers from across Bucks and Montgomery counties, the company enjoys working directly with homeowners. The 5,800-square-foot Designer Showroom in Horsham allows homeowners to see the newest ideas and trends in the industry. The showroom floor vignettes feature nearly every stone and tile shape and size imaginable, with beautiful shower and countertop displays that are constantly changing to offer clients ideas and examples of what's possible.
"Because the new, sophisticated, high-definition porcelain tiles and natural stone have such depth of movement and color, which can get lost online, the showroom allows people to see these variations allowing them to put together a perfect look," says Sara Trotter, one of Renaissance's lead Designers. "Everything is available in all sizes to view. We also have an extensive tile sample library for customers to view and take home, if they are considering a selection. This allows them to view the tile in their own space with their own lighting so they can decide if the selection is truly right for them."
Trotter points out that Renaissance also has an extensive and interactive website, which features the "Tile Visualizer," a tool that allows people to browse products, apply them to room scenes, and view different combinations. This may be a good way for people to narrow down options and get some ideas before coming into the showroom. That said, Trotter says the company welcomes clients to come to the showroom with photos of various "looks" so the design team can help them recreate the look with the perfect tile or stone.
Currently, Broderick says, the most popular looks echo the "farmhouse style" seen on HGTV programs and in home-design magazines. But a client's style is also dictated by personal preferences and location, she suggests, and Renaissance can accommodate it all.
"Whether it's an old Bucks County farmhouse or a super-contemporary Philadelphia skyline home, we have something for every home owner," she says. "We're not just a niche store."
As Renaissance continues to evolve and respond to its customers' needs, it has added hardwood and premium LVT (luxury vinyl tile) to its business. On display in the showroom is a wide variety of solid and engineered hardwood and premium LVT lines.
Support for All
Once the perfect material is selected, homeowners might be unsure where to turn to have the project completed. That's why Renaissance has developed relationships with the finest installers in Bucks and Montgomery counties.
"Our clients are not locked in with having to use an installer we recommend, but we have those relationships so we can connect them with one if they need it," Trotter says. "We only partner with the best."
Renaissance also offers a "Pro Desk," where everyone from the most experienced contractor to the do-it-yourselfer can come in and find the tools and installation products they need to install the tile job correctly.
"We have a wide variety of installation products, prefabricated shower pans, and tools at different price points so that we can accommodate the most experienced contractor or a person who is just doing a backsplash in their home" Halasy says. "They can come into the warehouse, get what they need and any guidance they might require, and get back to the job in a timely manner. You're not on your own like you are at a big-box store, trying to figure out what installation materials and tools you need."
The bottom line, Halasy says, is that Renaissance truly has the right product and customer service for everyone: unmatched selection, expert design professionals and a complete line of setting materials, grouts, cement board, waterproof prefabricated shower pans, and waterproofing products. That's why, for 30 years, homeowners, designers, and wholesale contractors in Bucks and Montgomery counties have placed their trust in Renaissance to make their projects a success.
Renaissance Tile and Floor
1250 Easton Road
Horsham, Pa.
(215) 674-4848
Photograph by Jody Robinson

Published (and copyrighted) in Suburban Life magazine, February 2020.