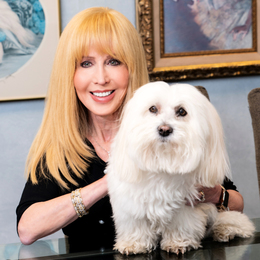 Finding Peace
Amid the turbulence associated with legal matters of the domestic sort, family law attorney Sheryl R. Rentz helps clients find the calm, strength, and confidence they need to forge ahead.
Individuals who seek out Sheryl R. Rentz are often in the midst of some of the most turbulent times of their life. From divorce and custody disputes to a range of other pressing family law matters, the men and women who walk through the door of Rentz's Ardmore-based firm, The Law Offices of Sheryl R. Rentz, often feel as though their world has been turned upside down, figuratively speaking. Yet they almost always find a reason to smile.
Rentz credits her dog, Carlye Rose, who has a gift for helping people instantly feel at ease. After spending a few minutes with Carlye Rose, a client can take a deep, cleansing breath and focus on the important work ahead—namely, finding resolution to their legal matter—with a clear mind. On the rare days when Carlye Rose isn't in the office, people want to know why. In other words, people have come to rely on Carlye Rose, and they expect her to be there when they need her most.
One might ascribe the same qualities—reliability, cool calmness, and a steadfast willingness to help—to Rentz. Even so, the value she offers clients is far, far greater than the ability to put others at ease.
Rentz is fiercely dedicated to each case she takes on. It's not uncommon for her to be thinking about ways to help her clients long after the workday has ended. In fact, she says her immersive approach makes it "hard to stop thinking about cases until they're resolved." This includes taking after-hours calls and otherwise being available when clients are in need. Her Apple Watch and the tireless devotion of Linda Byrne—a skilled paralegal who has been by Rentz's side for more than 20 years—both help keep her always connected, even when her phone has to be put away.
"When people are going through a family law issue, whether it be a divorce or a custody battle, it's often a crisis for them," Rentz says. "They want to know what's going on with their case and they want that information in real time. I understand that—and I stay connected so that they can reach me no matter what."
She is also unfalteringly compassionate to each client's circumstances. It doesn't take long for clients to recognize that Rentz truly cares, and is driven and inspired by helping people work toward new beginnings. She knows that compassion, connection, and communication are what people desire most when going through a divorce, so she works hard to make clients feel as comfortable and confident as possible as they move through the process.
Whether it's a millennial who prefers to communicate via text or a baby boomer who wants to meet face to face, Rentz helps people know she's there for them. In fact, she can't remember the last time that she didn't pay for Internet access on a plane so that she doesn't have to go "off the grid" even for just a few hours.
That kind of passion comes only from working in a career one truly loves—and that's certainly the case for Rentz, who came to family law as a second career. Prior to becoming an attorney, she was a successful M.B.A. who worked in marketing for companies such as Western Electric and AT&T/Bell Laboratories. Although she had enjoyed a good deal of success, Rentz felt she was meant to do something else. As intimidating as it might have been at the time, she went back to school and earned her Juris Doctor through Temple University's James E. Beasley School of Law.
In the 25 years since, Rentz hasn't looked back. Through her Ardmore-based family law practice, she has been able to help so many individuals navigate a dark period and come out better on the other side, eager for a fresh start. For Rentz, this has been the most rewarding aspect of her second career.
"It was clear from the start that this is where I was meant to be," Rentz says. "It's been incredibly fulfilling to be able to help clients through some of the toughest issues they may face in life. When you see the difference it's making, it keeps you going."
Rentz says that she takes her role as counsel seriously, and she wants clients to know she's ready and able to fight on her clients' behalf.
"We really view ourselves as serving the people that hire us to represent them," she says. "One of the most important messages that we try to convey is, 'We are here for you.'"
The "we" includes Byrne, who plays a vital role in the firm's ability to provide each client with the full support they need.
Of course, comfort and compassion go only so far in the courtroom. Fortunately, Rentz also has the grit and fearlessness to thrive in the toughest of negotiations. She represents her clients with tenacity, and often finds that she relies on some of those skillsets that made her so successful in the business world, where only the strong survive and the best prepared succeed.
In family law, she recognizes that she has a responsibility to her clients to be the best-prepared person in the courtroom—and that's exactly what she does on each case. She pores tirelessly over the details of each case, because she knows her client's future may depend on it.
After all, as Benjamin Franklin once said, "by failing to prepare, you are preparing to fail."
"When I walk into that courtroom, I know I am prepared," Rentz says. "I am ready to give people the second chance they deserve. Life is short, and people deserve to be happy. That's what I'm fighting for."
The Law Offices of Sheryl R. Rentz
326 W. Lancaster Ave., Suite 100
Ardmore, Pa.
(866) 247-7508
(610) 645-0100
Photograph by Jody Robinson
Published (and copyrighted) in Suburban Life magazine, July 2020.