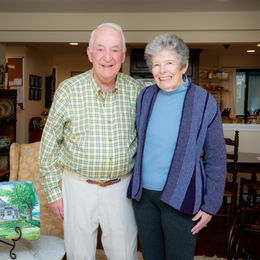 Welcome to Wellness
Dunwoody Village residents discover boundless opportunities to pursue wellness of mind, body, and spirit.
A year ago, Joe and Sue Hilger turned 80 "around the same time," according to Sue. To honor this milestone, the couple decided to transition from their eight-bedroom home in Wayne, Pennsylvania to Dunwoody Village, a premier continuing care retirement community in Newtown Square.
"I knew a lot of people here from when I owned my own knitting shop," Sue says. "I have tennis friends here, and people I've just known for a long time. It was a very easy adjustment for me, and for Joe, even more so."
At Dunwoody, Sue and Joe discovered a community that offers more activities than any person could realistically do in a day. But that's not all they found.
"One of the reasons we came here was because of the wood shop," says Joe, a retired CPA who had a small workspace in the basement of his previous residence. "My old wood shop was nothing like this. It's not just a saw and a table—there are 12 machines. I actually just finished restoring an 1850 refectory table, for a fellow resident, that had been damaged in her move."
Sue is active in arts and crafts at Dunwoody as well. At present, she splits her time between on-campus activities and pursuits such as participating in her church choir, tennis, and teaching knitting and crocheting at Main Line School Night.
"That's a nice thing about Dunwoody—it's a really active place," she adds. "I wish I had more time to do even more things here."
Entertainment offerings abound, including Saturday-night movies and live performances. A recent concert brought together a talented oboist, cellist, and pianist to perform classical compositions by Beethoven and other beloved composers. In addition, residents enjoy expanding their horizons by attending lectures and other cultural events hosted by Dunwoody.
In addition to their varied activities, the Hilgers have a strong interest in physical fitness. On its beautifully manicured 83 acres, Dunwoody features a fitness center offering an abundance of classes and a trainer, a pickleball court, a heated indoor pool and hot tub with a lifeguard, as well as a game room equipped with table tennis, shuffleboard, and pool.
"There are three classes every morning, Monday through Friday, at the fitness center," says Sue. "I regularly do Pilates and yoga. It's wonderful. I've been very happy with that, and Joe rides a stationary bike a mile and a half every day when the weather doesn't permit him to ride his bike outdoors."
Dunwoody Village contracts with Ageless Exercise for its fitness classes, from balance to Tai Chi. "Most classes draw 25 to 30 people in each class," says Bonnie Monastra, one of the trainers. "Classes are challenging as well as fun."
More than 30 different resident-led committees speak to the varied passions of the residents, with groups ranging in focus from wood shop to volunteering. As Sue says, "You can do as much or as little as you want."
For Sue and Joe, their commitment to personal wellness extends to healthful cooking. They enjoy making nutritious meals in the kitchen of their private residence, where Joe's specialty is fish. There is a grocery store within walking distance, so residents can gather supplies to prepare home-cooked meals with ease. For those who don't wish to cook on any given day, Dunwoody has three on-campus dining venues ranging from formal, to casual, to takeout. Many residents invite guests to the community for dinner or Sunday brunch.
Residents also enjoy opportunities to venture out into the community for cultural attractions such as museums and the orchestra. Considering the bounty of wellness options available on campus and nearby, the Hilgers suggest Dunwoody offers the whole package.
"We looked at other places," Sue says of the couple's decision to move to Dunwoody. "We made this choice because we knew we were going to be happy here—and we have been."
Dunwoody Village
3500 West Chester Pike
Newtown Square, Pa.
(610) 359-4400
Photograph by Jody Robinson
Published (and copyrighted) in Suburban Life magazine, February 2020.