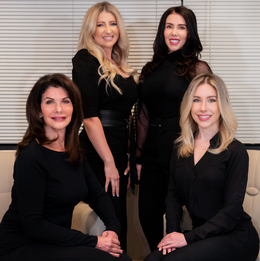 Forever Young
At Bucks County Plastic Surgery & Dermatology, a team of specialists provides an array of cosmetic injectables and skincare procedures to help patients stay youthful and refreshed.
For centuries, humans have hunted near and far for the "secret" to a long and vibrant life—the so-called fountain of youth. Patients of Bucks County Plastic Surgery & Dermatology swear they have uncovered the secret: through minimally invasive cosmetic injectables and noninvasive aesthetic procedures administered by qualified specialists, with each procedure carefully chosen to suit the patient's individual need. Although these treatment options may not necessarily add years to a patient's life, they can help men and women of all ages achieve a natural-looking, youthful appearance.
Led by board-certified plastic surgeon Robert Skalicky, D.O., Bucks County Plastic Surgery & Dermatology offers the full gamut of treatment options to turn back the hands of Father Time. The practice, which has offices in Newtown and King of Prussia, takes a multifaceted, team-based approach to patient care. Treatment includes not only cosmetic injectables and noninvasive skin care, but also surgical options such as facelift, blepharoplasty, liposuction, "tummy tucks," and breast augmentation.
The "stars" of the team include Kaitlyn Nelson, MS, PA-C; Michele Petrillo, R.N., BSN, a certified nurse injector; and the tandem of Brittany Bray, LMA, and Jillian Norton, LMA, both licensed aestheticians. The beauty of the practice lies in the ability of the team to work hand in hand with each other to provide the best option, or combination of options, to give each patient an individualized treatment plan to best accomplish the desired aesthetic goal in the most cost effective fashion.
"It is an invaluable advantage for a patient to have a comprehensive team of providers under one roof to assure that the treatment plan is state of the art, cost effective, and safe," says Dr. Skalicky. "If one component is absent, such as the option of surgical treatments, the equation could easily fail resulting in a clear-cut surgical candidate wasting time and money on procedures that will not accomplish their intended result. If my providers know that a patient needs a small surgery rather than an injectable procedure to accomplish a desired result, the patient will be referred to me. And, to the contrary, I will refer patients to my providers if injectable or aesthetician services are the best option. The team approach is invaluable and missing in so many settings."
When discussing patient treatment plans designed to give patients the youthful appearance they desire, it is important to understand how this process unfolds at Bucks County Plastic Surgery & Dermatology. No longer is the focus a single wrinkle on a face or a solitary area of depression on a face. Nonsurgical treatments have now evolved to a point where full facial analysis is critical to properly treat a patient.
As Michele Petrillo, R.N. explains, "I spend at least 45 minutes with new patients discussing both their immediate desires and long and short-term aesthetic goals. I then educate them on their facial proportions and options and proceed to devise a comprehensive plan to accomplish their goals. This plan can sometimes be accomplished in one appointment while other times it may require two or three sessions. That determination is based on patient needs and safety. Excellent patient care is my only priority."
One of the most difficult tasks for the injection team is to dispel the pre-conceived images that many patients have regarding injectable treatments. The artificial, "overdone" look that so many patients fear is continually occurring in many centers, and is rampant on social media. This "visual deterrent" causes many patients to frown upon specific procedures when the flaw was "over-injection."
According to Kaitlyn Nelson, PA-C, "There's a greater call for a 'less is more' approach with facial injectables. Patients desire conservative results through facial sculpting as opposed to outcomes with puffy, overdone looks. The best result is the result that is undetectable, and that is the type of result that is driving the popularity of injectable procedures."
In the ongoing quest to fight off aging, patient demographics continue to expand at the early end of patient age ranges. There is a strong wave of younger patients pursuing treatments to both correct and prevent age-related changes.
As Kaitlyn explains, "We're seeing a greater trend toward the younger patient population, with the culture becoming more educated about their options. Videos on YouTube, Instagram, and elsewhere have helped to lessen the stigma of cosmetic procedures of every sort. Patients now understand the preventative aspects of injectable treatments knowing that if they start treatments early before facial lines or the aging process sets in, they may be able to continue these small enhancements or 'tweaks' over time and delay the need for a facelift or other surgical option."
With so many centers performing these treatments today, and with "pricing specials" so commonplace, how does a prospective patient select where to go for a treatment? According to Kaitlyn and Michele, it is important for a patient to do their own homework. Not only should a provider's credentials be known, but also should their skill and past work. "Before and after" pictures of the desired procedure enables a patient to determine whether the injector has the skill and ability to deliver a result in line with the desired outcome.
In addition to injectable services, Bucks County Plastic Surgery & Dermatology offers full-service aesthetician services for all patients. These services include all aspects of skin care and skin rejuvenation to complete the anti-aging battle, and to create a refreshed, healthy glow to the skin. The practice's expert team includes aestheticians Brittany Bray, LMA, and Jillian Norton, LMA, both of whom utilize their skills, including modalities such as lasers, Ultherapy, microneedling, IPL, and other devices, to create a treatment regimen specific for each patient.
According to Brittany, "We customize every treatment depending on each patient's needs. We're not a facility that has only one type of technology; we have all different lasers that are designed to correct different skin conditions. It's a very in-depth process, not like choosing from a menu of services. We're doing a full skin and lifestyle analysis to determine how to move forward with a patient's skin care. At the same time, this is a plastic-surgery office, so we do have that capability if that's the best option to give a patient the most desirable effect."
The aestheticians are also an integral part of the team cross-referral system to ensure the highest and best patient outcomes. The inflow and outflow of patients between the various providers is, again, a critical piece in the puzzle of success in the practice.
As Jillian explains, "All the providers in this practice work together seamlessly to deliver results for patients. Patient education is a huge aspect of what we do. From my perspective, I am educating my patients on the basics of skin care and why preventive measures like using sunscreen with a high SPF are so important to the health and appearance of the skin. We're also educating patients about what all of their options are, letting them know when they might benefit from another kind of treatment by another provider in the practice. Brittany and I work very closely with all of the other practitioners, and are always referring patients back and forth."
While the ongoing fight against aging will continue to be fought by patients forever, it is important for all patients to equip themselves with the right ammunition and team to successfully compete against the continual onslaught of skin lines, sun damage, skin sag, and pigmentation. While someone may lose a wrinkle battle here and there, the team at Bucks County Plastic Surgery & Dermatology can help to win the aging war.
Bucks County Plastic Surgery & Dermatology
104 Pheasant Run
Newtown, Pa.
700 South Henderson Road, Suite 230
King of Prussia, Pa.
Bucks County Plastic Surgery & Dermatology will soon be transitioning to Modern Aesthetic Plastic Surgery, a comprehensive, aesthetic center designed to provide patients with a refreshing perspective on aesthetic medicine with locations in Newtown, King of Prussia, and Philadelphia.
Photography by Jody Robinson

Published (and copyrighted) in Suburban Life magazine, February 2020.