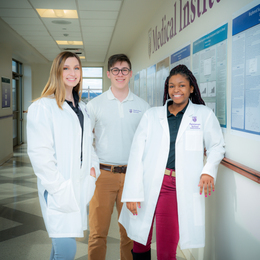 Where Students Make Their Mark
Through its Entrepreneur, Medical, and Artificial Intelligence institutes, Perkiomen School prepares students to make a difference in the real world.
Tomorrow's leaders are the students of today, a generation inheriting challenges, technologies, and possibilities most of us can only imagine. Preparation for what's to come takes forward-thinking skills and abilities that tap into the very heart of creativity, capability, and comprehension. This need is at the very core of Perkiomen School, an independent, co-educational, college preparatory, boarding, and day school in Pennsburg.
Since 1875, Perkiomen School's motto—Solvitur Vivendo, or "it is solved by living"—has been the principle by which the school has created its education. For example, the school has created three distinct institutes—Entrepreneur, Medical, and Artificial Intelligence—that enable students to deepen their learning through a blend of traditional coursework, real-world experiences, and a capstone, explains Associate Head of School Carol Dougherty.
"The institutes encompass broad topics and allow students to pursue a range of work, intentionally providing flexibility for a wide breadth of study," she says. "We know that when students direct their education, they are more passionate about their work."
As Director of Strategic Innovation Shaun T. Yorgey puts it, the institutes were designed to "give kids a place to use their education."
"They're about fostering value creation and entrepreneurship in [a variety of] ways, such as studying medicine based on increasing health and wellness for aging baby boomers who will have fewer medical professionals available to them, and using AI to benefit all kinds of learners," he says. "Our goal is to build an ecosystem of people, places, and technology that challenges the inertia of the status quo, a community that helps students really think outside the box."
Dougherty explains that students outline a course of study, supplemented by experiences and discovery work, and then chart their progress. This allows them to invest at a deeper level. For example, she recalls one eighth-grade student telling her this: "I want to complete a dual distinction. I love sports, and lots of kids don't have access to sports equipment. For Entrepreneurship, I want to create a mode to give access to sports equipment. And for Medical, I want to research how sports benefit children."
Perkiomen School's model is designed to give students opportunities to truly apply education, not just learn information.
"What is the context students need to be immersed in to really utilize their skills?" asks Yorgey. "How can we help them be capable in every situation, and what do they need to be successful in life? How can we help them find answers and be prepared? I feel it is about paradigm-shifting experiences. We don't say, 'Come up with a business and pitch it.' We say, 'Come up with a business and start it.' I look at it as if the future is an aircraft carrier moving away and we're trying to help them land on it."
Dougherty feels the experiences students have in all three institutes, both in and out of the classroom, transform how they learn and think about education.
"Their personalized experiences drive their enthusiasm and desire for more discovery," she says. "This fall, we hosted a panel discussion on intellectual property. Executives from Comcast, GE Ventures, and Lehigh University fielded questions from students and engaged in dialogue about 'ideas.' Having access to industry leaders reshapes how students think about learning."
While Dougherty feels an enthusiasm for education drives Perkiomen School's students, she knows education goes beyond coursework.
"Our students learn the value of iteration," she explains. "They gain the life experiences that things don't always work as planned. Our students learn to take calculated risks and adjust their direction when the outcome is not the predicted result. Reacting to what happens when your turbine doesn't work, or none of your friends want to participate in your research study, or your fish eggs don't hatch, how you get to your goal when there are obstacles in the way is a lesson that can't be found in a textbook. It's a tool for lifelong success."
"We show them that life isn't Instagram perfect," Yorgey adds. "They should focus more on their passions and making a difference. They can use their education, but also their connections. You get enough students working together, they begin to lean on each other and learn from one another. That's how you make your mark on the world."
Perkiomen School
200 Seminary Street
Pennsburg, Pa.
(215) 679-9511
Photography by Jody Robinson
Published (and copyrighted) in Suburban Life magazine, February 2020.