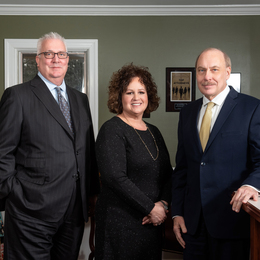 Choose Wisely
For anyone ready to file for divorce, Jeffrey A. Liebmann of Liebmann Family Law offers his perspective on how to select an attorney who can help navigate the unknown.
Divorce can be a painful gauntlet for everyone involved. Generally speaking, the more smoothly the process goes—legally, financially, and emotionally—the better it is for all parties. That's why anyone preparing to file for divorce needs to ask a number of direct questions of a prospective attorney. After all, this person will help dictate whether the process is a rough ride or smooth as glass.
"There's never a good time to begin the process of breaking up a marriage," says Jeffrey A. Liebmann, founding member of Liebmann Family Law in Newtown. "The person you hire to help you through it is going to play a big part in what happens next."
Since 2008, Liebmann Family Law has been building on its considerable experience and knowledge in family law, including divorce, custody disputes, and other related matters. The firm's legal team—Liebmann, David J. Sowerbutts and Mindy J. Snyder, aided by four legal assistants—takes pride in thoroughly explaining legal policies, procedures, and ramifications, every step of the way, and navigating positive outcomes. In fact, when needed, any one of the three attorneys can step in and handle an emergency for client, as well as answer any questions that may arise throughout a case.
"Getting clients and their families to the other side of divorce without creating more conflict is extremely rewarding and satisfying," he says. "It is invaluable when the parents are having civil conversations and still going to the soccer games at the same time to cheer on their children."
Liebmann wants his prospective clients to have everything they need before making an informed decision. He understands that there is so much information to process at a time when clients are nervous and scared, and understandably so. Furthermore, he wants them to receive the best service possible at what is often an extremely difficult time in their lives.
Client education is of paramount importance. By this, he means he wants his clients to understand going in that "the language of divorce," the legal proceedings, and the process of divorce can feel foreign, if not overwhelming. That's why it's so important to choose the right person who can help them navigate the process and lead them safely to the other side.
"Everyone has a friend with an opinion or a friend who has been through it, but you will be on much more solid ground if you rely on a trusted, experienced attorney," he advises. "The biggest roadblock is that many people, although they are unhappy in a marriage, don't think they can survive being independent of their spouse and are afraid of trying."
Ready to Choose
For anyone ready to start the process of ending a marriage, Liebmann offers the following 12 tips to consider when choosing the "right" family law attorney for them:
1. Interview more than one divorce attorney before hiring someone to represent you.
2. Find out if the attorney or firm offers a free initial consultation or if you will be billed for that first visit.
3. Ask how long the lawyer has been in practice and find out his or her philosophy of going to court and dealing with other attorneys.
4. Pick someone you feel comfortable with and whose style suits you best. Some lawyers are far more aggressive, while others try to avoid going to court, which is extremely positive since court proceedings are expensive.
5. Save money by gathering as many financial documents and other paperwork on your own.
6. Be prepared. One important aspect is to get an idea of the assets in the marriage by gathering materials by the second meeting—W2s, pay stubs, bank balances, mortgage balance, retirement assets, the last two years of tax returns, etc.
7. Seek the expertise you need. Family law is a specialized practice. Meeting with an experienced family law attorney can offer a roadmap of how a divorce will proceed.
8. Get an understanding of the process, and what you should expect in the coming months. Discuss where you will live, where your children will live, and other important issues.
9. In Pennsylvania, a couple cannot get divorced until the economic issues are resolved. Discuss finances, distribution of all assets and liabilities, spousal support, child support, and other major monetary issues that will very likely affect the rest of your life.
10. Ask how you as a client will be billed. Read all paperwork, especially the fee agreement, and make sure you understand it because a divorce can quickly get expensive.
11. Ask key questions early on, such as, "What is my life going to look like if I decide to go through this divorce process?" Within a couple of months, an attorney should also be able to describe what the client's financial future will look like.
12. Find out if after the consultation you may follow up with calls or emails regarding any additional questions or concerns that arise without cost.
During the past three decades of his career in family law, Liebmann has seen that many people who survive divorce "are stronger than they think they are, and didn't realize how unhappy they were in their marriage." As a result, he has seen many positive outcomes.
"I can't think of one story of someone who was in worse shape after the divorce," he says. "Taking a leap into the unknown and trusting someone you just met to help you through a divorce is a big undertaking. I am always proud that someone can sit with me for 60 to 90 minutes and say, 'I need you to help me through this,' and they trust their future and their children's future to me. I never take that trust lightly."
Liebmann Family Law
The Atrium
4 Terry Drive, Suite 4
Newtown, Pa.
(215) 860-8200
Photography by Jeff Anderson

Published (and copyrighted) in Suburban Life magazine, February 2020.