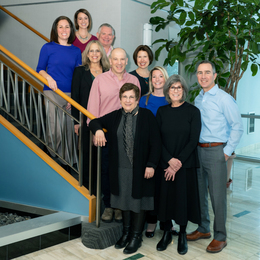 Nothing but the Best
With decades of experience and boundless compassion, Advocare Main Line Pediatrics delivers high-quality, comprehensive medical care to children and their families.
All caring parents want the best for their children—a peaceful family life, an exceptional education, and, most importantly, good health. That's why an increasing number of families seek out Advocare Main Line Pediatrics, which recently moved its second office location to Malvern as a companion to its flagship location in Narberth.
Advocare Main Line Pediatrics' 10 providers treat a broad range of patients, from newborns to young college students and everyone in between. Each provider and member of the support staff is committed to helping parents nurture children to their full potential, according to Michael Devon, M.D., the practice's managing physician. In fact, he says the practice's "tremendous" medical team was a major factor in his choice to join Advocare Main Line Pediatrics.
"Everyone shares a commitment to the patients that we take care of, and to each other and the practice," says Dr. Devon, a graduate of the medical school of the University of Pennsylvania and a fellow of the American Academy of Pediatrics. "Ours is a very collegial group, and we complement each other. Everyone is extremely intelligent, but also fun to be around. It makes coming to work that much more enjoyable."
"Our practice has strong roots on the Main Line," shares Linda DuBois, CMM, Advocare Main Line Pediatrics' practice administrator. "We've been here since the 1970s. A majority of our staff and providers have been here for more than 10 years—a good portion, 20 years plus. I think that says something about the character of the practice."
All Advocare Main Line Pediatrics providers take great joy in treating every patient. Just ask Elianne Josel, MSN, CRNP, IBCLC, who particularly enjoys providing care to the practice's youngest and most vulnerable patients—newborns—and their mothers.
Josel is the newest addition to Advocare Main Line Pediatrics' provider group. Prior to joining the practice, she worked as a bedside neonatal intensive care unit (NICU) nurse at Children's National Medical Center in Washington, D.C., and later at Children's Hospital of Philadelphia. Much like Dr. Devon, she came to Advocare Main Line Pediatrics in large part because of its team.
"As a group, we have a wide variety of clinical experiences and specializations that make our practice unique," says Josel, a board-certified pediatric nurse practitioner and certified lactation consultant. "We offer comprehensive care that includes consults for lactation, mental health, developmental concerns, and reproductive health. With our team specifically, even though we all have our own patient bases, we are able to go to each other for consultations. I love that about everybody here. I feel comfortable going to them, and I think they feel comfortable coming to me, so we can work together to provide our patients with exceptional care."
Helping Patients Thrive
Josel's colleague Eve Bosnick, MSN, CRNP, PMHNP, served as an instructor and mentor to Josel while she was pursuing her degree at the University of Pennsylvania. Bosnick recently became certified as a psychiatric mental health nurse practitioner. This designation makes her "a great resource for all of our providers at Advocare," according to Josel, though the practice has other providers who offer consults to patients with mental health disorders.
"The adolescent population in our practice faces many challenges surrounding mental health," she adds, "and it is imperative as a clinician to know how to assess, evaluate, and treat those who are suffering in a timely manner."
In addition to offering consultations to patients with mental health disorders, the practice addresses reproductive health concerns.
"Our office is unique in that we are able to address most general teen reproductive health concerns before needing to refer to our gynecology colleagues," says Josel. "Offering these consults is not standard at pediatric offices, but we believe they maintain our medical home model and, most importantly, provide teens with a familiar setting in which to address some of their most personal concerns."
Josel recently became certified as a lactation consultant and offers her services to the patients in the practice. She and other lactation consultants serve as invaluable resources to mother-child pairs, from delivery to months afterward.
"Lactation consults are definitely an in-depth process and we offer extended appointment times in both locations," Josel shares. "We discuss the mom's medical history, birth history, and then provide a thorough assessment of the infant for common anomalies that may cause issues with breastfeeding. We observe a full feeding and evaluate for efficient milk transfer by weighing the baby before and after breastfeeding."
Knowing a baby's nutrition and hydration status, after all, is of paramount importance.
Josel considers herself very fortunate for the opportunity to help mothers and their children thrive. She says it "feels amazing" to help women navigate motherhood, bond with their infants, and become successful at breastfeeding or pumping, providing necessary encouragement through every phase of the journey.
Starting in February, Josel will be facilitating a free lactation resource group at Advocare Main Line Pediatrics' Malvern office on the first Thursday of every month. There is no pre-registration necessary. Then, starting this spring, the practice plans to introduce additional evening sessions on topics such as managing attention deficit disorder, nutrition, and sleep health that will feature on-site specialists, including members of the Advocare Main Line Pediatrics staff. These specialists will answer questions for current patients and anyone else from the community who wishes to attend.
As the new Malvern office makes clear, Advocare Main Line Pediatrics is committed to serving an increasing number of patients in the Philadelphia suburbs. In addition, its practitioners have gone to great lengths to continually improve the quality of care provided to each patient. Continuing education is vitally important to every practitioner within Advocare Main Line Pediatrics to make sure every child has a strong start, from birth to the cusp of adulthood.
"I'm always reading journal articles, attending conferences, all so I can do the best by our patients," says Dr. Devon. "I always want to know more, to do the best I can. I want to be able to offer the best and most thorough care for all of our kids and their families. That's the standard everyone here aspires to every single day."
Advocare Main Line Pediatrics
100 Deerfield Lane, Suite 110
Malvern, Pa.
701 Montgomery Ave.
Narberth, Pa.
Photography by Jody Robinson

Published (and copyrighted) in Suburban Life magazine, February 2020.