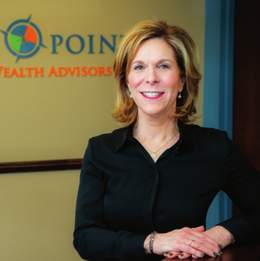 A Beacon for a Bright Future
Through planning and perspective, Jill B. Steinberg of Beacon Pointe Wealth Advisors helps clients gain the peace of mind needed to move forward after divorce.
Divorce has the potential to wreak long-lasting havoc on an individual's life. From the emotional toll of changing family dynamics, to the financial changes that can dramatically alter one's lifestyle, to the fear of the unknown, divorce may be one of the most difficult challenges a person can ever face.
Jill Steinberg knows this fact all too well because nearly half of her clients are divorced or widowed women. That's why she gets such satisfaction out of helping clients resolve many of the question marks that arise in the process of undoing a marriage.
"The average divorce takes about a year, and that's a long time to spend not knowing where the process is going to take you," says Steinberg, Managing Director and Partner at Beacon Pointe Wealth Advisors, which has offices across the country, including one in Bala Cynwyd. "That's why you need an attorney and a financial advisor whom you can trust, open up to, and be honest with. These are the people who can help you navigate all of the issues. By doing so, you gain control, and control gives you peace of mind and the ability to sleep at night."
Steinberg works predominantly with high-net-worth clients who have initial portfolios of $1 million to $20 million. Although she enjoys working with men and women alike, she is particularly passionate about empowering women—especially those who are going through a life-changing transition, such as divorce or the death of a spouse.
"Statistics show that women tend to live longer than men, and that means they are likely to inherit more assets," says Steinberg, who is an active member of Beacon Pointe's Women's Advisory Institute, as well as a member of the Forum of Executive Women. "In many marriages, the men handle the finances, so when the husband is gone—either because of death or divorce—the woman often doesn't know where to start. That's why I like to partner with these women to help educate and empower them to take control of their finances."
Regardless of a client's gender, Steinberg prescribes the same advice to anyone who seeks financial clarity in the midst of divorce: Don't go it alone.
"When you get divorced, regardless of gender, so much is in flux," she says. "You're used to having a partner to make decisions with and be a sounding board. 'Should we buy a new house?' 'Should we buy or lease a car?' 'Should we buy a vacation home down the shore?' These aren't everyday decisions, so naturally you want to run them by someone, but the person you used to have as that sounding board is no longer there.
"If you were the spouse who got off the career track for the good of the family, it's scary to realize that you now have to support yourself," she continues. "Fear is a powerful emotion, and it often prevents people from making a decision that might be better for them in the long run. By taking away that fear, you can make decisions with a clearer mind."
Steinberg found her passion for people and finance at an early age. After earning her bachelor's in economics from Princeton University, Steinberg became an analyst with Morgan Stanley in New York. She then went on to earn her M.B.A. with distinction in finance and real estate from The Wharton School of the University of Pennsylvania. She founded her own wealth advisory firm, Walden Capital Advisors, in 2006.
In 2017, Steinberg merged her firm into Beacon Pointe Wealth Advisors, a registered investment advisory firm with a growing national footprint; Beacon Pointe climbed to No. 20 on Barron's 2019 list of America's leading RIA firms, up from No. 36 in 2018. She leads a seven-person team locally that includes four wealth advisors, a dedicated financial planner, and two client-service professionals. Steinberg believes that her clients get the best of both worlds—the personalized service of a smaller, local firm combined with the support, financial planning resources, and investment research and access of a larger national firm.
By collaborating with clients on a comprehensive financial plan, Steinberg can paint a sharper picture of "where they are and where they want to be." The plan includes a realistic roadmap for the future that factors in assets, liabilities, income, expenses and savings, with an eye toward investing in accordance with the individual's level of risk tolerance and time horizon for various goals. In some cases, a plan may involve tools to preserve the wealth someone has worked so hard to acquire, through long-term care insurance and other protections associated with estate planning.
For someone who is going through a divorce, Steinberg and her team help to establish expectations in regard to where an individual may stand once the proverbial dust has settled.
"Maybe they have to start thinking about earning income," she says. "We also help clients consider different scenarios in regard to asset distribution, including the tax implications of dividing up assets. You can't just say, 'I'll take the traditional IRA and you take the Roth IRA,' because those assets are taxed differently. You want to make sure you end up with a fair settlement, and, in my view, you want to do everything you can to make a clean break from an ex- spouse, which can be better not only for your financial health but also for your mental health."
Steinberg's ability to put clients at ease extends to happily married couples, too.
"Money is often a big tension creator in a marriage," she says. "When you are dealing with a couple, a lot of times you are bridging the gap between two spouses, where one's a spender and one's a saver. What I can do is add structure and discipline so both spouses have a plan designed to give them the peace of mind they need."
Although Steinberg has no firsthand experience with the pain of divorce, she's no stranger to traumatic loss. Nearly six years ago, her daughter, Blaine, passed away unexpectedly. She and her husband have since started a nonprofit foundation in their daughter's honor, Live Like Blaine, which aims to inspire young women to become leaders through athletics. It's one of many philanthropic causes in which Steinberg is involved.
Her philanthropic endeavors have much in common with her work as a wealth advisor; in both cases, Steinberg aims to make a lasting difference. Some clients want to retire comfortably. Others wish to fund a child's education. Still others want to leave a legacy that will endure for generations to come. No matter the goal, Steinberg gets much satisfaction out of helping clients succeed.
"Whether your goals are tangible like buying a vacation home or intangible like finding more meaning in your life through philanthropy, you likely need money to achieve them," she says. "When people feel better about where they are and where they are going, they tend to enjoy life more. When I see clients do that—whether it's switching careers to leave a high-stress job, buying a second home somewhere they love, or getting through to the other side of a divorce—it's deeply and personally fulfilling."
Jill B. Steinberg
Beacon Pointe Wealth Advisors
Two Bala Plaza, Suite 401
Bala Cynwyd, PA 19004
(610) 664-6100
jsteinberg@beaconpointe.com
Jill Steinberg is a Managing Director, Partner at Beacon Pointe Wealth Advisors, LLC, a registered investment adviser. The content herein is for informational purposes only, and should not be construed as legal, tax, investment, or other advice. This is a paid advertisement.
Photography by Jody Robinson

Published (and copyrighted) in Suburban Life magazine, February 2020.