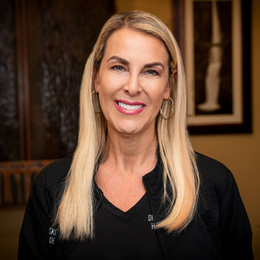 Treated in Tranquility
At Heritage Dental, Dr. Beth Skovron and her staff deliver holistic dental care in a serene, spa-like atmosphere.
Visitors to the idyllic Heritage Executive Campus in Montgomeryville will find tranquility in an unexpected place: the office of Beth Skovron, D.D.S., FAGD, better known as Heritage Dental.
Nearly 15 years have passed since Dr. Skovron built the spa-like practice from the ground up, yet the office is anything but outdated. Heritage Dental underwent major renovations in 2018, and it continually updates its technology to stay at the forefront of the industry.
"This June, we celebrate the two-year anniversary of our practice re-design," says Dr. Skovron, who has been in practice for 26 years. "It was a big undertaking, but our old reception area was too small. The vibe I'm going for is more open and cozy, with a coffeehouse/spa atmosphere, and I think with these renovations we've achieved that."
Now, Dr. Skovron suggests, the office is reminiscent of an oasis of relaxation—a remarkable difference when compared with a traditional dentist's workspace.
"From the art to the waterfalls, we renovated everything to achieve a woodsier feel," she says. "We have a Buddha statue in our waiting room, along with lights hand-strung in Wyoming."
Her vision was to impart tranquility to patients from the moment they walk through the door.
"We added a concierge that is the first thing someone sees when entering the practice," she shares. "A member of our staff greets each patient, not hidden behind a window."
In addition to the renovated reception area, Dr. Skovron added two new state-of-the-art treatment rooms, as well as a specially designed "Zen room" featuring a massage chair and soft lighting, where patients can relax before and after treatment. The office also has repurposed a room that is now dedicated to showcasing patients' smiles through an array of "before and after" images.
Always Upgrading
Dr. Skovron offers a comprehensive lineup of dental services, ranging from crowns and fillings, to cosmetic and implant dentistry, and much more. She takes great pride in offering the latest technology to make treatment as comfortable and effective as possible.
"We're always upgrading our technology," says Dr. Skovron, who is herself a CEREC® (Chairside Economical Restoration of Esthetic Ceramics) mentor and instructor, and a digital dentistry instructor. "We just upgraded our digital technology again in December."
This leap forward has been welcome news to the ears of patients, who no longer have to endure impressions taken with uncomfortable trays filled with putty-like material. Rather, patients benefit from digital imaging technology that is no more invasive than having photographs taken.
"Using the video CEREC technology, we can image for everything—orthodontic work, night guards, crowns," she says. "It's huge for people who are fearful. There's not a day where I don't use the CEREC machine."
CEREC technology also provides the driving force behind Dr. Skovron's onsite laboratory. Designed to foster greater accuracy, efficiency, and convenience, the laboratory enables her to manufacture 90 percent of crowns, among other restorations, the same day they will be placed in patients' mouths.
Likewise, technology has enabled Dr. Skovron to revolutionize the way she treats patients in need of dental implants. Using digital images of a patient's mouth, she can essentially "map out" the procedure prior to performing the actual procedure on the patient.
"We have a 3D scanner to assist in 3D reconstruction," she says. "It's like an MRI and a CAT scan together. I can do virtual surgery first before transferring to a patient's mouth. This 3D technology allows for much less invasive implant surgery. I can do everything on-screen, in 3D, before working on the patient. Better planning means less invasive procedures."
A Holistic Approach
As a dentist focused on holistic treatment, Dr. Skovron emphasizes the connection between the health of the mouth and the health of the body.
"Periodontal disease is tied to diabetes, hypertension, and more," she says. "Keeping inflammation down in the body has been a focus throughout medicine lately and, as the mouth is the connection to the rest of the body. If the mouth is unhealthy, the body is unhealthy. People think they can close their mouth and as long as they're not in pain, nothing is wrong. People forget that the teeth and gums are connected to the rest of the body."
Gone are the days of chunky metal fillings in teeth. In fact, Dr. Skovron uses no metal in any of the work she performs, even in the understructure of crowns.
"A lot of patients are also looking for the non-fluoride holistic approach," she shares. "Most health-conscious consumers don't want mercury fillings, or metal in crowns. … Now, there are all sorts of alternative practices, homeopaths, and biologic doctors—truly innovative health practitioners."
As part of her holistic philosophy, Dr. Skovron embraces the simple act of listening. She and her staff collaborate with each patient to provide a treatment plan that balances the patient's needs with the patient's wishes.
"Our holistic approach means that patients who want fluoride can have it, and those who don't, won't," she says. "We don't push anything on anybody. One of our strengths here is that we're willing to listen to patients and talk with them about their health. There is no cookie-cutter way to treat people in medicine."
Interestingly, the name of Dr. Skovron's practice, Heritage Dental, reflects more than just its location as a tenant of Heritage Executive Campus. Dentistry runs in the family.
"My dad was a dentist," she says. "From the time I was five years old—even with fillings or injections—he never hurt me. This is a reason I made it my mission to try to change the perception of dentistry. My mission is to relax people and make the experience as stress-free as possible. I think we've achieved that.
"The rebuild has made the space gorgeous—more appealing, more comfortable," she continues. "It's like a dream."
Given Heritage Dental's efforts to redefine the experience of sitting in the dentist's chair, Dr. Skovron's patients are likely to agree.
Heritage Dental | Dr. Beth Skovron
595 Bethlehem Pike, Suite 302
Montgomeryville, Pa.
(215) 822-3860
Photography by Jody Robinson

Published (and copyrighted) in Suburban Life magazine, February 2020.