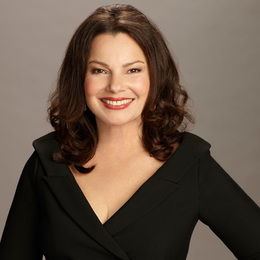 It's a Wonderful Life
The inimitable Fran Drescher treasures life's "simple pleasures."
Fran Drescher is a survivor.

Perhaps best known for playing Fran Fine in the massively popular '90s sitcom The Nanny, Drescher is back on prime time with Indebted, a new NBC comedy about a middle-class couple, Deb and Stew (Drescher and Steven Weber of Wings fame), whose financial troubles require them to move in with their adult son and his family. Indebted airs Thursdays at 9:30 p.m.

Drescher is candid about her difficulties and triumphs during her decades-long career as a television actress, writer, and producer. She's had to endure two divorces, a battle with cancer, and a brutal attack. The 62-year-old Drescher has gotten to a point in her life where she feels strong, independent, and "truly happy in my own skin."

"Life is a journey of self-refinement," she says. "For the first time, I am really an independent woman and very proud of myself. I learned by having some really terrible things happen that brought me to the depths of despair—that no one leaves this planet unscathed. Instead of saying 'Why me?' at some point you have to let go of what you thought was supposed to be and play the hand you've been dealt as courageously, and elegantly, as you possibly can."

She fills her life with "simple pleasures," such meditation, home-cooked meals, and fresh flowers at home. She also treasures having the time to write and traveling to see friends in some of her favorite places, including picturesque Bucks County.

We spoke with Drescher about her remarkable career, the importance of having loving relationships, and why people need to take more time to stop and smell the roses.

Q&A
If you had to downsize like Deb, your character on Indebted, how would you react?
I don't have a problem with having to live smaller. Let's face it: Just getting older dictates that at some point you're going to want to have a much smaller life.

What about living with family as an adult?
I love having a family that is tightly knit, and I wish my parents (Morty and Sylvia) would move from South Florida to L.A. to live with me. I think at a certain point you've got to live near your children, if you are lucky enough to have children who want to help you live your best life in your golden years.

How are you and your character in Indebted different?
Our outlook on finances. I have huge respect for money. I came from humble beginnings, and I am proud to say that I have earned everything I have. Deb and Stew live in the moment, and they live for the rush of having this stuff, rather than living completely within their means, which would include saving money and investing it. I am not the type of person who defines myself by how much money I can spend or how I can show off to the world.

Tell me about your relationship with the Philadelphia area.
I received the Liberty Bell award for the work that I do on behalf of gay civil liberties in the City of Brotherly Love. That was an extremely exciting event. Every time I am there I try to partake in some of the cultural events that are about being in and around Philadelphia. …I will never go to your area without stopping in [to the Barnes on the Benjamin Franklin Parkway]. I have several friends who have beautiful country homes in Bucks County. We enjoy the food and all of the sights. When you are lucky enough to travel, you meet people and become enmeshed in the different cultures, you can appreciate how diverse—and special—our country is in so many ways.

What are you most proud of?
Well, The Nanny was the big prize; that a girl from Queens could create that show was the peak. But also turning my pain into purpose and founding the Cancer Schmancer Movement has given my life a level of purpose and value, and helped make sense out of the senseless. I am proud of the important work that we are doing. But most of all I am proud of all the close-knit relationships that I have in my life.

Do you ever go back and watch The Nanny?
My parents watch it every day, but I like to have it on my DVR. Sometimes I will see an episode that I want to re-watch, and I will sit down and laugh out loud, so that it's almost a new experience. I don't have a problem watching myself. Occasionally, I will remember what was going on in my personal life, which might have contrasted with what was going on in my character's life. That's always interesting to reminisce and see where I am today.
Published (and copyrighted) in Suburban Life magazine, March 2020.