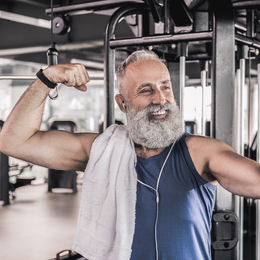 Still Gaining
Can our minds and bodies improve with age?
Some people view the aging process as one long downward spiral, marked by declines in muscle mass, balance, and mental sharpness. While some losses may be unavoidable, it's possible to make gains, too.

Sarcopenia—another word for the age-related loss of muscle—happens to everyone. After age 30, men begin to lose as much as 5 percent of their muscle mass with each passing decade, according to a 2016 report from Harvard Health Publishing. Even so, just because one loses muscle mass does not mean it cannot be reclaimed. Researchers suggest a structured and dedicated exercise regimen—specifically, progressive resistance training, where the amount of weight, as well as the number of repetitions and sets, used in a workout increase as one's strength and endurance improve—can help to build (or rebuild) muscle.

People of a certain age have good reason to want to stay strong. Those with sarcopenia are more than twice as likely to have a low-trauma fracture from a fall, according to a report from the American Society for Bone and Mineral Research. Broken bones and related injuries can significantly impair one's quality of life, and they even have the potential to shorten one's life span.

Exercise alone, however, will not suffice. To assist in building muscle mass, nutritionists may prescribe a diet featuring a variety of proteins, as well as calcium-dense foods such as milk, yogurt, and broccoli to promote strong bones. Of course, a healthy diet should also include ample fruits and vegetables—particularly antioxidant-rich leafy greens such as kale and spinach—and high-fiber foods such as beans, nuts, and oats to lower the risk of diabetes, heart disease, and stroke.

The foods we eat affect more than just our muscles, according to HelpGuide, a nonprofit website devoted to health and wellness. A healthy diet may also improve mental acuity, boost energy, and increase one's resistance to illness.

That's why Derek Brewington, the director of culinary services at Atria Center City, takes his job so seriously. He takes great care in cultivating the dining experience for all members of the senior-living community, which is located in Philadelphia's Logan Square neighborhood.

"The food we're doing is cooked to order," he says. "We don't have a lot of food that's already cooked and waiting in steam tables. We're searing off the salmon once it's ordered, making the filet to order the way each resident likes it."

At the same time, residents have become much more knowledgeable and discerning in the kinds of foods they want on their dinner plates, Brewington suggests. He has responded by offering more vegetarian and "healthier" options.

"My residents have traveled the world, and they know food," he says. "We serve rack of lamb, and not everyone wants mint jelly; some might appreciate a whole-grain mustard jus. They understand the menu, so if we use terms like chicken Marsala, they know that means chicken and wild mushrooms. They're also willing to try new things, like quinoa, or brown rice or basmati rice instead of white rice."

Likewise, at Meadowood Senior Living in Worcester, near Skippack, the culinary team aims to nourish and satisfy residents' taste buds, as well as educate. Whereas ancient grains such as quinoa and faro were once unfamiliar to most residents, they have since become menu staples. The same can be said of fresh fish such as ahi tuna, mahi-mahi, and wild king salmon. Not only do residents crave the flavorful preparations, but they also appreciate the nutritional content: high in protein, rich in vitamin D, and abundant in omega-3 fatty acids.

"We're even hearing more requests for these meat-less proteins as part of the vegetarian wave," says Brewington of Atria Center City. "Many of them have the mouthfeel and consistency of meat, and they're also high in protein. That's important for everyone, especially as we get older."


Published (and copyrighted) in Suburban Life magazine, March 2020.