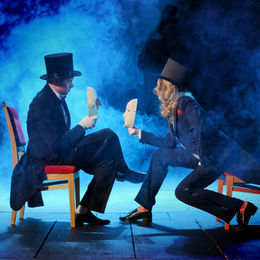 Dramatic Turn of Events
As theater groups proliferate in suburban communities, opportunities for enlightenment and entertainment abound.
In the first half of the 20th century, the Philadelphia suburbs benefited from something of a construction boom. More accurately, it was a conversion boom, as small groups of like-minded people converted existing structures into theaters. Before then, suburbanites wanting to see a high-quality theatrical production had to travel to a theater in a metropolitan area such as Philadelphia.

Small, intimate theaters kept popping up in one community after another, with the apex of this cultural movement running from the 1930s to the 1960s. For example, two theaters companies in Montgomery County—The Barn Playhouse in Jeffersonville (1937) and Playcrafters of Skippack (1939)—converted old barns into theaters. In the early 1960s, a group of people in Phoenixville recreated a former funeral home into what is now known as Forge Theater.

Because these institutions are still largely served and supported by members of a particular community, they are commonly referred to as community theaters. These small venues have clear advantages for audience members: No seat is too far from the action on stage; and tickets are very reasonably priced, due to theaters' nonprofit status and the fact that nearly all participants (actors, directors, stagehands, etc.) volunteer their time. Such devotion has helped many of these community theaters not only remain relevant but also thrive.

'Enjoy a Moment in Time'
Small suburban theaters certainly bring culture into the heart of a given community, but they accomplish much more than just provide entertainment. Live theater also contributes to the social welfare of a community in various ways—by providing unique opportunities, developing skills, boosting community spirit, and enhancing the artistic sensibilities of everyone involved.

Doing so requires a great amount of time and effort. The 125 members of DCP Theatre work very hard to make each production succeed, according to Deb Takes, president of DCP Theatre in Montgomery County.

"In our theater, there are people of different ages, different backgrounds, and different disciplines, and everyone pitches in and does whatever is necessary for us to bring the best product to visitors," says Takes, whose theater is located on a quiet country road in Telford. "Some of them act, some design sets, some build sets, and some sell tickets. Once you get involved with it, you realize that community theater has a tremendous amount of benefits for everyone involved. It allows for people to get acquainted with each other and to exercise their artistic ability. It's friends and neighbors working together and sharing their passion."

Of course, it's fair to say, audience members, many of whom are also friends and neighbors of the same community, not only benefit by enjoying a good performance, but some also develop that same passion for live theater and quickly become more involved in one way or another.

"A good show can be exciting and can be a pleasurable and memorable experience," Takes
says. "It makes us all slow down and enjoy a moment in time."

Takes is a theater buff of the highest degree, as well as the epitome of what a hardworking, dedicated, and reliable volunteer should be. Over the course of her more than 40 years at DCP, she has served in just about every capacity possible. Her high office aside, she often finds herself completing tasks some might consider menial.

"I'm a director, an actor, a producer," she says. "I help design sets and pick out or make costumes, clean toilets and sweep floors. Everyone chips in and does what they can. Everyone is focused on our main goal, which is putting on the best show possible."

In fact, one of the things she likes most about the theater is how it teaches people to work together toward a common goal and "experience quality time together."

'A Great Thing'
Another thing that's universal among theaters, both professional and semi-professional, is a strong commitment to share their passion and love for the theater with others. DCP certainly does its part, with three of its nine yearly productions qualifying as "family theater," meaning for young children and their parents. Furthermore, DCP sponsors a separate entity called Drama Kids International, a respected organization that teaches acting to kids ages five to 17.

"We start by working on the kids' public speaking," says Bill Algeo, who runs the Drama Kids classes at DCP. "Then we work on projection, articulation, self-confidence, and movement on stage. At the end of each class, the students put on their own play."

Takes is pleased with DCP's relationship with Drama Kids. She's happy to report that students from the classes often graduate into roles in DCP productions.

"Community theater is just a great thing," Takes says. "It is entertaining and enlightening. It's close by. You're sharing the experience with friends and neighbors. There's plenty of free parking, and tickets are very reasonably priced."

In community theater, people feel compelled to work together for a common cause, utilizing a diversity of talents and contributions to create a final product in which all the participants take pride in producing. The productions themselves have perhaps even more of a positive impact; a production can be educational, provocative, endearing, passionate, and, at times, even shocking, but it's hardly ever boring. Even the structures that house these theatrical productions are revered as meeting places, as sanctuaries where friendships and memories are made.

In other words, when live theater comes to a community, the quality of life tends to improve for everyone whose life it touches.

Now Playing
The Philadelphia suburbs boast a number of excellent theater companies, including Act II Playhouse in Ambler (act2.org), Bucks County Playhouse in New Hope (bcptheater.org), McCarter Theatre Center in Princeton, N.J. (mccarter.org), and People's Light in Malvern (peopleslight.org). In addition, many suburban towns have established community theater groups, some of which have been staging productions for more than 70 years.

The Barn Playhouse
Jeffersonville
barnplayhouse.org

The Brandywiners Ltd.
Kennett Square
brandywiners.org

DCP Theatre
Telford
dcptheatre.com

Forge Theatre
Phoenixville
forgetheatre.org

Methacton Community Theater
Audubon
methactoncommunitytheater.org

Montgomery Theater
Souderton
montgomerytheater.org

Narberth Community Theatre
Narberth
narberthcommunitytheatre.org

Playcrafters
Skippack
playcrafters.org

Players Club of Swarthmore
Swarthmore
pcstheater.org

The Playmasters
Bensalem
playmasters.org

Town and Country Players
Buckingham
townandcountryplayers.org

The Village Players
Hatboro
thevillageplayers.com

Published (and copyrighted) in Suburban Life magazine, March 2020.