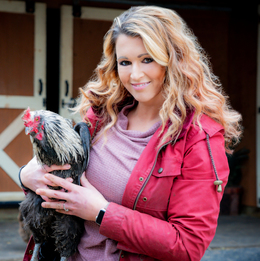 Untamed Heart
Noah's Ark Rescue Project and Sanctuary in Chester County strives to help every animal in need attain a better life.
Horses and dogs have been the two constants in Candace Scheirer's life.

"I've been riding since I was two years old," says Scheirer, 33, a Chester County native. "I grew up having at least one or two family dogs. I had a Dalmatian named Chip that I dressed up in people pajamas, and he slept in my bed."

As she grew older, the bond between Scheirer and the animals in her life became stronger and expanded far beyond dogs and horses. Today, approximately 70 animals of various sizes, shapes, and species wander the grounds of her 31-acre property in Glenmoore.

"At any given time, we have 10 to 15 horses, two steer, some pigs, 11 dogs, 10 barn cats," she says, adding that she has also cared for a number of exotics, including a zebra. "We have a variety of animals rolling through on a full-time basis."

Scheirer is the founder and president of Noah's Ark Rescue Project and Sanctuary, or NARPS, a nonprofit animal rescue and welfare organization devoted to rescuing, rehabilitating, and rehoming animals in need. These animals may hail from shelters, auctions, or owner surrenders, according to Scheirer. At the moment, the number of rescue animals NARPS can take in is limited by the number of willing participants in its foster program, which continues to grow; at the moment, NARPS has as many as 40 animals in foster homes, while the sanctuary is reserved solely for farm animals that live at Scheirer's residence.

"We're a very unique rescue," Scheirer says. "There aren't too many who take on as broad a spectrum as we do, and that definitely makes us a little different than the average dog rescue. Our slogan is, 'Big and Small, Hooves and Paws, We Rescue Them All.'"

Scheirer founded the nonprofit in 2015 and ran it by herself for the first 18 months or so. In the time since, a group of fellow animal lovers who have a passion for rescue have expanded NARPS's network of fosters and supporters. She describes the nonprofit's first five years as "a learning process."

"Everybody starts out with the mentality that you want to save them all," she says. "As time goes on, unfortunately you have to come to grips with the fact that you can't save them all or you will legitimately make yourself crazy. You have to keep your own mental health in check. … We come across dogs, horses, and other animals from all walks of life, and they can't tell us what their background is, what happened to them, or what abuse they have suffered."

When NARPS takes on an animal, the organization has one goal: to improve its quality of life. In some cases, this might mean placing the animal in its "forever home," courtesy of a willing adopter. Some endings aren't necessarily happy.

"There are times when you try to save an animal, but once we get it, the animal is too damaged and has suffered too much that it can't be saved in the sense that you want it to be saved," Scheirer adds. "Sometimes saving them means letting them go from their demons. It's a tough lesson to learn."

To her point, the work can be heartbreaking at times, but it's also extraordinarily fulfilling. Scheirer cites Josephine, which was a six-month-old puppy when it was found on a sidewalk in Philadelphia, ailing from serious injuries that included a shattered skull.

"She went to VSEC (Veterinary Specialty & Emergency Center) in Philly and had to have her entire skull reconstructed with plates and screws," Scheirer recalls. "Her vet bills ended up being something like $11,000. A wonderful family adopted her, and she's just as happy as can be. She's the coolest dog ever. Considering what happened to her, it's insane how forgiving animals can be."

NARPS's annual operating budget depends largely on the kindness of strangers—i.e., donations. At the same time, the organization has become an agile fundraiser through a combination of online campaigns and in-person events, such as puppy yoga, paint parties, and meet-and-greets.

As NARPS has grown, additional help has come from a small but devoted team of fellow professionals who help Scheirer "keep my ducks in a row." A five-person board provides guidance and expertise in areas ranging from public outreach to fundraising. When needed, a board member might even get behind the wheel and pick up an animal from a shelter and deliver it to a foster home.

"I'm very proud of the fact that we're devoted to rescuing all breeds and all kinds of animals—the fact that we'll accept any animal in need," says Karen LeBlanc, a NARPS board member who oversees the organization's finances and is heavily involved in fundraising. "I also love that our focus is on extreme medicals—animals that other rescues could not take because the financial burden could be extreme."

She references Ragnar, a rural shelter dog that came to NARPS in a state of severe neglect. Nursing Ragnar back to health required a significant investment—$7,000 or more, according to LeBlanc—but NARPS was happy to make the effort.

"That's the kind of dog Candace will see and say, 'Of course,'" says LeBlanc, who also serves on the board of directors of the Amity Township Athletic Club in Berks County. "If you pull a dog out of a shelter, you could be looking at $4,000 to $5,000 without blinking an eye. We couldn't afford to do that without our followers, but you also can't rely solely on the generosity of others. We've reached out for grants for those kinds of extreme cases. Grants for animal welfare are few and far between, but the needs are great."

Hopes and Dreams
Scheirer didn't set out looking for a career in animal rescue. As a longtime equestrian enthusiast who aspired to ride competitively, she felt the need to save horses that were being sold to slaughterhouses by way of auction.

This experience marked a turning point in her life. She subsequently founded Hoof 'N Hearts Horse Rescue, which she ran for five years or so, funding the enterprise largely out of pocket through her work as a surgical tech and, later, a sales representative for orthopedic medical devices. In the process of rescuing horses, she wound up fielding calls from friends and other contacts who asked if she could help with other animals, too. Thus, NARPS was born.

Horses remain "my passion," she says. She continues to ride competitively on occasion, and she also runs Elysian Meadows LLC. In this enterprise, she works with off-the-track thoroughbred horses and repurposes them to compete in other equestrian disciplines such as jumping or dressage.

Going forward, Scheirer has bold "hopes and dreams" for NARPS. First and foremost, she would like to complement the ever-expanding foster program with a multi-acre facility to further "ease the burden on shelters." She envisions this facility as more of a "community," where dogs, cats, and other animals enter a peaceful, home-like setting—a much different experience compared with a traditional kennel-type shelter.

"I would love to do it as soon as possible, but the long and short of it comes down to finances," she says. "We don't want to dig any deep holes of debt. We also want to do more public outreach and education—teaching the importance of spaying, neutering, and training. The more educated people are, and the more responsibly they take care of their animals, the fewer animals will end up in shelters."

Photography by Jody Robinson
Published (and copyrighted) in Suburban Life magazine, June 2020.