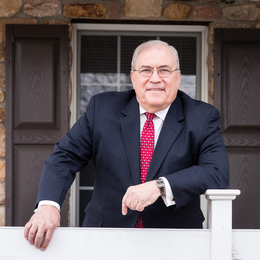 Invested in Others
As founder of Capital Insurance & Investment Financial Planning Inc., John E. Stanojev strives to uplift clients, community members, and everyone in between.
In John E. Stanojev's estimation, only one thing is more important than adding value to clients' financial portfolios: the clients themselves. As president of Capital Insurance & Investment Planning Inc., a full-service, independent financial planning firm headquartered in Doylestown, Stanojev has maintained that core philosophy since founding the firm in 1999.

Whether someone is a new client or has been working with the firm for several years, Stanojev focuses on family over finances. In other words, he treats every client as a human being. Nearly 40 years of success in the finance industry have taught him that the most effective way to manage clients' money is to first understand what motivates them as individuals, what beats inside of them.

"I've always believed you treat clients as family," says Stanojev, who earned a B.A. in finance and business administration and is a Master Registered Financial Consultant. "The best way to help manage people's money is to care about them as people first. I call my clients when I know they're sick, to check up on them, to see if they need anything. It's not all about billable hours."

An example: The sister of one of Stanojev's former co-workers was battling health issues. The woman's late husband, a police officer who died prematurely, was the dominant spouse who made all the financial decisions with Stanojev. The woman's car was in disrepair. She needed another, but her husband had always handled those kinds of purchases. She called Stanojev.

"I told her we'd go out to several dealerships on a Saturday morning and test drive some cars," Stanojev recalls. "I told her if she didn't like the vehicle, we'd keep looking at other dealerships. Three weeks later, we found a car she loved. We freed up money from their account and bought the car."

Of course, Stanojev didn't bill her for his time.

"That's not how I do things with people," he says. "That was an expectation her husband would have had, that I would be there to help her if he were gone. There are times when you need to take care of people as people, not because they're a client."

Doing What's Best
Stanojev and his team at Capital Insurance & Investment Planning apply decades of experience and knowledge to helping clients work toward their goals and objectives, whether those goals and objectives involve investments, retirement planning, estate planning, eldercare planning, insurance planning, or all or some of the above. The firm specializes in handling qualified and non-qualified company retirement plans and business continuation planning. No matter the specific need, clients receive individual attention and sound objective advice on a fee-for-services basis.

At Capital Insurance & Investment Planning, the mission is to deliver to each client a level of service designed to exceed their expectations. Each of the firm's highly credentialed financial advisors completes 40 hours of continuing education training per year. Also, each client receives a "Client Bill of Rights" and a service matrix, which serves to define what each client can expect from the firm and what it will ask of the client.

"We help either create or manage the wealth," Stanojev says. "We'll take startup investors as well as others. We help them protect their families. We're motivators; we encourage our clients to have their estate planning in order, making sure they have a current will. When a client's heirs come to me and say their dad never shared his plans with them. I can then say what his intentions were and I can do what's best for them."

Stanojev has greatly enjoyed his career, which he describes as "diverse" and "very rewarding." While he appreciates having received numerous industry awards and commendations for his work, he receives far greater satisfaction out of helping clients' financial dreams become a reality.

"I've played so many roles in the industry," he says. "I've been an outside sales insurance rep and eventually worked my way into management. I was fortunate to get with a small company and became involved in product development and research—everything. That accelerated my growth and gave me a better understanding of how to serve clients and communicate better with them."

But Stanojev isn't just someone a client will see when visiting his office in Doylestown or speaking on the phone about their portfolio. Rather, they are likely to see him throughout the community in a number of civic-minded settings, including the Rotary Club of Doylestown, the Central Bucks Chamber of Commerce, the Mercer Rainmakers of Mercer Museum and Fonthill Castle, Pearl S. Buck International, and the Michener Museum.

In addition, Stanojev is the fundraising chairman for the "Friends of the Borough Dam," and helps run its fishing derbies, which support the youth, seniors, challenged individuals, disabled veterans, and residents of numerous area nursing facilities. Also, if the Santa Claus riding atop a fire engine in the Doylestown Christmas Parade in late November looks familiar, you can guess why.

"We enjoy being involved in the community," Stanojev says. "It's important to give back. I had a band years ago, and we even opened for KISS at the Philadelphia Civic Center. There was a club owner we met, a former Vegas entertainer, who took us under his wing, he taught us to be entertainers. He had no children of his own and treated my brother and myself like we were his kids. I never forgot that, and remember it in what I do today.

"When people treat you kind, you learn to be kind and share with others," he continues. "We try to do that with our firm. We're interested in what people want to accomplish. We want to make things better for them all around. We are committed to helping clients get where they want to go."

Capital Insurance & Investment Financial Planning Inc.
350 E. Butler Ave., Suite 102
Doylestown, Pa.
(215) 345-6961
jstanojev@capitalinsureinvest.com
www.capitalinsureinvest.com


Securities and Advisory Services offered through Cadaret Grant & Co., Inc. a Registered Investment Advisory and member FINRA / SIPC. Capital Insurance & Investment Planning and Cadaret Grant & Co., Inc. are separate entities.

Photograph by Jeff Anderson

Published (and copyrighted) in Suburban Life magazine, March 2020.