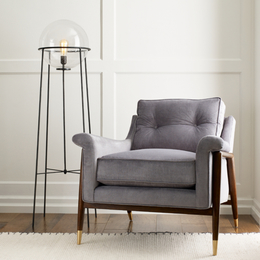 Shining Examples
From Ellen to Ralph Lauren, Denney Electric Supply offers inspired lighting collections from some of the most trusted names in interior design.
Homeowners with an interest in interior design often turn to HGTV or Instagram in search of ideas and inspiration. They might consider adding another resource to the list: Denney Electric Supply, which provides an array of timeless lighting solutions that blend the classic elegance of yesteryear with the functional needs of the present day.

Through a partnership with Generation Lighting, each of Denney's seven area showrooms now offers a portfolio of lighting collections curated by well-known designers in all categories of decorative residential indoor and outdoor lighting. These collections include:


* AH by Alexa Hampton. This collection of ceiling- and wall-mounted lighting features Hampton's fresh, natural takes on traditional looks, such as imaginative light sconces and starburst light pendants. Each thoughtfully inspired piece in the collection features a unique hand-applied finish—including highly popular brass—designed to make an impression.

* C&M by Chapman & Myers. Influenced by architectural themes that add an ageless quality to the home's interior, the C&M collection represents the collaboration of two icons in home lighting. Each piece in the collection offers a seamless blend of E.F. Chapman's classically influenced style and Kyle Myers' modern sensibilities.

* ED by Ellen DeGeneres. Best known as a beloved talk-show host, DeGeneres also has a keen eye for interior design. The ED collection was influenced by some of DeGeneres' favorite artists, and features details that draw inspiration from treasured pieces in her own homes. Look closely at each of the items in this collection and it's easy to see an appreciation for design styles such as relaxed midcentury and rustic modern.

* Kelly by Kelly Wearstler. This noted American designer has curated a bold collection of mounted lighting and floor lamps that blend modern and vintage. The Kelly collection is yet another example of the delicate balance that has come to define Wearstler's approach to design: pieces that challenge the established norms of design in ways that feel entirely accessible.

* Lauren by Ralph Lauren. Sleek and sophisticated, this lighting collection features the signatures one might expect of any product that bears the Ralph Lauren name: fine materials, exquisite detailing, and inspired finishes. From tailored sconces to contemporary chandeliers, every piece in the Lauren collection has the potential to add a sense of refinement and modernity to the home.

* TOB by Thomas O'Brien. The TOB collection draws its inspiration from a man who is considered a master at creating a bridge between modern and traditional. The pieces in the TOB lighting collection aim to interpret the full spectrum of design styles—from antique to modern to industrial—and often in unexpected ways.

"Some people are drawn to a particular designer, so having these collections may help to narrow down the search," says Emma L. Dinnocenti, director of marketing for Denney Electric Supply. "You're essentially getting a designer piece but without the designer pricing. We also have monthly sales, so we can offer options that can be tailored to their budget."

Denney showcases these designer collections at each of its seven showrooms in the Greater Philadelphia Area. In addition, each showroom offers a number of other options from Generation Lighting, including legacy collections from Feiss and Sea Gull, as well as a collection of ceiling fans and overhead light kits under the Monte Carlo brand.

Such variety may explain why Denney has become a go-to lighting resource for home contractors and homeowners alike. Denney strives to offer uncommon variety and unparalleled service at each showroom. If a homeowner requires installation services, for example, a member of the Denney staff can offer recommendations and referrals for trusted professionals located nearby.

"Our showroom managers are there to help people make decisions with their lighting choices and layout," Dinnocenti says. "The showrooms are a great place to choose from a variety of different looks and vignettes, and to get ideas and inspiration from the lighting and design professionals we have on site."

Denney showrooms maintain regular weekday hours, Monday through Friday, with special hours on Saturday to accommodate walk-ins and scheduled appointments. For those who would rather shop online or consider their options prior to a trip to a Denney showroom, Dinnocenti welcomes homeowners to visit the Denney website and peruse the expansive online showroom.

For more information from Denney Electric Supply, including details on showroom locations, visit denneyelectricsupply.com.


Published (and copyrighted) in Suburban Life magazine, April 2020.