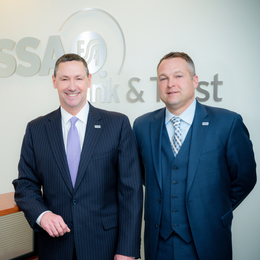 Pillar of the Community
ESSA Bank & Trust builds on its commitment to providing innovative products, services, and solutions for communities throughout suburban Philadelphia.
For more than 100 years, ESSA Bank & Trust has been providing customers in eastern Pennsylvania with personalized solutions to their banking needs. Founded in 1916 as East Stroudsburg Building & Loan Association, with just one branch and two employees, the full-service community bank has experienced steady growth. Today, ESSA's 22 branches provide banking, insurance, investments, and trust services to individuals and businesses throughout eastern Pennsylvania.

As ESSA has expanded its reach, the company has remained true to its roots as a community-based bank. ESSA continues to provide customers with personalized banking services that allow them to efficiently manage their money and achieve their financial goals. Headquartered in Stroudsburg, ESSA has developed a regional delivery model in order to deliver speed and service to its clients.

ESSA's entrance into the Philadelphia market began in December 2015, when it acquired Eagle National Bancorp Inc. and its wholly owned subsidiary, Eagle National Bank. Today, ESSA has four local branches—Devon, Haverford, Lansdowne, and Upper Darby—and a regional corporate office in Plymouth Meeting.

"We're excited about the growth we've had in our Philadelphia market, and we look forward to expanding upon that growth and working closely with our customers to develop solutions around their needs," says Jeffrey Steigerwalt, ESSA's regional president for the Philadelphia region. "We offer a full range of consumer and business deposit and loan products, as well as full-service brokerage, employee benefits for businesses, and asset management and trust services."

ESSA also offers a wide range of commercial banking and commercial real estate services, including treasury management, interest rate risk management and suite of online and digital capabilities. The company has provided financing for a number of large commercial real estate projects in the western suburbs, and "we look forward to continuing to build relationships with commercial clients in this region," Steigerwalt says.

ESSA prides itself on its ability to work closely with customers to determine and satisfy their needs in an increasingly competitive banking marketplace.

"We are a community bank that's been operating in Pennsylvania for more than a century," says Peter Gray, EVP, chief banking officer at ESSA. "We work closely with clients and empower our employees to provide innovative solutions to their needs. Our banking teams in all our regions are committed to superior customer service and making a positive impact to their regional economies."

Empowered to Change Communities
In addition to working closely with customers, ESSA is involved in supporting the communities it serves. Since 1998, ESSA has had a foundation to fund the needs of local nonprofit organizations. The original ESSA Foundation was formed "to solidify the belief in returning to the community a portion of the bank's profits to improve the quality of life." The bank earmarked 10 percent of its net income each year for the foundation to use in awarding grants to local charitable organizations.

In 2019, The ESSA Bank & Trust Foundation awarded $745,000 in grants to 44 community organizations supporting housing-related programs, community health, education, the arts, and parks and recreation. Last year the bank made $200,000 in contributions and provided support to 230 community organizations, while ESSA employees donated in excess of 3,500 hours of service to more than 80 community organizations.

ESSA also funds the program costs of the EVERFI Financial Literacy Program that is currently offered to four local high schools in each of the regions it serves. The digital program aims to teach students how to make informed financial decisions to promote financial wellbeing over the course of a lifetime. The interactive lessons in this financial literacy course translate complex financial concepts and help students develop actionable strategies for managing their finances.

Such focus on uplifting the communities ESSA serves has helped it grow from a simple housing-focused bank to a full-service financial institution with more than $1.8 billion in assets. Throughout its evolution, the bank's guiding principals have remained the same: to help customers reach their financial goals and to empower employees and customers to support their local communities.

Going forward, ESSA aims to continue building strong community partnerships, as well as leveraging technology and information to enhance the customer experience. In other words, ESSA is banking on the belief that superior service and performance will benefit all of its constituents—employees, shareholders, and community members—over the long term.

For more information about ESSA Bank & Trust, including details on retail banking locations throughout the area, visit essabank.com.

Photograph by Jody Robinson

Published (and copyrighted) in Suburban Life magazine, March 2020.