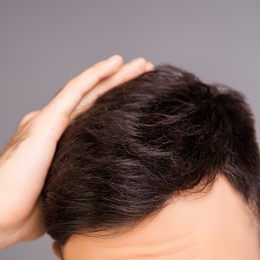 Taking Root
Through NeoGraft and supplemental therapies, Bucks County Plastic Surgery & Dermatology offers a "near perfect" long-term solution to thinning hair.
For much of the population, hair loss is an unavoidable fact of life. As much as 85 percent of U.S. men will experience visibly thinning hair by the age of 50, according to the American Hair Loss Association. The statistics aren't encouraging for women either. For men and women alike, hair loss can have a devastating effect on a person's self-confidence and overall quality of life. But there is hope.

It's called NeoGraft, and Robert Skalicky, D.O., the founder of Bucks County Plastic Surgery & Dermatology, goes so far as to call this in-office procedure a near-perfect solution to thinning hair. NeoGraft represents a remarkable step forward compared with prior attempts to address this problem. Many patients found the likes of hair weaves, light therapy, prescription medications, and "strip" surgery to be minimally effective in resolving hair loss in a natural-looking, undetectable way.

NeoGraft is different. Through a process known as follicular unit extraction, NeoGraft extracts individual hair follicles from the donor site and transplants them to the desired area, or recipient site. The advantages of this treatment include no linear scarring, minimal downtime, and permanent results that are all but undetectable.

"The level of a balding man's self esteem can be significantly elevated with the NeoGraft procedure since detectability of both the donor and recipient regions has been eliminated," Dr. Skalicky says. "With patient satisfaction rates approaching 100 percent, there is now no reason for men to psychologically suffer from male pattern baldness."

Part art and part science, the incredibly delicate work required of the NeoGraft procedure can be performed under local anesthesia in an office setting. Typically, 1,000 to 2,000 follicle hairs are harvested from the back of the head and transplanted in a single session to the areas of thinning hair, resulting in no deformity of the donor site. Once healed, the transplanted hairs will grow naturally, thereby improving hair density significantly. This allows men to wear shorter hairstyles after the procedure without the prior fear of donor site visibility, even with wet or windblown hair.

While the donor site deformity, once healed, is undetectable, there is a need for tight trimming of the donor hair region at the time of the procedure causing short-term visibility when viewing the back of the head that a procedure was performed. In order to eliminate this temporary stigma, Dr. Skalicky has joined forces with David J. Witchell, co-owner with Galina Witchell of the DJW Salon in Bucks County, to eliminate this problem.

"Utilizing David's unsurpassed skill and creativity to mask the donor deformity has revolutionized the procedure and allowed patients, particularly male patients with shorter hair styles, to have the procedure performed without the fear of detection and the inability to quickly return to the workplace," states Dr. Skalicky. "Our goal as a team is to eliminate all deterrents, even temporary ones, that may create hesitation for the patient to proceed."

Hair-restoration treatment may also include PRP therapy, short for platelet-rich plasma. A form of regenerative medicine, PRP amplifies the body's natural growth factors to heal tissue in targeted areas. The therapy requires multiple steps; the individual's blood is drawn and then processed to isolate platelets and their inherent growth factors, which are then injected into the scalp surrounding the recipient site. When used before, during, and after the NeoGraft procedure, these injections may help to stimulate natural hair growth by increasing blood supply to the transplanted follicles.

"What it does is it creates a protective barrier to prevent against follicle distress, kind of a scaffolding that reduces cell proliferation and maintains optimal integrity," says Martin Lewis, a nurse practitioner and clinician who performs these treatments at Bucks County Plastic Surgery & Dermatology. "We like to do these injections 30 days before the procedure, then again during the procedure, and then have the patient come back 30 days later and again at 60 days and 90 days. It's almost like giving fertilizer to bulbs of tulips."

Some patients may benefit from PRP alone, according to Lewis, depending on the specific cause of the individual's hair loss. Likewise, patients may also benefit from other adjunctive therapies. Topical finasteride, for example, can block the intracellular conversion of testosterone to dihydrotestosterone, or DHT, a hormone that causes hair follicles to weaken and eventually die.

Whether a patient is best served through PRP alone, NeoGraft, or PRP in conjunction with NeoGraft, Lewis suggests none of these options offers "immediate gratification." With NeoGraft, for example, a patient may not see the full benefits of the procedure for a year to 18 months.

As part of his practice with hair-restoration patients, Lewis offers "mind-body work" such as meditation to facilitate the healing process and ensure the best possible result.

"The psychological and social stigma that comes with hair loss is tremendous," he says. "People tend to see someone who's losing their hair and assumes they're getting older and losing their vigor. Add to that the fact that these people are seeking medical care, which always increases stress levels. Stress is bad for the body, so the mind-body work helps the patient heal by acting as a de-stresser to decrease cortisol and other bad hormones in the body."

While men comprise the highest percentage of patients seeking treatment for hair loss, women who have thinning hair also can benefit from NeoGraft. For a woman to be a candidate, the donor area has to be unaffected by the thinning pattern to assure long-term success with the transplanted hairs. With a healthy donor region, the technique works equally well in woman who experiences patterns of thinning hair.

"Hair loss affects a huge percentage of the population, across the lines of gender and age," Lewis says. "I have a client right now who is 19 years old, and he's a candidate for NeoGraft. There was one published study that asked men if they would rather die or go bald, and a high percentage of men said they would rather die. That's an extreme degree of how much it impacts people's lives."

Those interested in hair-restoration treatment should schedule a complimentary consultation at one of Bucks County Plastic Surgery & Dermatology's offices. During the consultation, Dr. Skalicky or a member of the staff will determine whether the individual is a suitable candidate for treatment, as well as discuss costs and expectations so the individual can make an informed decision regarding the potential risks and benefits.

Bucks County Plastic Surgery & Dermatology
(215) 860-9600 | buckspsd.com

104 Pheasant Run
Newtown, Pa.

700 South Henderson Road, Suite 230
King of Prussia, Pa.

* Bucks County Plastic Surgery & Dermatology will soon be transitioning to Modern Aesthetic Plastic Surgery, a comprehensive, aesthetic center designed to provide patients with a refreshing perspective on aesthetic medicine with locations in Newtown, King of Prussia, and Philadelphia.

Published (and copyrighted) in Suburban Life magazine, March 2020.