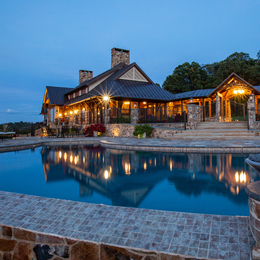 A Cut Above
Homeowners turn to B&D Builders for structures of timeless elegance, exceptional craftsmanship, and flawless construction.
Twenty years have passed since two childhood friends with a strong work ethic, similar backgrounds, and a shared interest in construction set out to build something special. Those two friends, Ben Esh and Daniel Glick, remain co-owners and partners in B&D Builders, a highly sought-after construction firm based in Paradise, Pa., 60 miles west of Philadelphia.

Esh and Glick founded B&D on the desire to complete every aspect of every job "the right way." Not much has changed in that regard, though their portfolio has swelled to include a number of jaw-dropping residential, commercial, and agricultural projects. Having established its skill in building complex equestrian facilities, B&D then extended its artistry to large single-family homes, party barns, and historic renovations, as well as office buildings that Esh describes as "not just your typical structures of concrete and glass."

Regardless of the type of project, each bears three B&D signatures: compelling design, high-quality construction, and painstakingly precise craftsmanship. Glick puts it this way: "We do what is right, not what is easy."

Some clients come to B&D with a full set of architectural plans, while others seek out the firm specifically for its design expertise. Either way, B&D favors challenging projects, whether it's a smaller facility in the $250,000 to $400,000 range or a newly built home with a price tag of $1 million or more. Most projects include timber-frame construction, which is something of a lost art that speaks to the founders' agrarian background. B&D's skill with timber framing has made the firm in high demand throughout the Mid-Atlantic region, across the country, and even farther afield.

One recent project in British Columbia, Canada, illustrates the remarkable coordination that goes into each B&D project. A residential client hired the firm to construct a grand timber-frame home on a small island off the coast of Vancouver. To make this project succeed, B&D had to pre-cut the timbers at its shop in Pennsylvania, ship the timbers west, have them loaded onto a ferry bound for Vancouver Island, and then placed onto smaller barges for transport to their final destination.

While this particular project required more planning than most jobs in B&D's portfolio, Glick suggests the firm brings the same level of detail to every job site. He cites another project in Indiana, in which the general contractor discovered a minor imperfection—a disparity of an inch and a half—in the completed timber frame. Rather than let the flaw stand, B&D opted to take down the structure and start over to make sure every beam was in perfect alignment.

"It was not a question of can we get away with leaving the frame in place," he says. "If we take on a job, we do what it takes to make it right."

As B&D has grown, the firm has made several strategic investments to better serve its growing client list. The additions of Mid-Atlantic Timberframes, Mid-Atlantic Steel Fabrication, and Vintage Millwork & Restoration under the B&D umbrella have enabled the firm to bring engineering and fabrication in house. As a result, B&D can exercise even greater control over the quality and lead time associated with each project.

Esh, 41, and Glick, 40, take tremendous pride in the work they have done, not to mention the trust clients have placed in them, over the past 20 years. As they look ahead, they see no reason to alter their approach.

"From here, we want to continue to be innovative and get better at what we're doing," Esh says. "We believe that if we work hard and do the best we can, the business grows by itself."

B&D Builders
34 S. Vintage Road
Paradise, Pa.
(717) 687-0292
banddbuilders.com


Photograph by Jana Bannan

Published (and copyrighted) in Suburban Life magazine, March 2020.