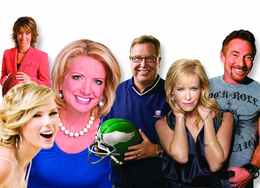 2010: The Year in Review
Last year had its ups, downs and plenty of in-betweens. Suburban Life remembers.
So long, 2010; we hardly knew you. Officially a year of fresh starts, 2010 not only marked the beginning of a new decade but also gave us the first encouraging signs that our economy was awakening from a long and painfully deep slumber.
For our local sports teams, it was a year of almosts, with the Flyers coming "this close" to lifting their first Stanley Cup in decades, and the Phillies nearly making their way back to the World Series for a third consecutive year. (Based on a recent addition to the starting rotation, however, the Phils' 2011 chances look mighty promising.) The Eagles' season got off to soaring start, with resurgent quarterback Michael Vick doing his best to make the McNabb era a distant memory. And the Sixers … well, three out of four isn't too bad.
Here's our look back at the 12 remarkable months known collectively as 2010.
Comings and Goings
Every year sweeps in its share of change, some good and some … not so good. In 2010, we either welcomed or bid farewell to many notable people, places and events.
Hello
Phils' pitching ace Cliff Lee (welcome back!) || The Flyers back in the Stanley Cup Final || Full-body scanners at Philadelphia International Airport || Table games in southeast Pennsylvania casinos || More good reasons to dine out locally || Health-care reform || BP's Gulf Coast oil spill || Escalation on the Korean peninsula
Goodbye
The worst of the recession … we hope || Donovan McNabb, former Eagles QB, now a Redskin
|| Jayson Werth, former Phillies right fielder, now a National || Simon Gagne, former Flyers left winger, now with the Lightning || Seemingly, former Sixers guard Allen Iverson's NBA career || The Spectrum || U.S. combat operations in Iraq || Our state capital's solvency?
Celebrity Status
Southeast Pennsylvania is blessed with an abundance of homegrown athletes, movie stars, bestselling authors and other respected luminaries. In addition, many celebrities have chosen to relocate here to make a home of our back yard. Suburban Life shined a spotlight on a legion of locally tied "somebodies" last year.
Science-fiction author Steve Alten, November
Comcast SportsNet's Michael Barkann, May
The Hooters co-founder Eric Bazilian, November
Actor and 94 WYSP Danny Bonaduce, February
NBC10's Tracy Davidson, April
Meteorologist Michelle Grossman, August
Late-night TV host Chelsea Handler, October
Legendary Eagles QB Ron Jaworski, December
Suzy Kolber of ESPN fame, February
Actor Joey Lawrence, October
Congressman Patrick Murphy, January
Actor turned marketing guru Michael Port, September
"Voice of the Eagles" Merrill Reese, September
WMMR morning-show personality Kathy Romano, December
Alex's Lemonade Stand founder Liz Scott, March
"Pretty Little Liars" author Sara Shepard, July
Children's author Jerry Spinelli, December
Eating Well
The Philadelphia suburbs have enough top-shelf dining options to rival the restaurant rows of New York City or Chicago, from four-star steakhouses to surprising vegetarian standouts. Suburban Life food and wine writer Brian Freedman sampled plenty of them last year, including: Avalon (West Chester) July, Deterra (Ambler) April, Erini Restaurant (Trenton, N.J.) June, Gemeli (Narberth) May, Honey (Doylestown) September, Maize Restaurant (Perkasie) September, Parx Grill (Bensalem) May, Pistachio Grille (Maple Glen) March, Seasons 52 (King of Prussia) September, The Silverspoon (Wayne) August, Tavolo (Huntingdon Valley) December.
Good Fortune in 2011?
Last year gave some encouraging hints that the moribund U.S. economy might be at the doorstep of recovery. In fact, some economists have been so bold as to suggest the nation's deepest rut since the Great Depression is officially over. Justin T. de Luca, a financial planning advisor for Infinex Investments Inc. at 3rd Federal Bank in Newtown, shares some perspective as to how investors can make the most of their money in 2011.
The past few years have been tough on everyone. Most people are much more optimistic about where we are now compared with the prior couple of years. Do they have good reason to be?
In terms of assets, liabilities and income, I would expect most people to be more optimistic now vs. 2008-2009. Confidence de­pends, of course, on where assets were placed in 2008-2009, where and how liabilities are in proportion to assets, and from where income is or was derived. For example, the S&P 500 stock market index declined some 37 percent in 2008, gained 26 percent in 2009, and is up about 13 percent for 2010 through the third week of December. Despite two consecutive years of stock market gains, 2008 to 2010 is still a decline of approximately 10 percent. Investors [who] panicked and gave up on stocks in late 2008 to early 2009—and skeptically remained out of the market for the last 18 to 24 months—probably have experienced worse results.
Many of us have reduced our debt levels. However, approximately 23 percent of residential properties nationwide are worth less than the mortgage carried on them, [according to Wells Fargo Securities' Weekly Economic & Financial Commentary from Sept. 17, 2010]. A major proportion of the country's wealth is tied to property values. From the peak in mid-2006 through September 2010, house values have dropped nationwide approximately 29 percent, [according to Standard & Poor's S&P/Case-Shiller Home Price Indices from September 2010]. Not as bad in some areas of the country but certainly far worse in others. Unquestionably, the U.S. housing market continues to face struggle. For many Americans, our sense of personal wealth had been for a long time heavily tied to house values. Accordingly, optimism around this particular asset class is now seldom heard.
You've been working in this field for 20 years. Based on your experience, how does this recession compare to those of years past, and what can we learn from recent recessions to help people in their wealth planning today?
Compared to other recessions occurring the last three to four decades, on average, this latest one differs most notably in the magnitude of declines in: private consumption, housing and stock prices, residential development, nominal interest rates and employment levels. The rate of increase in government consumption is extraordinary, as well as the level and comparative length of time that unem­ployment has remained high. Hopefully, major characteristics of recent recessions have demonstrated that we should observe asset bubbles cautiously, with a clear understanding of why and how they may be forming, and to avoid imprudent over-indulgence or otherwise risk financial peril.
Which positive economic indicators have you witnessed in recent months?
U.S. [gross domestic product] growth has been positive for a few quarters. However, the pace of advance has been too gradual in emerging from the severity of the recession for a comfortably sustainable, overall healthy economy. Much of the economy's growth has been held back by the high rate of unemployment and the lack of confidence stemming from its effects. I find mild positive indications in the growth of money supply, interest-rate yield spread, length of the average work week, and the reduced pace of layoffs. However, these positive trends normally work better in a more labor-intensive, manufacturing-oriented economy than we have had and will have going forward.
What's the best piece of advice you can give people for how to not only protect but also grow their wealth as we head into 2011?
For most, accumulated wealth serves as a major source of financial security very important to us later in life beyond our working years. As with any asset too important to allow exposure to critical risk, such as a house, car, health and other valuables, wealth intended for [one's] retirement needs warrants some form of protection as well. I strongly urge speaking with a competent experienced pro­fessional that can evaluate a person's situation and recommend solutions to the problem of risk exposure to [one's] financial security.