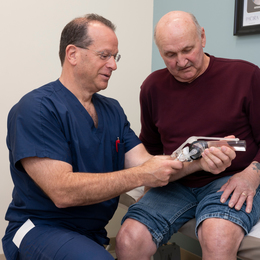 Back in Action
For any patient who needs a knee, hip, or shoulder replaced, the team of orthopedic specialists at St. Mary Orthopaedics offers a path to a safe, rapid recovery.
Bucks County resident Jim Moeller has come to consider John A. Avallone, D.O., a close friend. After all, over the past 15 years Dr. Avallone—an orthopedic surgeon with St. Mary Medical Center in Langhorne—has used his specialized expertise to make Moeller whole again following issues caused by injury or wear and tear.

Moeller started "having trouble" with one of his knees more than a decade ago. His family doctor had referred him to Dr. Avallone, who at first took a conservative approach to treating Moeller's knee discomfort. Over time, however, as Moeller began experiencing significant pain in both knees, Dr. Avallone recommended a double knee replacement.

Looking back, Moeller couldn't have been happier with the results.

"I did everything Dr. Avallone suggested, I did the therapy he told me to do, and I pushed harder, just like he said," says Moeller, 72, a longtime arborist who has since retired. "I was done with my walker probably two weeks earlier than anticipated. Both knees are still functioning at 100 percent, and that was 15 years ago. And for what it's worth, you can't even see my scars."

Moeller attributes his successful surgery and smooth recovery to more than just the skill of Dr. Avallone, of course. In fact, he credits the entire orthopedic team at St. Mary.

Dr. Avallone belongs to a team of board-certified orthopedic surgeons, certified nurses, licensed physical and occupational therapists, and orthopedic nurse navigators, among others, who provide patients with the continuum of care within St. Mary Center for Joint Replacement. From pre-admission testing and preoperative education, to surgery, postoperative rehabilitation, and post-discharge home care, every member of the team shares the same goal: to put each patient on a path to a safe, rapid recovery after a knee, hip, or shoulder replacement.

Dr. Avallone suggests joint-replacement patients tend to return home within a day or two, with few exceptions.

"We've created a team approach we think is most beneficial to getting people through the perioperative course of orthoplasty and making sure they have a good experience from beginning to end," he says. "After knee or hip surgery, we'll have people out of bed and starting their physical therapy the same day. People will come in for a major procedure in the morning and by lunchtime be up and walking. Getting people back on their feet quickly accelerates the healing process."

The path to a rapid recovery begins long before the day of surgery. For example, St. Mary offers preoperative classes for all joint-replacement patients, whereby skilled therapists guide patients through at-home exercises and techniques designed to help them manage their self-care and assist in their recovery. As a result, patients tend to get back on their feet and return to "normal life" as quickly and safely as possible.

As for Moeller, he has turned to Dr. Avallone and the St. Mary team for three other orthopedic surgeries: the repair of a broken right wrist sustained while doing volunteer work approximately six years ago; the replacement of his right hip nearly three years ago; and the mending of a badly fractured left wrist just last year, the result of a fall while clearing debris from the rain gutters at home.

"When I had my first wrist injury, the people who were driving me to the hospital wanted to take me to [somewhere other than St. Mary], but I said, 'I have to go to St. Mary,'" Moeller recalls. "They said, 'Are you sure? It's going to be a long, bumpy ride to get there.' And I said, 'I don't care how long it takes. I want Dr. Avallone.'"

Moeller believes he might one day need his other hip replaced. When and if that day comes, he knows he will be in very capable hands with Dr. Avallone. In the meantime, he continues to sing the praises of his surgeon and fellow care providers at St. Mary.

"I recommended Dr. Avallone to three or four people in my church who needed to get their knees or hips done," Moeller says. "Every one of them couldn't talk highly enough about Dr. Avallone. This guy's awesome. It sounds like I'm building him up, but he's extremely dedicated and concerned about his patients.

"When I broke my left wrist, it was a horrible injury; it looked like it was almost backwards. He fixed it so well that it's at 100 percent again. I believe God gave him the ability to do that."

In addition to Dr. Avallone, St. Mary Orthopaedics' team of orthopedic specialists includes David A. Cautilli, M.D.; George Cautilli, M.D.; Richard Cautilli Jr., M.D.; Edward J. Ford, M.D.; George T. Stollsteimer, M.D., and Rachel Rockefeller, C.R.N.P. For more information about joint-replacement services at St. Mary, visit stmaryhealthcare.org/joints or call (844) 7 ST MARY.

Photograph courtesy of St. Mary Medical Center

Published (and copyrighted) in Suburban Life magazine, March 2020.