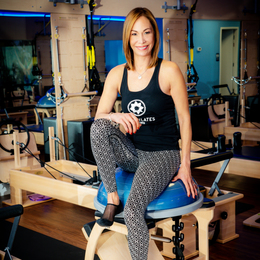 Inner Strength
As the owner of Club Pilates in Newtown, Mayra Rosner strives to help everybody lead "a richer, fuller, healthier, and more satisfying life."
Today, Mayra Rosner is the owner of Club Pilates in Newtown. Ironically, it was a series of issues with her back that placed her on a path that would help her transform her life.

"I was working as a school administrator and teacher, and I decided to stay at home with my children," says Rosner. "After my second pregnancy, I began having back issues. During my physical therapy, they recommended Pilates, and it did wonders."

She started taking classes three times a week. Within a month she found that not only did she regain flexibility and vitality, but her back pain lessened.

"My life got so much better," she says. "My core strength improved and I felt stronger. I also enjoyed other activities more—running and snowboarding, for example. These were things I had to stop before because of back issues."

As she grew more confident and competent in her practice, her instructor recommended Rosner take courses to become certified to teach Pilates to others. As of 2020, she has been an instructor for more than 15 years.

"As my kids grew older, and I continued to do Pilates, I decided one day, while talking with my husband, that I wanted to own my own business," Rosner shares. "My parents were business owners, but I didn't know where to begin. I thought maybe a franchise. So I researched online and found Club Pilates."

Just a few months later, in October 2018, Rosner took the leap and purchased her own Club Pilates franchise. On June 20, 2019, Club Pilates Newtown opened its doors to its first round of clients.

"It has been an undertaking, but when you do something that you love and are passionate about, anything is possible," she says. "Pilates has given me a more fulfilling life. I am more aware of my body and the mind-body connection. Even when I drive, I am aware of where I put my muscles. Pilates has given me greater body awareness and a much better life."

True to the vision of Pilates' creator Joseph Pilates, who came to prominence in the early to mid-1900s, Rosner's Newtown club focuses on Reformer-based Contrology Method. While Club Pilates Newtown employs the latest techniques and equipment available, the instructors and staff stay true to the principles upon which Pilates created this fitness methodology—that is, a focus on breath and whole-body health and wellness of mind, body, and spirit.

"Pilates makes you understand how your body works and helps you strengthen as one powerful unit," Rosner explains. "If you already exercise on a regular basis, it can still relieve stress and pain, and improve mood."

The Pilates difference, according to Rosner, is that this mode of exercise uses all range of motion: "Your body becomes stronger as a unit, rather than everything being disconnected."

Safe and Strong
Club Pilates itself began as a franchise in San Diego in 2007. The concept? "To bring Pilates to everybody," as Rosner says. Since then, that mission has flourished, as Club Pilates has grown to more than 600 franchises in the United States and around the world, in countries such as Brazil, Canada, England, and Germany.

"Club Pilates is about getting people on a path to a richer, fuller, healthier, and more satisfying life," Rosner says. "The Club Pilates franchise has more combined hours of training and teaching Pilates than any other studio in existence."

Indeed, education and training are paramount to Club Pilates' success. Instructors, for example, are required to complete 500 hours of fitness work in order to receive certification. This is so Club Pilates instructors can adapt workouts for anyone—pregnant women, individuals with knee or back issues, those recovering from joint replacements, and more. Club Pilates Newtown features mirrors galore—a nod not to vanity, but rather safety.

"All of the mirrors are to help the instructors spot everybody in the class," Rosner says. "We always want to keep our clients safe as they get stronger."

While each person's Pilates journey is unique, motions can include use of planes, side bends, back extensions, and more. In line with this personalization and drive to make fitness accessible to all, Club Pilates offers four levels of classes: Level 1, Foundation; Level 1.5, Progression; Level 2, Evolution; and Level 2.5, Mastery. These 50-minute classes feature movements for a variety of skill levels, from beginner to expert.

"Pilates is for everybody," says Rosner, who is also certified in Barre and TRX fitness methods. "Anyone can do it. It's also available to all ages—you can be 80 or 15. It's also great for someone who may be intimidated by exercise, because Pilates is a journey."

Rosner emphasizes that she, along with General Manager Amy Blank, strives to ensure Club Pilates Newtown is a place where everyone is welcome. "It is not only a place that people come to do Pilates," as Rosner says. "It is a community where people build relationships and support each other."

Signature classes are designed to suit a variety of skill levels as well. "Reformer Flow," for example, is a full-body, reformer-based workout that can be scaled to levels 1 through 2.5. Other classes include Cardio Sculpt, F.I.T., Center + Balance, and more. All workouts end with a thorough stretching session to relax hard-worked muscles. While many professional athletes, including National Football League players, turn to Pilates to increase their strength and flexibility, one needn't be a fitness expert to receive the benefits of taking classes.

Though she has tried many other types of exercise programs in the past, Rosner "never found another exercise I can stick with this long and not get tired of," she says. "Some of my clients say they would never have been able to stick with something, too, but now they've been doing Pilates with us since we opened nine months ago—and they're not getting tired of it. My goal is to see people love what they're doing as exercise."

Client response has been great since her studio opened, according to Rosner, and she couldn't be more grateful to the individuals who have trusted their fitness journey to Club Pilates. She hopes to have a membership appreciation event to celebrate the club's one-year anniversary this June.

"I hear so many stories, and I've seen a lot of changes in people," she says. "People feel stronger, their back gets better, or they don't need as much physical therapy anymore. There are so many benefits you can see, but also so many benefits that you can't see. We believe Pilates is a path to a fuller life."

Club Pilates Newtown
44 West Road
Newtown, Pa.
(215) 764-5515

Clubpilates.com/newtown
Photograph by Jody Robinson

Published (and copyrighted) in Suburban Life magazine, March 2020.