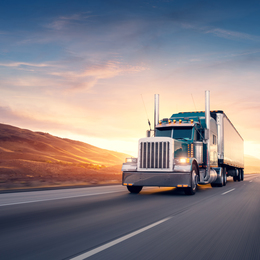 'We're There for Them'
As most of the country stays at home to stem the COVID-19 outbreak, truck drivers and other essential workers with local ties "keep America moving."
Diana L. Busacca loves "being out on the road," even now—especially now, perhaps.
As a CDL "Class A" truck driver, Busacca plays a vital role in the supply chain of essential items, everything from bottled water and perishable foods to toilet paper. She spends her days crisscrossing the United States in her tractor-trailer with her dog, Levi. Her precious cargo is bound for distribution centers, warehouses, and retailers that, now more than ever, serve as lifelines to a shaken country wrestling with the COVID-19 pandemic.
She agrees to a phone interview as she's hauling 45,800 pounds of bottled water from a plant in Breinigsville, Pa., to its final destination in Olney, Ill. While she would love to be spending time with her grandson and other family members in Alabama, she says she's happy to "keep America moving."
"Nobody sees America like the American trucker," says Busacca, who is originally from Los Angeles and has ties to the Philadelphia area. "Every night is in a different place. It's always an adventure. We see America from the inside out, not the outside in. For us, it's business as usual. The country has been asked to slow down, and the American trucker has been asked to speed up and rise to the occasion, so we gladly roll up our sleeves and 'keep on a trucking.'"
At the same time, she admits that she and many of her fellow truck drivers feel a "heightened sense of anxiety" over the risk of contracting the virus. Like the rest of the country, she has had to make some unprecedented adjustments to her daily routine—using disposable gloves at the fuel pump, for instance, and washing her hands in the restroom "like I'm a doctor preparing for surgery," as she puts it.
"It all feels very surreal, like I'm stuck in this dream, or maybe it's a nightmare," she says. "I'm a 'cup half full' person, but sometimes I go to bed worrying about it. … I'm not panicking, and I'm very compassionate. I feel bad for people who are thinking: What do we do now? We're there for them, and we're glad to do it. … It's one thing to mark off their list of worries."
While the pandemic has resulted in dramatic out-of-stock situations at the supermarket—an experience most Americans have never experienced until now—drivers such as Busacca help to minimize disruptions in the supply chain. In turn, she has been inspired and uplifted by simple acts of kindness along the way. Recently, for example, she drove past a child holding a handmade sign that read: THANK YOU, TRUCK DRIVER. These acts of sincere gratitude, she says, "keep us going."
"I have a lot of faith in humanity, and … I think we'll come through this stronger in the end," she says. "And maybe people will continue to wash their hands more often after this is all over."
Published (and copyrighted) in Suburban Life magazine, April 2020.