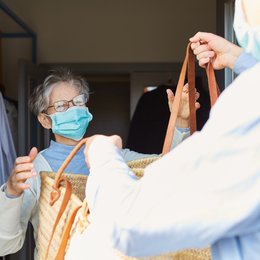 Stepping Up
Local organizations team up to help Bucks County's most vulnerable residents make ends meet throughout the COVID-19 crisis.
Considering its natural beauty and rich cultural history of artists, writers, and composers who have helped make it famous, Bucks County is a place where people aspire to live. Many of its residents lead comfortable and prosperous lives, but hardly the case for all. In fact, some residents are only one paycheck away from financial catastrophe.
"We realized we needed to get this off the ground immediately, because of the immediate disruption in our community," says Marissa Christie, president and CEO of United Way of Bucks County, which is based in Fairless Hills. "We also knew we had to be prepared for a long and challenging recovery."
By March 31, the first round of grants were distributed to four nonprofit organizations devoted to serving the local community: The Ivins Outreach Center, the Greater Philadelphia Diaper Bank, the Salvation Army of Levittown, and Emergency Relief Association Food Pantry of Lower Bucks County. Each nonprofit received a $5,000 grant to "fill in the gaps" in their efforts to provide vital assistance to vulnerable and underserved populations. Ivins Outreach Center in Morrisville, for example, is using the grant to ensure that prepared meals and groceries can be delivered to low-income seniors who are unable to leave home.
Despite the perception of affluence in Bucks County, many residents are closer to crossing the line into poverty than most people would realize. Approximately 25 percent of the nearly 240,000 households in Bucks County qualify as ALICE, according to United Way of Pennsylvania, which is based in Lemoyne.
"As many as one in three [residents] have an income level below what we would consider a survival budget," Christie adds. "These folks are able to cover the basic necessities, but just barely. The ALICE population are the folks all around us—the aide in my son's classroom, the person who helps us in the grocery store—and any disruption in income for them is particularly challenging."
United Way of Bucks County and Penn Community Bank each seeded the fund with $25,000. The fund has received additional donations from individuals in the community, as well as other locally based organizations, such as Dow, Janssen, and PECO, according to Christie.
"We're finding that folks are giving as much as they can—from $5 to thousands of dollars," she adds. "We want to continue to raise funds so we can address the recovery. … Every single day something changes in terms of the landscape here; there are some needs that need to be addressed today that weren't needed yesterday. Our objective is to figure out how to be as flexible as possible on filling in the gaps."
United Way of Bucks County member agencies will continue to submit grant applications on a rolling basis, and Christie says applications will reviewed quickly "because the situation on the ground changes so much." A second grant has since been awarded to Penndel Mental Health Center, which serves residents of Lower Bucks County.
"This is a fund that's not meant to stay here," Christie adds. "We're working on the immediate need and response as we continue through this crisis. I want my county and community back to being the healthy, prosperous place we envisioned. We keep asking ourselves: How quickly can we help the community? We know it will be financially devastating for a lot of people."
Published (and copyrighted) in Suburban Life magazine, April 2020.