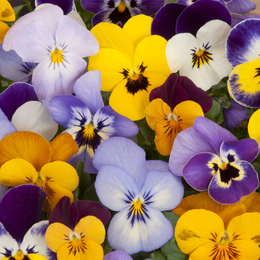 Seeds of Kindness
With commerce largely halted amid the COVID-19 outbreak, family businesses such as Primex Garden Center make the best of a bad situation.
During a normal year, Primex Garden Center in Montgomery County would be in the thick of a boom in business. Of course, 2020 has been anything but normal. Once-bustling aisles are now barren, the registers unmanned, the inventory in limbo.
"Our season ramps up through March and peaks around Mother's Day," says Marshall Green, nursery manager and co-owner of Primex Garden Center, which is located in Glenside. "Just as people were starting to be told not to go to work, we had one of our busiest Saturdays of all time. It was March 7th or 8th. … The following week was when we started hearing we would need to close down in some way, shape, or form."
On March 18, Primex announced a temporary shuttering of its retail operation. The company had been able to continue doing some bulk mulch deliveries when permitted by guidance from the state, but that aspect of its business has since come to a halt as well. Primex then filed for a business waiver to offer limited services in a safe manner—a request the state ultimately denied. That hasn't stopped Primex from giving back to the community.
On March 26th, Primex posted a message on its Facebook page, offering free plants—approximately 250 pansies among them, according to Green—to anyone who wanted to come by and pick them up. The message ended with three words: "while supplies last."
They didn't last long.
"The day prior, I had been at Primex maintaining plants, and some of the material was a little less than how we would like to sell it," Green says. "The pansies in particular were going to need a home, either sold at a reduced rate or dumped to bring in new stock. I put out of text to our ownership group, and my sister replied immediately. 'Give them away,' was her response. So we put them on carts and wheeled them out front with a sign, asking people to take what they needed and, if they wanted, to support us by buying gift cards online."
The reaction was instantaneous.
"Within 45 minutes, everything had been cleared out," Green says. "We have 4,500 Facebook followers, and that post had double that reach. It was a pretty impactful, feel-good moment, and we did sell a lot of gift cards in the afternoon and evening. To me, it was about just letting those flowers go be beautiful in someone's yard rather than be at the bottom of a Dumpster. It was a spur-of-the-moment thing, wanting to spread some positivity in this uncertain time."
The temporary closure has affected not only Primex as a business but also the people who work there. The leadership team doled out all of the paid time off owed to employees and then laid them off so they could collect unemployment benefits.
"Hopefully they come back when we reopen," he says. "Between March and June, we do 70 percent of our business for the year, and we already started ramping up; we had just hired 15 to 20 new employees. We're champing at the bit all winter long, so it feels like someone knocked the legs out from under us. Early spring, business was good, and we were expecting to have another good year. … At this point, it's very uncertain."
Even so, he's confident the 77-year-old business will recover from the temporary shutdown. As a former restaurateur who understands the difficulties small businesses face even under normal conditions, Green knows that some business owners may not share his optimism about the future of their respective enterprises.
"We're on very solid ground," he adds. "We're in our fourth generation, and we don't have the overhead some other businesses have due to owning the property. There will be some businesses that are going to get absolutely crushed. It's on everyone to help small businesses out. The world will change because of this, unfortunately."
Published (and copyrighted) in Suburban Life magazine, April 2020.