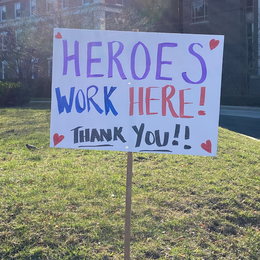 Heroic Actions
From heightened tensions and head-to-toe PPE to telehealth and community support, local healthcare professionals adapt to a changed world.
For Robert Skalicky, D.O., the COVID-19 outbreak has provided its share of challenges. It has also provided an opportunity for reinvention.
"We've resigned ourselves to doing things differently in the office and for our patients," says Dr. Skalicky of
Bucks County Plastic Surgery
, which offers a wide range of surgical procedures and noninvasive aesthetic services at its offices in Newtown and King of Prussia.
While healthcare workers in hospital settings have been thrust directly into the crisis, putting themselves at great personal risk as they treat patients infected with COVID-19, healthcare workers in less emergent settings have had to embrace a "new normal"—at least for the time being. For example, Dr. Skalicky now conducts patient consults virtually using a HIPAA-compliant telehealth program. In addition, some staff members have been able to perform office functions such as billing and scheduling while isolated at home. If they do have to be in the office, staggered hours and distancing measures help to limit person-to-person interactions.
"We still have patient demand, and the virtual consults are helping to keep people moving forward in their treatment," Dr. Skalicky adds. "When things resume, we will likely have to create additional office hours, possibly weekend hours, in order to take care of the onslaught of patient demand."
Getting Through It
Donna Donahue, R.N., suggests the COVID-19 pandemic has changed her workdays significantly in some respects, but not at all in others. As nursing manager and OSHA coordinator for a trio of oral and maxillofacial surgery centers in Bucks and Montgomery counties, she assists on procedures that involve everything from the removal of wisdom teeth to facial reconstructive surgery.
"We're no longer seeing elective procedures—just emergencies for pain, infection, bleeding, and facial trauma," she says. (Editor's note: Donahue is married to the author of this story.)
While PPE has always been part of her workday, the outbreak has spurred her practice to adopt more robust PPE protocols. She now wears an N95 mask, safety goggles, a face shield, a gown, and a bouffant cap in the operatory, for example, and otherwise wears a standard surgical mask while at work, even if she's just doing paperwork. Such precautions make her feel safer at work than she does when she goes to the grocery store, though she admits to feeling a "heightened sense of tension."
Julia Burns, R.N., (last name changed to protect privacy) works for a pediatric practice in Bucks County. She now spends half her days on the phone, answering questions for concerned parents, and the other half alongside doctors seeing only "urgent" cases, such as those involving respiratory distress or painful earaches. When patients are suspected of having been infected with COVID-19, she dons head-to-toe PPE, including a full-body gown, gloves, a surgical mask, and a face shield.
"It's like being underwater," Burns says of the high-level PPE. "I'm not a nervous person, but the whole thing has been a little unnerving. Some of the girls I work with are nervous about bringing the virus home. Other people aren't going to take it seriously until they know someone who has tested positive."
Despite the risks, Donahue has been happy to keep seeing patients. Doing so, she suggests, keeps those patients out of hospitals, many of which are inundated with COVID-19 cases. She thinks of the 6-year-old who came in with a severely infected primary tooth, or the woman who had to have a tooth extracted to lower the risk of infection prior to starting treatment for pancreatic cancer.
Overall, Donahue and Burns agree that the outbreak has brought out the best in people, particularly in regard to the camaraderie among staff members.
"We have people helping other people put on their PPE," Burns says. "A lot of people are isolated at home now, so coming to work is like having a social life. … Patients are making us masks, and some are actually useable. Everyone is being very thoughtful of doctors and nurses, and that's helping us get through this. It's almost like we're military."
In a way, the COVID-19 pandemic reminds Donahue of the aftermath of Sept. 11, 2001, when the country came together to heal from the terrorist attacks that brought down the Twin Towers.
"People seem more tolerant right now," she says. "Prior to all this happening, if we were running a little behind, people were not always understanding. Now, they say, 'Thank you for being here; I don't care how long I wait.' People are being more respectful. I hope that sticks with us."
Spreading Joy
While state orders have forced some healthcare providers to close their doors, such restrictions haven't stopped them from lending support where they can.
Last month, for example, Todd M. Welsh, D.M.D., and the staff of Bucks County Orthodontics in Doylestown, enlisted fellow healthcare professionals to collect vital PPE for Doylestown Hospital. Within 24 hours of reaching out to colleagues, Dr. Welsh and his team were able to arrange "a huge drop-off" of facemasks, gloves, disposable gowns, and antiseptic wipes to help the hospital protect staff. The practice also helped to "spread some joy" by providing hundreds of boxes of Girl Scout cookies to frontline hospital workers, as well as other "heroes," such as food banks and members of the military.
"St. Mary Medical Center greatly appreciates the community's outpouring of support and willingness to provide supplies for our team on the front lines," says Ann D'Antonio, vice president of marketing and communications for Trinity Health Mid-Atlantic, which operates St. Mary Medical Center in Langhorne. "We've seen true kindness from our community, from meal donations, to heartwarming messages of support, to donated personal protective equipment."
Although hospitals such as St. Mary Medical Center in Langhorne cannot accept homemade PPE, they continue to actively seek donations of a variety of new, unopened items such as N95 masks, regular masks, face shields, gowns, protective caps, sanitizing wipes, hand sanitizer, and transparency sheets. St. Mary has established a donation center in the Carty Conference Center, behind the main hospital building, open Monday through Friday from 8 a.m. to 4 p.m., to collect these most-needed items, according to D'Antonio.
Likewise, Abington – Jefferson Health has received a tremendous quantity of medical supply donations from community members and businesses. Surgical facemasks, 3D-printed shields, goggles, N95 respirators, and hand sanitizer are among the donations received. These help to ensure that staff can continue to provide the best and safest possible care to patients.
In addition, Abington – Jefferson Health's employees have been finding solace in the support offered by community members and local businesses. In recent weeks, members of the community have shared messages of support with Abington – Jefferson Health, in the form of lawn signs, artwork, letters, photos, and videos shared on social media, and signs and displays placed at Abington and Abington – Lansdale hospitals for staff to see on their way in and out of work.
The grandest display of gratitude occurred on April 9, when nearly two dozen local police and fire departments and EMS personnel took part in a "Heroes Saluting Heroes" display at Abington and Abington – Lansdale hospitals. Police cars, fire trucks, and ambulances with flashing lights and blaring sirens lined the employee entrances at both hospitals, honoring staff coming and going at shift change. Hundreds of first responders cheered for employees during the demonstration—one group of heroes saluting another.
Holding the Line
Providers such as RMA Network have remained fully operational through the COVID-19 pandemic. The U.S. clinics of RMA Network, which is part of the reproductive medicine group known as IVIRMA Global, continue to offer all fertility treatments, including in vitro fertilization and intrauterine insemination, to all patients who seek them.
"We here at RMA Network remain completely committed to serving the needs of our patient population," says Richard Scott, M.D., founding partner of the RMA Network and CEO of IVIRMA Global. "We know that time is a luxury many of our patients do not have when it comes to their family-building efforts. We have no intention of closing, and plan to 'hold the line' for all who wish to engage in immediate treatment."
This announcement comes in the wake of recommendations to close or limit fertility treatments and as other clinics shut their doors as a result of the COVID-19 outbreak. RMA's decision to remain open was made after careful consideration, as well as the information gathered from clinics in Italy and Spain, which experienced the effects of the COVID-19 pandemic earlier in the year. Furthermore, the CDC has published that mother-to-child transmission of coronavirus during pregnancy is unlikely, as the virus has not been detected in amniotic fluid, breastmilk, or other maternal samples. As a result, RMA has taken action to ensure clinics can continue to provide the essential medical treatments women require to conceive their babies, while simultaneously safeguarding the health and wellbeing of patients and staff to mitigate the spread of the virus.
"RMA applauds the step taken by both New York and New Jersey, classifying fertility treatments among essential medical services, because the window of opportunity many patients have to become pregnant is finite," Dr. Scott adds. "Postponing treatments and gambling with a patient's ability to successfully build their family is not the answer."
RMA insists it will responsibly continue to serve its patients through the duration of the COVID-19 pandemic. In addition to restructuring the flow of patients and maximizing the use of office space to ensure adequate social distancing precautions are taken, RMA has supplied all staff with the personal protective equipment (PPE) necessary to work safely and confidently.
Such heroics aside, the men and women who work in health care crave a return to so-called normal life. Dr. Skalicky, for his part, looks forward to meeting with patients face to face and getting back into the OR on a routine basis. At the same time, he's taking a pragmatic approach: safety first.
"We've seen a lot of uncertainty and a lot of bravery since this happened," he says. "My overall concern is that we resume normal life too prematurely. Being a product of science, I think if we jump the gun too fast on the economy, we could have a recurrence. … Right now we need to focus on what's the highest priority, and that's people's safety. Everybody's priority list needs to change a little bit."
Photograph courtesy of Abington – Jefferson Health
Published (and copyrighted) in Suburban Life magazine, April 2020.