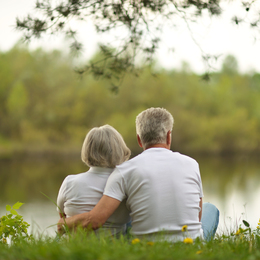 Going Green
Seniors reap the benefits of time spent out of doors.
The COVID-19 pandemic presents a grave threat to individuals over the age of 65, according to the U.S. Centers for Disease Control and Prevention. Aside from the dangers to one's physical health, the virus has created another potential problem for men and women of a certain age: isolation.
The outbreak has required people to adopt "social distancing." At the same time, it seems to have created a renewed interest in spending time outdoors, away from the crowd. If there are any so-called "silver linings" about this moment in history, this may be one of them, because spending time in nature is regarded as a form of medicine in some cultures.
Contact with natural environments can improve one's emotional wellbeing, according to a 2015 article published in The Journal of Positive Psychology. Researchers sought to determine the effects of exposure to natural environments on both positive and negative affect. Across 32 studies, comprising a total of more than 2,350 participants, the researchers found that exposure to natural environments was associated with a moderate increase in positive affect and a smaller yet consistent decrease in negative affect relative to comparison conditions.
The term "affect," by the way, refers to the emotions or feelings that humans experience and display, especially in terms of how these emotions influence the way humans act and make decisions. Positive affectivity refers to emotions such as cheerfulness, enthusiasm, and joy, whereas negative affectivity refers to emotions such as sadness, lethargy, and fear.
In other words, spending time outdoors is good for you.
Outside time often involves some sort of cardiovascular activity, from walking on the densely wooded Wissahickon Green Ribbon Trail in Ambler, to biking from Easton to Bristol along the towpath of Delaware Canal State Park, or hiking through Tyler Arboretum in Media. It also enables the body to absorb vitamin D, which has been shown to play a role in preventing maladies such as osteoporosis.
Studies suggest activities such as spending time among trees, listening to birdsong and other sounds of the natural world, can reduce stress and strengthen the immune system. Even 15 minutes spent outdoors can revitalize the mind and body, according to a 2014 study in The Journal of Environmental Psychology.
This may explain why so many continuing care retirement communities throughout the Greater Philadelphia Area are designed to immerse residents in the natural world. White Horse Village in Newtown Square, for example, has nearly 100 acres of gardens, meadows, and woodlands, which residents can explore through walking trails, biking paths, and birding areas. In addition, the campus abuts Ridley Creek State Park, where aficionados of trout fishing and horseback riding make frequent use of the park's 2,600-plus acres.
Likewise, at Pine Run Retirement Community in Doylestown, the residents—or "Villagers," as they are known throughout the community's 40-plus-acre campus—can utilize the abundance of walking trails along the banks of Lake Galena at nearby Peace Valley Park. Even so, Villagers don't need to leave the campus to experience the perks of out-of-doors enrichment.
One needn't go very far to enjoy the benefits of nature—birds chirping, squirrels playing, spiders weaving their webs, harmless garter snakes prowling for prey. For anyone within walking distance of a stand of trees, simply opening the door and stepping outside should do the trick.
Published (and copyrighted) in Suburban Life magazine, April 2020.