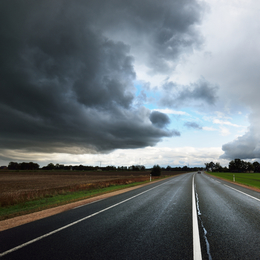 Invested in a Recovery
Although the horizon appears grim, wealth managers look past the dark clouds.
The COVID-19 pandemic has been quite unkind to the average investor's financial footing. During an off-the-cuff interview, one investor nearing retirement age uses the word carnage when describing the effects of the pandemic on his retirement savings.
In March, as widespread concern over the pandemic spurred nervous investors to act, financial markets dropped precipitously. On March 9, for example, the Dow Jones Industrial Average experienced a record-setting points plunge. The volatility has continued in the weeks since.
"Nobody's happy right now," says Erik Strid, CEO of Concentus Wealth Advisors in King of Prussia. "I've been at this a long time, and I've lived through many crises, big and small. Managing investor emotions is probably the most important job for us [as financial advisors] to manage. What we've learned to do is conduct 'lifeboat drills' before the ship leaves the harbor, so you're better prepared when and if the ship hits the iceberg."
By learning the history of capital markets, for example, investors may gain a better understanding of how the markets will react in a bearish economy—and they might also gain some perspective as to how quickly markets will recover under such conditions.
"Those drills also help us understand the emotions of a bear market," Strid says. "With the financial crisis of '08, it wasn't just that the market went down; it was that every time you turned on the TV, you learned about neighbors losing their houses. Now, it's not just that the market is going down; now we're all concerned about getting sick."
He sees distinct differences between the crashes of 2008 and 2020.
"This particular case is not like '08, where there was a sickness in the economy," he says. "The economy was healthy and it caught the flu as well. The exogenous events are always the scariest—the events that happen quickly and we get totally confused—but they're also the events that tend to go away the most quickly and easily."
On March 13, relatively early into the crisis, Strid hosted a webinar titled "Investing in a Coronavirus World." During the event, he talked about human reaction in the face of a crisis, and he also offered some perspective from past pandemics and their effects on the global economy—the influenza pandemics of 1918 and 1957-58. Both outbreaks caused significant loss of life and did enormous economic damage, he suggests, but in each case the U.S. economy experienced a robust rebound shortly thereafter.
"The same thing will happen again," he says. "One of the things I find interesting is that there's a belief that whole industries will go bust and never come back again. You saw it after [Sept. 11, 2001] with the airlines; there were people who thought people would never fly again. When this is over, people will go to movies, stay in hotels, and fly in airplanes. … Fear is the most powerful human emotion, and it immediately shortcuts rational thinking."
Like Strid, Jennifer Dempsey Fox remains optimistic about the long term.
"Because of the strength of the economy going into this—it's not a financial crisis; it's not a fundamental break in the system—there's reason for optimism that this can come back and recover in an orderly situation," says Fox, president of Bryn Mawr Trust Wealth Management, a division of Bryn Mawr Trust in Bryn Mawr. "There are still a lot of unknowns, but the [Federal Reserve] and our leaders in government have taken bold moves to keep the economy moving through this period of dislocation."
Fox suggests her team of wealth advisors recently completed training designed to help clients envision "a fulfilled life," and better understand how clients' wealth strategies might help them accomplish their goals. Such training has been especially helpful at this moment in time, she says, working with clients to "hold steady and not panic sell," and remain focused on achieving their goals for the future. At the same time, she's "respectful and mindful" of the fear and anxiety many people must be feeling.
"We have clients whose children have lost jobs or been furloughed, and we know people whose businesses have had to close," she says. "This can be temporary, but there's going to be a lot of navigating and discipline to get everyone back and moving once we're over the crisis. … People have a lot of questions right now, and they should remember that our advisors are there to help. We know we may not have all the answers, but being able to talk through your position and get another perspective as you're trying to navigate this for yourself and family can be very helpful."
At times like these, Strid recalls a quote attributed to Warren Buffett: "Every decade or so, dark clouds will fill the economic skies, and they will briefly rain gold."
"Most people's emotions don't allow them to see the logic of 'buying when there's blood in the streets,'" he says, referencing a famous quote from a long-deceased member of the Rothschild family. "Most people can't see the current market for what it is. We may never see the S&P [500] at 2,200 again in your life. … Once people have a reserve in place, put every dime in equities. If you have cash, invest, because stocks are on sale right now, so take advantage of the sale."
As an optimist, he suggests investors can take solace in the fact that each passing day is one day closer to a recovery.
"In the meantime, we sit every night at dinner and bless our lucky stars that we're as lucky as we are," he says. "A lot of people have it a lot worse."

Published (and copyrighted) in Suburban Life magazine, April 2020.