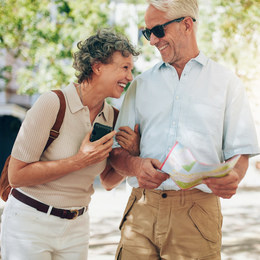 Better Times Ahead
As the ominous skies begin to clear, people nearing retirement age prepare to explore new frontiers.
John Mowry has his priorities firmly in order.
"Right now I'm thinking more about where I'm going to get my next loaf of bread and roll of toilet paper, not about where I'm going to retire," says Mowry, who lives in Delaware County. "But once we get back to normal and I can see my grandkids again and we're all licking our wounds to see what kind of financial damage has been done, then we can take a breath. Then we can start thinking about retirement and what we're going to do with our time."
The COVID-19 outbreak has touched every aspect of Mowry's life. He and his wife are both working from home at the moment—he from the kitchen on the first floor, she from a small office on the second. A few friends who have gotten sick either are on the mend or have already recovered. He's also been in touch with his financial advisor about his retirement savings to mitigate the financial impact as much as possible. Depending on how the numbers look when the dust settles, he admits he may have to adjust his timeline. He and his wife, both in their late 50s, expect to retire within the next seven to eight years—at least that was the plan prior to the emergence of COVID-19.
The Mowrys have been living in their family home for more than 20 years, and all three of their children have since left the nest. They like it there, near Swarthmore, but Mowry admits the home requires more upkeep than he would prefer. On the other hand, he's tickled by the idea of moving something new, scary as the proposition may be.
"Maybe we move away," he says. "Maybe, if the money's there, we spend winters someplace warm and summers up here so we can be near the grandkids. That's something to think about tomorrow. Right now we have to get through today."
When the time comes, Mowry and others like him have a number of questions to answer, options to ponder, and preparations to make. Some may choose to age in place upon retirement, whereas others will prefer to downsize into a more manageable space. Some will stay local to be near family, friends, and the lifestyle they have grown to love, whereas others will put down roots elsewhere and explore new frontiers.
Checking Every Box
As the following guide illustrates, the Greater Philadelphia Area offers an abundance of life-care communities—also known as continuing care retirement communities, or CCRCs—that provide a unique experience for men and women of a certain age. These communities check every box, so to speak, by affording each resident the opportunity to pursue a lifestyle of enrichment, engagement, and excitement. Because CCRCs can accommodate any changes to a resident's health, from memory care or other forms of long-term assistance, these communities offer yet another benefit: peace of mind for residents and their family members.
Acts Retirement Life Communities
Locations include Brittany Pointe Estates in Lansdale, Fort Washington Estates, Granite Farm Estates and Lima Estates in Media, Gwynedd Estates in Ambler, Normandy Farms Estates in Blue Bell, Southampton Estates, and Spring House Estates in Lower Gwynedd.
actsretirement.org
Arbour Square of Harleysville
Harleysville
arboursquare.com
Artis Senior Living
Huntingdon Valley, Princeton, N.J., and Yardley
artisseniorliving.com
Atria Senior Living
Atria Center City in Philadelphia, The Solana Doylestown in Warrington, and Atria Lafayette Hill.
atriaseniorliving.com
The Attleboro Community
Langhorne
attleborocommunity.com
The Beaumont at Bryn Mawr
Bryn Mawr
beaumontretirement.com
Brandywine Senior Living
Locations include Dresher Estates, Haverford Estates, Longwood in Kennett Square, and Upper Providence in Phoenixville.
brandycare.com
Bryn Mawr Terrace
Bryn Mawr
brynmawrterrace.org
Chandler Hall
Newtown
ch.kendal.org
Dunwoody Village
Newtown Square
dunwoody.org
Five Star Senior Living
Locations include Devon Senior Living, Exton Senior Living, Glen Mills Senior Living, and NewSeasons at New Britain in Chalfont.
fivestarseniorliving.com
Friends Home & Village
Newtown
fhvpa.org
HarborChase of Wilmington
Wilmington, Del.
harborchase.com
The Hearth at Drexel
Bala Cynwyd
thehearthatdrexel.org
Hershey's Mill
West Chester
hersheysmill55plus.com
Lancashire Terrance
Lancaster
lancashireterrace.com
The Manor at York Town
Jamison
themanoratyorktown.org
Masonic Village at Lafayette Hill
Lafayette Hill
masonicvillages.org
Meadowood Senior Living
Worcester
meadowood.net
Pennswood Village
Newtown
pennswood.org
Pickering Manor
Newtown
pickeringmanor.org
Pine Run Retirement Community
Doylestown
pinerun.org
Pleasant View Communities
Manheim
pleasantviewcommunities.org
Presby's Inspired Life
Locations include Rydal Park in Jenkintown, Rosemont, and Spring Mill in Lafayette Hill.
presbysinspiredlife.org
Priority Life Care
Symphony Manor of Feasterville and Independence Court of Quakertown
prioritylc.com
SageLife
Locations include Echo Lake in Malvern, Kyffin Grove in North Wales, Daylesford Crossing in Paoli, and Plush Mills in Wallingford.
sagelife.com
Symphony Square
Bala Cynwyd
milestoneretirement.com
Waverly Heights
Gladwyne
waverlyheightsltd.org
White Horse Village
Newtown Square
whitehorsevillage.org
Published (and copyrighted) in Suburban Life magazine, April 2020.