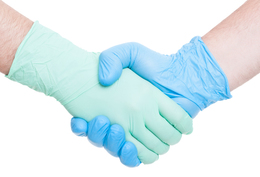 Coming Together
People throughout the Greater Philadelphia Area spread love and kindness in the face of COVID-19 pandemic.
On February 27, West Chester University President Chris Fiorentino was having breakfast with a colleague who happened to have a background in microbiology. Their conversation touched on several topics, including a mysterious and wildly contagious respiratory virus that seemed on the verge of spiraling out of control on the other side of the world.
"He told me he's 99 percent sure that by April we would have to close the university, and I looked at him like he was crazy," Fiorentino recalls. "But he's a scientist, so I walked away from that meeting with that thought in my head."
The U.S. government implied the virus would not be a serious threat to those on American soil, but a growing chorus of alarm in the media suggested otherwise. Over the next 10 days, Fiorentino and his staff started having precautionary meetings about how the university would adapt if the virus—COVID-19, also known as the novel coronavirus—did, in fact, imperil the United States.
In advance of the university's spring break, the registrar's office had reached out to the university's 17,000 students and asked about their travel plans during their time off campus. More than 10,000 responded, and 3,000 suggested they would be traveling on a plane, train, or some other form of mass transit, and 400 said they would be traveling overseas.
"We had a group working on a series of scenarios, and one was to extend spring break and see what happens," Fiorentino says. "In our meetings I asked, 'Does anyone sitting here think that with 3,000 of our students and faculty traveling all over the country and the world, does anyone believe no one is going to bring this [virus] back to campus?'"
Everyone agreed the chances of emerging unscathed were slim at best. He then asked a follow-up question: "Once we decide to extend spring break, what would have to happen to cause us to be confident to bring students back?"
No one had a good response. So, on March 10, relatively early into what would become a full-blown nationwide health and economic crisis, Fiorentino made a bold decision: to essentially "reinvent" the university by shifting its educational model solely to "remote delivery," utilizing online technology such as Zoom, for the remainder of the semester.
"It was not a popular decision when I made it," he admits. "Everyone thought I was overreacting. Within two to three days, it was evident that I was not overreacting."
On March 16, Gov. Wolf extended a shutdown order to the entire state of Pennsylvania, essentially grinding commerce to a halt. As of April 21, more than 33,000 in Pennsylvania had tested positive for COVID-19, with more than 1,200 deaths. Globally, the novel coronavirus has infected more than 2.5 million people globally, and more than 170,000 people have died, including in excess of 40,000 Americans.
In light of the danger, people have had to cope with a vastly changed world. Enforced "social distancing." Empty office buildings and businesses bearing CLOSED signs. Upended financial markets. News headlines proclaiming grim statistics. Tense visits to the supermarket only to discover sparsely stocked or stripped-clean shelves. Unemployment claims. Trips to the mailbox for much-needed stimulus checks. Days blending into one another. Boredom.
On the other hand, some have seen so-called "silver linings" amid the dark clouds. More time to bond with loved ones. New hobbies and habits nurtured while at home. Quieter days to appreciate the simple joys of birdsong. Random acts of kindness. Cleaner skies and less traveled roadways. Slowing down. Many suggest what they will remember most about this time in history is the sense of togetherness, of people coming together to oppose an unseen enemy.
'It's Almost Like We're Military'
State orders may have forced the employees of all but "life-sustaining" businesses to isolate at home in hopes of choking off the COVID-19 virus, but workers such as Donna Donahue, R.N., and Julia Burns, R.N., don't have the luxury of staying home.
"Work has changed dramatically in some respects, and not at all in others," says Donahue, a nursing manager and OSHA coordinator for a trio of oral and maxillofacial surgery centers in Bucks and Montgomery counties. (Editor's note: Donahue is the author's wife.) "We're no longer seeing elective procedures—just emergencies for pain, infection, bleeding, and facial trauma."
In her line of work, Donahue assists on procedures that involve everything from the removal of wisdom teeth to facial reconstructive surgery. Personal protective equipment has always been part of her workday, but the outbreak has spurred her practice to adopt more robust PPE protocols. She now wears an N95 mask, safety goggles, gloves, a face shield, a gown, and a bouffant cap in the operatory, for example, and otherwise wears a standard surgical mask while at work, even if she's just doing paperwork. Such precautions make her feel safer at work than she does when she goes to the grocery store, though she admits to feeling a "heightened sense of tension."
Burns (last name changed to protect privacy) works for a pediatric practice in Bucks County. She now spends half her days on the phone, answering questions for concerned parents, and the other half alongside doctors seeing only "urgent" cases, such as those involving respiratory distress or painful earaches. When patients are suspected of having been infected with COVID-19, she dons head-to-toe PPE, including a full-body gown, gloves, a surgical mask, and a face shield.
"It's like being underwater," Burns says of the high-level PPE. "I'm not a nervous person, but the whole thing has been a little unnerving. Some of the girls I work with are nervous about bringing the virus home. Other people aren't going to take it seriously until they know someone who has tested positive."
Despite the risks, Donahue has been happy to keep seeing patients. Doing so, she suggests, keeps those patients out of hospitals, many of which are inundated with COVID-19 cases. She thinks of the 6-year-old who came in with a severely infected primary tooth, or the woman who had to have a tooth extracted to lower the risk of infection prior to starting treatment for pancreatic cancer.
Overall, Donahue and Burns agree that the outbreak has brought out the best in people, particularly in regard to the camaraderie among staff members.
"We have people helping other people put on their PPE," Burns says. "A lot of people are isolated at home now, so coming to work is like having a social life. … Patients are making us masks, and some are actually useable. Everyone is being very thoughtful of doctors and nurses, and that's helping us get through this. It's almost like we're military."
In a way, the COVID-19 pandemic reminds Donahue of the aftermath of Sept. 11, 2001, when the country came together to heal from the terrorist attacks that brought down the Twin Towers.
"People seem more tolerant right now," she says. "Prior to all this happening, if we were running a little behind, people were not always understanding. Now, they say, 'Thank you for being here; I don't care how long I wait.' People are being more respectful. I hope that sticks with us."
Stepping Up
Even before COVID-19, many area residents were only one paycheck away from financial catastrophe. The pandemic has only worsened people's hardships. This is precisely why United Way of Bucks County and Penn Community Bank teamed up to create the COVID-19 Recovery Fund early into the crisis. Their goal: to support members of the ALICE (asset-limited, income-restrained, employed) population in Bucks County whose lives have been affected by the virus outbreak.
"We realized we needed to get this off the ground immediately, because of the immediate disruption in our community," says Marissa Christie, president and CEO of United Way of Bucks County, which is based in Fairless Hills. "We also knew we had to be prepared for a long and challenging recovery."
By March 31, the first round of grants was distributed to four nonprofit organizations devoted to serving the local community: The Ivins Outreach Center, the Greater Philadelphia Diaper Bank, the Salvation Army of Levittown, and Emergency Relief Association Food Pantry of Lower Bucks County. Each nonprofit received a $5,000 grant to "fill in the gaps" in their efforts to provide vital assistance to vulnerable and underserved populations. Ivins Outreach Center in Morrisville, for example, used the grant to ensure that prepared meals and groceries could be delivered to low-income seniors who are unable to leave home.
"As many as one in three [Bucks County residents] have an income level below what we would consider a survival budget," Christie adds. "These folks are able to cover the basic necessities, but just barely. The ALICE population are the folks all around us—the aide in my son's classroom, the person who helps us in the grocery store—and any disruption in income for them is particularly challenging."
United Way of Bucks County and Penn Community Bank each seeded the fund with $25,000. The fund has received additional donations from individuals in the community, as well as other locally based organizations, such as Dow, Janssen, and PECO, according to Christie.
"We're finding that folks are giving as much as they can—from $5 to thousands of dollars," she adds. "We want to continue to raise funds so we can address the recovery. … Every single day something changes in terms of the landscape here; there are some needs that need to be addressed today that weren't needed yesterday. Our objective is to figure out how to be as flexible as possible on filling in the gaps."
As member agencies continue to submit grant applications on a rolling basis, Christie says applications will reviewed quickly "because the situation on the ground changes so much." A second grant has since been awarded to Penndel Mental Health Center, which serves residents of Lower Bucks County.
"This is a fund that's not meant to stay here," Christie adds. "We're working on the immediate need and response as we continue through this crisis. I want my county and community back to being the healthy, prosperous place we envisioned. We keep asking ourselves: How quickly can we help the community? We know it will be financially devastating for a lot of people."
Roses and Thorns
During a normal year, springtime would mean a boom in business for Primex Garden Center in Glenside. Of course, 2020 has been anything but normal. Once-bustling aisles are now barren, the registers unmanned, the inventory in limbo.
"Our season ramps up through March and peaks around Mother's Day," says Marshall Green, nursery manager and co-owner of Primex Garden Center. "Just as people were starting to be told not to go to work, we had one of our busiest Saturdays of all time. It was March 7th or 8th. … The following week was when we started hearing we would need to close down in some way, shape, or form."
On March 18, Primex announced a temporary shuttering of its retail operation. The company had been able to continue doing some bulk mulch deliveries when permitted by the state, but that aspect of its business has since come to a halt as well. The state denied Primex's application for a waiver to offer limited services in a safe manner, but that hasn't stopped Primex from giving back to the community.
On March 26, Primex posted a message on its Facebook page, offering free plants—approximately 250 pansies among them, according to Green—to anyone who wanted to come by and pick them up. The message ended with three words: "while supplies last."
They didn't last long.
"Within 45 minutes, everything had been cleared out," Green says. "We have 4,500 Facebook followers, and that post had double that reach. It was a pretty impactful, feel-good moment, and we did sell a lot of gift cards in the afternoon and evening. To me, it was about just letting those flowers go be beautiful in someone's yard rather than be at the bottom of a Dumpster. It was a spur-of-the-moment thing, wanting to spread some positivity in this uncertain time."
The temporary closure has affected not only Primex as a business but also the people who work there. The leadership team doled out all of the paid time off owed to employees and then laid them off so they could collect unemployment benefits.
"Hopefully they come back when we reopen," he says. "Between March and June, we do 70 percent of our business for the year, and we already started ramping up; we had just hired 15 to 20 new employees. We're champing at the bit all winter long, so it feels like someone knocked the legs out from under us. Early spring, business was good, and we were expecting to have another good year. … At this point, it's very uncertain."
Even so, he's confident the 77-year-old business will recover from the temporary shutdown. As a former restaurateur who understands the challenges small businesses face even under normal conditions, Green knows that some business owners may not share his optimism about the future of their respective enterprises.
"We're on very solid ground," he adds. "We're in our fourth generation, and we don't have the overhead some other businesses have due to owning the property. There will be some businesses that are going to get absolutely crushed. It's on everyone to help small businesses out. The world will change because of this, unfortunately."
'We're There for Them'
Diana L. Busacca loves "being out on the road," even now—especially now, perhaps.
As a CDL "Class A" truck driver, Busacca plays a vital role in the supply chain of essential items, everything from bottled water and perishable foods to toilet paper. She spends her days crisscrossing the United States in her tractor-trailer with her dog, Levi. Her precious cargo is bound for distribution centers, warehouses, and retailers that serve as lifelines to a shaken country.
She agrees to a phone interview as she's hauling 45,800 pounds of bottled water from a plant in Breinigsville, Pa., to its final destination in Olney, Ill. While she would love to be spending time with her grandson and other family members in Alabama, she says she's happy to "keep America moving."
"Nobody sees America like the American trucker," says Busacca, who is originally from Los Angeles and has ties to the Philadelphia area. "Every night is in a different place. It's always an adventure. We see America from the inside out, not the outside in. For us, it's business as usual. The country has been asked to slow down, and the American trucker has been asked to speed up and rise to the occasion, so we gladly roll up our sleeves and 'keep on trucking.'"
At the same time, she admits that she and many of her fellow truck drivers feel a "heightened sense of anxiety" over the risk of contracting the virus. Like the rest of the country, she has had to make some unprecedented adjustments to her daily routine—using disposable gloves at the fuel pump, for instance, and washing her hands in the restroom "like I'm a doctor preparing for surgery," as she puts it.
"It all feels very surreal, like I'm stuck in this dream, or maybe it's a nightmare," she says. "I'm a 'cup half full' person, but sometimes I go to bed worrying about it. … I'm not panicking, and I'm very compassionate. I feel bad for people who are thinking: What do we do now? We're there for them, and we're glad to do it. … It's one thing to mark off their list of worries."
While the pandemic has resulted in dramatic out-of-stock situations at the supermarket—an experience most Americans have never experienced until now—drivers such as Busacca help to minimize disruptions in the supply chain. In turn, she has been inspired and uplifted by simple acts of kindness along the way. Recently, for example, she drove past a child holding a handmade sign that read: THANK YOU, TRUCK DRIVER. These acts of sincere gratitude, she says, "keep us going."
"I have a lot of faith in humanity, and … I think we'll come through this stronger in the end," she says. "And maybe people will continue to wash their hands more often after this is all over."
Returning to Normal
As for West Chester University, Fiorentino says life goes on. Technology has enabled the admissions staff to conduct virtual tours for prospective students. Teachers teach. Students learn. And, he's confident that members of the Class of 2020 will have the opportunity to celebrate commencement ... together. He doesn't know when exactly, but he promises to give seniors and their families at least 45 days' notice.
"Eventually we will all regain our confidence," he continues. "Once we have a vaccine, that will make this like any other serious virus, and hopefully by then we'll get back to normal. In the meantime, we can all think about if we can do things better than the way we were doing them. Everyone will be in a position to change how we live our lives."
To him, the most compelling question that has not yet been answered is this: What's going to happen in the fall?
"We don't know what's going to happen, but I'm optimistic," he says. "This is the most significant challenge faced by higher education, and by most other sectors of business, I would imagine. We want the people who are working here now to look back on this experience and say, 'We ran a university during a crisis, and we did OK.'"
Published (and copyrighted) in Suburban Life magazine, April 2020.