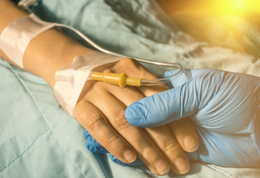 Heroes' Journey
Frontline healthcare workers rise to the occasion.
"I've never seen anything like this. The closest thing to it was the AIDS epidemic in the '80s."
So says AnnMarie Papa, vice president and chief nursing officer for Einstein Medical Center Montgomery in East Norriton. In her 43-year career in nursing, nothing prepared her for the challenges associated with the COVID-19 pandemic.
The crisis may be unprecedented, but so has been the healthcare community's response to it. Doctors, nurses, and other frontline healthcare workers have risen to the occasion, showing uncommon compassion, creativity, and resiliency.
We spoke with four members of the Greater Philadelphia Area's healthcare community, to learn about their day-to-day experiences on the front lines: the challenges and sacrifices they and their colleagues have faced; the camaraderie, kindness, and community support that have helped brighten their workdays; and their reasons for hope as the nation prepares to emerge from one of its darkest periods in modern history.
Winning the Fight
The healthcare community's response to COVID-19 has been a study in adaptability, compassion, and resiliency.
"Do you hear that? Do you hear the music?"
It's faint, but it's there—the familiar refrain of Journey's epic song, "Don't Stop Believin'," playing in the background.
Lawrence Brilliant, M.D., president of St. Mary Medical Center in Langhorne, explains that the song echoes through the halls every time someone infected with the COVID-19 virus is discharged, removed from a ventilator, or otherwise makes life-changing progress in recovering from the disease.
"When those events occur," Dr. Brilliant says, "it gives us hope that we can win this fight."
Earlier this year, as it became clear the COVID-19 had the potential to severely disrupt the community, St. Mary Medical Center prepared for the looming surge: recruiting additional doctors and nurses who volunteered to help; preparing nontraditional sites of service to treat the expected onslaught of patients; reaching out to fellow healthcare centers regarding best practices; exploring alternative means of ventilating respiratory-distressed patients if its allotment of ventilators ran out; becoming one of the area hospitals that received emergency-use authorization to participate in the trial of remdesivir, an antiviral medication that has shown promise in treating COVID-19.
Dr. Brilliant is a board-certified emergency medicine physician who stopped practicing when he stepped into his role as president. Eager to join his counterparts on the front line, he reached out to the emergency department group about reinstating his credentials so he could help care for patients, if needed.
In other words, St. Mary prepared as best it could for the worst-case scenario. Dr. Brilliant is happy to report that the worst has not come to bear, which he attributes to social distancing and stay-at-home orders. As of the first week of May, St. Mary's had discharged approximately 200 COVID-19 patients.
Dr. Brilliant credits St. Mary's staff workers, suggesting that all 934 members of St. Mary's medical staff (physicians and allied health professionals, such as CRNAs and nurse practitioners), all 876 nurses, and the more than 1,660 colleagues in other clinical or administrative roles deserve applause.
"We're in awe," he says. "We've been one big family working together, despite the curveballs we've faced along the way. We've been resilient and continue to provide top-notch care."
That's not to say the experience has been easy.
"Our people may have been afraid they would get the virus or take home the virus, but nothing stopped them," Dr. Brilliant adds. "You had healthcare workers who were living in separate houses [than their families] because they were so afraid that workplace exposure could have affected them at home. They were worried, listening to the news, seeing that PPE was difficult to get. … I think they also felt a sense of fulfillment, especially when someone was removed from a ventilator or discharged from the hospital."
Not every case has had a happy ending, of course.
"We are now focused on recovery efforts, meaning how can I get you to feel safe and comfortable about coming to the hospital for care?" Dr. Brilliant says. "There are a lot of patients out there with significant needs that need to be met. Some cases are OK to wait a month, but it can be to their detriment to wait longer than that. … If you think you have an emergency, seek help. It's safer to be here with an emergency than not here."
As the interview draws to a close, Dr. Brilliant adds, "There it is again." Sure enough, Journey's ever-hopeful power ballad blasts again, giving hope to those who seek it.
"Every time you hear that song," he says, "it reminds you that people do get better."
'They Have Amazed Me'
Through fear and uncertainty, nurses provide life-sustaining care for those who need it most.
AnnMarie Papa spends a good part of each workday in the intensive care unit. As vice president and chief nursing officer of Einstein Medical Center Montgomery in East Norriton, Papa has witnessed both sides of the coin in patients' fight against COVID-19: fear and suffering on one hand; resiliency and hope on the other. Likewise, she has found inspiration in the bravery of her nurses.
"I don't have words to talk about their courage and determination and compassion, with patients and with each other," says Papa, who has worked in nursing for more than 40 years. "Every day something new comes up, and every day they have amazed me. It's an honor and a privilege to lead them, and I'm humbled watching them. I know they're scared, frightened, and many of them have young families."
The nursing staff has had to stay flexible to keep up with rapidly changing safety guidelines. They even devised an idea to move patients' IV pumps into the hallway to limit unnecessary contact.
Einstein Montgomery admitted the area's first COVID-19 patient in March, according to Papa. The patient was later transferred to the Hospital of the University of Pennsylvania, from which he was discharged.
"Every person who stepped in that first patient's room was nervous and scared, and no one could tell you the right thing to do because we were so early into it," she says. "As a leader, the most important thing is that the staff knows you put their safety first. … It's hard, because they don't know what the next patient will bring them."
COVID-19 has largely prohibited family members from being with critically ill loved ones who have been admitted to the hospital. Nurses are always on site, meaning they remain by the patient's side. In some cases, nurses have had to communicate with family members over an iPad as a loved one crosses the threshold between life and death.
Papa acknowledges the difficultly that comes from patients and families being apart at this time, but she believes a cautious approach benefits the community.
"Do I want to be the chief nurse who's on the news for being mean because she wouldn't let people in to see their families?" she asks. "Or do I want to be the chief nurse who's on the news for opening up visitor hours and getting her staff sick? I can apologize for being mean, but I can't apologize when a decision I made results in someone's family member getting sick or hurt."
She's happy to report that the number of COVID-19 cases at Einstein Montgomery has plateaued and, more recently, started to decline. She urges against complacency, however.
"This is an insidious disease," she says. "It's important for the public to know the nurses are doing everything they can to keep patients and their loved ones safe and connected, and they should think about that before taking a chance."
Shelter from the Storm
As the lockdown worsens matters for those who struggle with addiction, providers continue to help break the disease's hold on people's lives.
Coping with addiction is hard enough in "normal" times. For many who struggle with the disease, the COVID-19 pandemic has only increased the weight of their burden. The enforced quarantine has added to feelings of isolation, for example, while the closure of wine and spirits stores has meant limited or no access to alcohol, thereby increasing the risk of withdrawal.
"The window of willingness is very small for people who struggle with addiction, and that window can be gone in an instant," says Diane Bradley, LPC, CAADC, the director of admissions and utilization review for Recovery Centers of America at Devon, which helps people fighting addiction to alcohol, heroin, and fentanyl, among other substances. "That's why we had to be here for people seeking treatment."
Even as the news outside became increasingly grim, the facility's team of addiction experts continued to provide individualized inpatient treatment for people trying to break addiction's hold on their lives. Bradley credits the center's close-knit culture.
"Overall, the entire facility felt like our leadership had a hold of this by implementing screening, facemasks, and other precautions to protect patients and staff," she says. "Our medical director, Dr. Caroline McWilliams, and our director of nursing, Sarah Rivera, were just amazing. When everyone saw the actions that were being implemented, there was a sense of safety and security."
What has struck her most about this strange time is the sense of camaraderie and community among her colleagues.
"It's almost the complete opposite of what people are experiencing outside this community, where everyone feels so isolated," she says. "How we've handled this will be remembered for a long time."
Such feelings of fraternity have extended to patients as well. Bradley references the facemasks that patients learned to make during art-therapy sessions. These exercises reinforced the notion that "we're all in this together."
"I feel what we're doing here has integrity, making people feel safe on top of what's happening with the coronavirus crisis," she adds. "For anyone who is dealing with addiction, now is the time. One more day in active addiction is one day too many."
Unbroken
Surgeons adjust to new realities in treating patients who need urgent and emergent care.
"I'm 58, and I've never seen anything like this—and we've been through SARS, swine flu, Hong Kong flu, Ebola," says Alexander R. Vaccaro, M.D., Ph.D., M.B.A. "This is like war time, and it must have been what it was like during World War I and World War II, when our whole society was changed by an international and global event."
Dr. Vaccaro is president of Rothman Orthopaedic Institute, a Richard H. Rothman professor, and chairman of the department of orthopedics and professor of neurosurgery at Thomas Jefferson University and Hospitals. In his role with Rothman, he oversees an organization with 1,500 employees, more than 200 doctors, 40-plus office buildings, and 12 ambulatory surgery centers. He's also been in the operating room throughout the crisis, performing spinal surgeries on patients in need of urgent and emergent care. In fact, he's doing the interview between surgeries, while riding a stationary bike to maintain his physical health.
"There was so much misinformation going around," says Dr. Vaccaro, recalling the days as the pandemic started affecting daily life in the United States. "We were getting inundated with Chinese, Italian, Korean, and Singaporean peer-review articles [about surgical safety], all saying different things. The Italian literature got me scared, talking about cases in which Italian orthopedic surgeons were dying."
The literature cited a Bovie knife, an electrosurgical device that uses high-frequency current to cut or destroy tissue. Allegedly, the resulting plume of smoke could penetrate an N95 mask, bringing the virus with it. "That one turned out not to be true," he says.
Dr. Vaccaro suggests surgeons have adopted a number of important safety precautions—from enhanced PPE to in-office social distancing—to protect patients and staff.
"Going forward there are three variables we're going to be dealing with until we have a cure or a vaccine," he says. "First, we have to deal with the unknown, and that unknown bothers patients, administrators, and nurses and doctors; we're all on edge. Second, we will never not use social distancing again until we have a vaccine. Third, telemedicine is going to be standard procedure until we have herd immunity."
Adjustments aside, Dr. Vaccaro wants people to feel comfortable getting their health concerns addressed, especially for conditions considered urgent or emergent.
"Medicine is open for business," he says. "We've made it safe, so don't be afraid."
Published (and copyrighted) in Suburban Life magazine, May 2020.