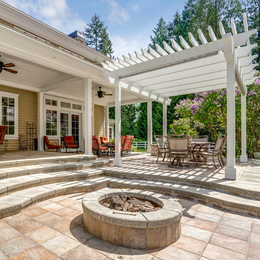 Everything Under the Sun
With "staycations" on their minds, homeowners plan and ponder enhancements to their outdoor living spaces.
Vacations cancelled. Travel plans postponed. Stay-at-home orders for the foreseeable future. Such is life in 2020.
Rather than get discouraged, however, many homeowners see the disruption to daily life as an opportunity to improve their homes, both inside and out. With summer only a month or so away, homeowners have "staycations" on their minds. In other words, they intend to remake or enhance their outdoor living spaces—or, in some cases, create to-the-nines backyard oases, of sorts: pools, covered patios with built-in TVs and other entertainment, outdoor kitchens, and arboretum-worthy landscaping.
Such outdoor serenity will be a welcome respite after so much time spent behind closed doors these past few months.
Good news: After a seven-week period of inaction, contractors are once again back to work and ready to help homeowners bring their home-improvement visions to life. Local home-improvement professionals forecast pent-up demand—for those who can afford it.
"Some clients have lost money in the stock market or were caught up in the shutdown with less income, so they are putting their project on hold until things rebound," says Daniel Dilworth, president of Dilworth's Custom Design in Phoenixville. "Others have been able to maintain their income and, having been cooped up in their home and seeing areas to renovate, are now anxious to get work done."
What to Expect
Homeowners can expect some changes, however, both in the planning phase and on the job site. Rather than asking homeowners to meet with design personnel at a showroom, for example, remodelers are utilizing online-meeting technology to discuss details and share plans with clients virtually—the construction industry's version of telehealth appointments.
On the job site, homeowners are likely to see facemasks, stricter cleaning protocols, and smaller, spaced-out crews for means of social distancing.
"We don't anticipate any dramatic changes or disruptions," says Dennis D. Gehman, MCR, the president of Gehman Design Remodeling, which is based in Harleysville. "People have gotten used to seeing other people wearing personal protective equipment, like facemasks, and there will be some other small changes in the way we communicate with homeowners—meaning not in close proximity. Other than that, we're going to go about the work just as we've always done."
Home remodelers advise patience and realistic expectations.
"Obviously since there was a seven-week shutdown, there is that delay," Dilworth adds. "But as long as the contractor didn't have to downsize his operations, there should be no reason for the jobs to take more time to complete; they will just start later. If the contractor had to downsize for whatever reason, then they should be communicating to their clients with the new forecasted schedule."
'A Great Time to Build'
As homeowners consider home improvements for the coming weeks months, Dilworth offers some guidance when seeking the "right" partner to complete the work: "Find a company that has been stable through the shutdown, taking care of employees and clients safely, did not just hire a bunch of 'newbies' to do extra work, and can handle the whole job without depending on other subcontractors, which may now have scheduling problems."
Despite all the closures and changes wrought by COVID-19, Daniel Glick is cautiously optimistic about the future. His company, B&D Builders, has amassed a portfolio of stunning residential, commercial, and agricultural projects, ranging from complex equestrian facilities, to large single-family homes, party barns, and historic renovations. The Paradise, Pa.-based firm did face some brief disruptions early into the pandemic, but it has been able to keep projects moving. He appreciates clients' enthusiasm for building right now. He's also quick to note that the company is taking precautions to protect homeowners on the job site, as well as employees in all aspects of its business.
"We have a good outlook," says Glick, a co-owner and partner in B&D Builders. "We had a few jobs cancelled, and there will be some who are going to hunker down and see how this whole thing shakes out. But there are some clients who are very upbeat and think this is a great time to build."
Editor's note: Independent garden centers have been especially hard hit by the pandemic, with many unable to open their doors during their busiest time of year. For those who can afford to do so, consider purchasing a gift card through your local garden center's website, and be sure to patronize these businesses once they open their doors to the public.
Have a Thirst for an Outdoor Adventure?
Nature does wonders for the body and the mind—especially during this time in history. Spending time in forested areas has restorative and even medicinal effects on the human body, according to a 2018 study published in the journal Environmental Research. Check state and local guidelines before heading out, but consider adding one (or all) of these destinations to your dance card in the near future.
Take a Hike
French Creek State Park
Located in Elverson, west of Pottstown, French Creek State Park offers more than 35 miles of hiking trails throughout its more than 7,700 acres.
Hawk Mountain Sanctuary
Approximately two hours north of Philadelphia, Hawk Mountain provides an abundance of trails, including the challenging River of Rocks trail. Given its name, Hawk Mountain's many rocky outcroppings and overlooks provide vantage points to view soaring raptors and other birds.
John Heinz National Wildlife Refuge at Tinicum
Trails wend through more than 1,000 tree-lined acres of ponds, marshes and meadows. With Center City's spires in sight, the refuge provides vital habitat for abundant wildlife, including migratory birds.
Ralph Stover State Park
Climbing enthusiasts make a beeline for this Bucks County hot spot (along the Delaware River, north of New Hope) to scale the rugged cliff walls that overlook the winding seam known as Tohickon Creek. If climbing is not your thing, hike the well-tended trails or slosh through the shallow creek in search of roaming crayfish.
Tyler State Park
Located on the edge of Newtown, Tyler State Park features miles of gravel hiking trails, paved biking trails, and bridle trails for horseback riding. Tyler also has a 36-hole disc golf course and a popular gathering area (once it's safe to gather again) at a dam over the Neshaminy Creek.
Valley Forge National Historical Park
Whether you seek a quiet walk in the woods or a challenging hike (Mt. Misery, which is named accurately, and Mt. Joy), Valley Forge offers natural beauty against a backdrop of historical significance.
Wissahickon Valley Park
Approximately 50 miles of surprisingly rugged trails cut through the Wissahickon Gorge, creating a natural playground for suburbanites and city dwellers alike. Once life returns to "normal," so to speak, the shops and restaurants of Chestnut Hill are a short walk or drive away.
Garden Time
Chanticleer
This public garden in Wayne features winding footpaths and 35 acres of grounds rife with thousands of plant species, including exotics. chanticleergarden.org
Grounds for Sculpture
For those who love art and nature, Grounds for Sculpture is a unique treasure. This 42-acre sanctuary in Hamilton, N.J., blends art with flora from around the world. groundsforsculpture.org
Tyler Arboretum
Seventeen miles of hiking trails traverse this Media-based arboretum's 550 acres of woodland, meadow and valley streams. Birders will appreciate Tyler's "IBA" (Important Bird Area) status, granted by the National Audubon Society. tylerarboretum.org
Morris Arboretum of the University of Pennsylvania
Located in Chestnut Hill, on the line dividing city and suburbs, Morris Arboretum features lush gardens, towering trees, and trickling waterways—even a canopy walk and hammock-like "Squirrel Scramble" high above the woodland floor. morrisarboretum.org
Longwood Gardens
Longwood Gardens is in its full glory in the summer months. Highlights: a forest walk, blooming gardens, and undulating meadows, as well as too many gorgeous indoor spaces to mention here. longwoodgardens.org
Published (and copyrighted) in Suburban Life magazine, May 2020.