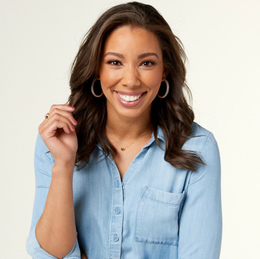 Focused
Whether on camera for QVC or on the ice working toward her Olympic ambitions, Courtney Webb always means business.
Courtney Webb made her mark as an entrepreneurial-minded national TV program host for QVC in West Chester. By 2022, if the stars align, she may earn recognition for her efforts on a much grander stage: the Winter Olympic Games.
Webb hopes the hard work she's doing now will result in a place on the Women's Skeleton National Team. For those who are not entirely familiar with skeleton, don't feel bad; Webb counted herself among the uninitiated just a few years ago. Skeleton is a fast-paced sport in which an individual rides a metal sled down an ice track. It's similar to luge, with one of the key differences being that a luge competitor lies on his or her back, whereas a skeleton competitor lies on his or her stomach.
Webb was born and raised in Texas, a place not exactly well known for its winter sports. Her introduction to skeleton came in New York City, where she crossed paths with Lauren Gibbs, who would go on to win a silver medal in women's bobsleigh at the 2018 Summer Olympics in PyeongChang, South Korea.
"I had a digital marketing company with office space at WeWork in New York City, at 27th and Park Avenue," Webb recalls. "One day I was going to get something to drink in the common area, and I met [Gibbs] there. … She said to me, 'You have the perfect body type for skeleton.' I was, like, 'What is skeleton?' So she explained what it was all about and suggested I get involved. I said, 'You want me to go to the Olympic Training Center and try out for a sport I have never heard of?' And she said, 'Yeah, that's what I'm doing.'"
Webb had been an exceptional gymnast and lacrosse player earlier in her life, and she found the prospect of rekindling her athletic career exciting. After participating in a series of combines, she traveled to Park City, Utah, to take her first few runs down a skeleton track. At the end of the experience, she received some unexpected feedback from her coach: "You have something I can't teach." The coach also encouraged Webb to remain in Utah for two months to train, even though she was living and working in Manhattan. A series of "miracles" helped her find ways to make it work. The two-month aside wound up changing her life. Not only did she discover she had a talent for skeleton, but she also met the man who would later become her husband.
We spoke with Webb about her time in front of the camera at QVC, how she trains locally for such a specialized sport, and her Olympic hopes for 2022—or, given the disruption caused by the COVID-19 pandemic, whenever the next Winter Olympics happen.
Q&A
How do you like working at QVC?
I moved from New York, and it's been a positive move. …What I love about it is that I was an entrepreneur, and I literally am there to sell the products of entrepreneurs, creators, and designers. I get to tell their story, and I get to create these joyful moments. You get to watch these products just explode, which can be very good, and I also get to do a lot of vetting and mentoring.
Is there a close-knit skeleton community in the Greater Philadelphia Area?
I am the community. There's a lot of people who are super intrigued, and they're also very supportive; they want to know about my journey. I have more of a hockey fan base because I train at a hockey facility (Method Hockey in West Chester). I meet a lot of young hockey players, boys and girls. They train with me, and I teach them about skeleton. Hockey players are very dedicated, even in their mid-teens, and a lot of them are home schooled and train 24-7. Hearing that, and seeing what they're doing, I get super motivated.
Once the world gets back to normal after the COVID-19 outbreak, what happens then?
As unfortunate as times are right now, I'm still hopeful and optimistic. The only thing we know is that they have moved the Summer Olympics to next year. … If I get to compete in the 2022 Olympics [in Beijing, China], I'll drop to the floor. Getting there is such a daunting goal, so big it can squash you. I always have a blue sky of possibility, but my sole focus right now is to get on the National team and go from there.
Beyond that I definitely hope to continue with the entrepreneurial bug in the sense that I can do my own thing again or help others do entrepreneurial-minded things. Right now I don't really know what that looks like, but I'm extremely passionate about it.
Photograph by Johanna Halsmith-Weisser
Published (and copyrighted) in Suburban Life magazine, May 2020.