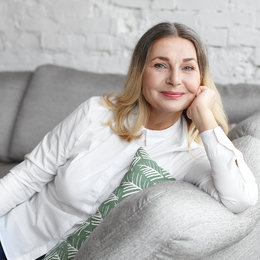 Youthful Glow
Skin care, smart fashions, and lifestyle choices help a woman look her best.
Some women seem to defy the aging process, looking better with each passing year. Part of this may be due to the attractiveness of self-confidence that seems to come with age, though other factors include genetics, clean living, and smart fashion and makeup choices.
Ask Lauren Talarico and she'll say looking one's best begins with being kind to one's body. For starters, she suggests wearing sunscreen for outdoors activities, and steering clear of cigarettes because of smoking's deleterious effects to the skin.
"A healthy diet, drinking lots of water, and a good skincare regimen can have a dramatic effect on the look and feel of the skin," says Talarico, a licensed aesthetician with Ear Nose Throat & Facial Plastic Surgery Specialists P.C. in Willow Grove. "When you drink lots of water, the skin is hydrated and naturally looks plump. I also recommend eating foods with a high water content, like fresh fruits and vegetables."
In addition to her work as an aesthetician, Talarico does onsite hair and makeup for weddings throughout the area. As of later this year, she'll have a formal studio at Athena in Philadelphia's Northern Liberties neighborhood. Naturally, her approach to doing makeup for a 75-year-old grandmother will differ with that of, say, a 25-year-old bride.
"If I'm doing makeup for a mom or grandmother, I might prep the skin with hyaluronic acid and let it sit before applying the makeup," Talarico says. "You can buy hyaluronic acid in topical form, either from Walgreens or from your local med spa. It's a game changer for a makeup base. It can also help with dry, crepey skin, because it naturally plumps and softens."
Some women opt for Botox injections to soften fine lines and wrinkles, or minimally invasive aesthetic procedures such as dermaplaning to rejuvenate skin tissue. For more dramatic results, cosmetic surgery such as structural fat grafting can erase wrinkles or deep creases.
"You can't rewind the clock 25 years, but something like Botox can raise the brow," Talarico says. "It's all about millimeters when it comes to the face, and even subtle changes can help someone look refreshed and rejuvenated."
Looking and feeling good about one's appearance extends to a wardrobe that accentuates the features one considers desirable and minimizes the features that make one self-conscious. For example, a classic, colorful scarf—not too colorful, though—can draw attention to a woman's eyes and smile.
Other "style smarts" for women of any age, courtesy of AARP: Invest in a capable tailor, because clothes look best when they fit well; define your waist, no matter its size; keep your skirt and dress lengths to the knee; refrain from showing too much skin, because skirts that are too short and tops that are too low flatter no one; keep it simple by avoiding "bling," or ostentatious jewelry; rather than loud prints, opt for solid colors; and buy bras that fit the body, and consider "shape wear," if and when needed.
To truly look her best, Talarico believes, a woman must feel her best.
"Slow it down by separating yourself from the outside world," she says. "Something like sitting in a sauna with guided meditation can give you a youthful glow no matter your age."
Published (and copyrighted) in Suburban Life magazine, May 2020.