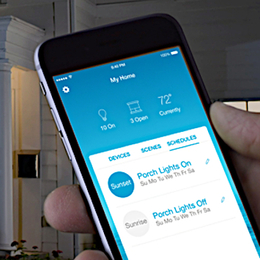 Why Smart Lighting Is a Smart Choice
Denney Electric Supply offers perspective on the benefits of residential smart lighting.
So-called smart technology has become ubiquitous. Nearly every individual in America now has a smartphone in his or her back pocket, and smart-home technology has become a multibillion-dollar business. In fact, an increasing number of new homes are being built with this advanced technology, which enables the automation and remote control of various appliances and devices. Why? Because the technology not only increases energy efficiency and enhances convenience for the homeowner, but it can also increase a home's aesthetic appeal and even drive up its monetary value.
Such benefits extend to smart lighting, according to Emma L. Dinnocenti, the director of marketing operations and showroom manager for the residential and commercial lighting specialists at Denney Electric Supply. We spoke with Dinnocenti about the advantages of smart lighting, some of the technology's most recent advances, and how these systems can be tailored to any home with guidance from Denney's showrooms throughout the Greater Philadelphia Area.
Tell me about the benefits homeowners can experience through the kinds of smart lighting technology available at Denney Electric Supply.
Some benefits that homeowners can experience from smart lighting vary and can be tailored to each customer's needs. First is safety. With customizable lighting schedules people can have the confidence that when their child comes home from school or a spouse comes home from work, the lights will be on. Another great feature with the Caséta by Lutron system is the geofencing capabilities; this means that once you are within a certain distance of your home, you can set up the system so the lights are on before you are even home. Second is convenience. With the Caséta app on your mobile device, you have the freedom to change your lighting right from your living room couch—or even across the globe, thanks to the geographical time clock. Third is home improvement. In addition to the timeless look of the Lutron dimmers, they also serve as a selling feature to upsell your home with the added benefits of the smart technology and the Lutron name.
Based on what you've heard from homeowners, what do you consider the most valuable aspect of smart lighting?
Even though there are many different benefits to smart lighting, the most common customer comment about the Caséta system is the convenience. Having control of your shades, lighting, Sonos speakers, and more just by pressing a button or saying, "Alexa, dim my lights 25 percent," is a real look into the future of home lighting.
Every homeowner will have different needs. Can Denney Electric Supply tailor smart lighting technology for a customer's home?
Absolutely. There are tons of possibilities for each individual home, no matter the size or preference. Some homeowners want a large amount of devices throughout the whole home, and others just want to be able to control the outside lantern. Both options are possible with the Caséta system.
You mentioned Caséta by Lutron, which is one of the most popular brands in this category. What kinds of benefits can people expect to gain by installing this system in their home?
First, it's easy to install. If you can install a dimmer and have a smartphone, you can have a smart-home system in no time. It also offers crosspollination. The Caséta system works with a ton of platforms of smart-home accessories, including but not limited to Alexa, Google Assistant, IFTTT, Apple HomeKit, and multiple smart thermostats, as well as Serena, which is Lutron's custom shade line.
Can Denney Electric Supply help with the installation process, if needed?
There are a few ways to have the Caséta system installed. The homeowner can go the DIY route as long as they are comfortable with basic dimmer installation. If a licensed electrician is preferred, all nine of our Denney Electric Supply locations will gladly connect the homeowner with an electrician in their area. Our showroom or counter staff can also answer most questions in regard to FAQs and product recommendations. The majority of the showroom staff in our seven showrooms located all across Pennsylvania have been trained in the Caséta system to walk the customer through the process of connecting devices to the app and router.
For more information from Denney Electric Supply, including details on area showroom locations, visit
denneyelectricsupply.com
.
Published (and copyrighted) in Suburban Life magazine, May 2020.