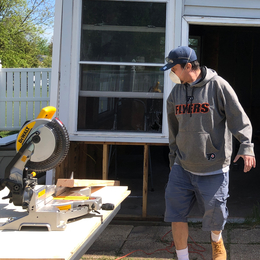 Home Remodeling in a COVID-19 World
Gehman Design Remodeling offers insights for homeowners as life slowly returns to normal.
Home remodelers in Pennsylvania have been given the green light to go back to work following the lockdown to slow the spread of COVID-19. Master Certified Remodeler Dennis D. Gehman is thrilled to resume a regular work schedule (or close enough to it), though he has also adopted a number of protocols to protect clients, as well as his employees, on the job site.
Gehman is president of Gehman Design Remodeling in Harleysville and a longtime member of NARI (the National Association of the Remodeling Industry). He offers his perspective on what homeowners can expect of the remodeling process for the immediate future, and how things might change as the world returns to what he describes as "some semblance of normalcy."
What can homeowners expect from the home-remodeling process for the foreseeable future?
Obviously, the coronavirus is on everyone's mind, and that's why we're following some new protocols. We've adapted more frequent hand washing and protection across the mouth and nose, and our team members will be working farther apart. That does make communication a little more of a challenge, but it's a minor one. Most of the work we do requires some degree of teamwork, but we've decided to work with smaller crews; in some cases, a project will require just one person.
We're also going to have big posters at each project site, letting people know that while we're there doing the work, that we're being safe, and that we're asking them to do the same. Some of the areas will be temporarily taped off, and usually we're doing that only to prevent dirt or dust from entering other areas of house. We're also asking the client to not enter the area where we're working while we're working, just to keep up with social distancing. Maybe that means we'll have to talk to them through a plastic dust wall or even phone them from two rooms away; they can always come in and look after we've gone. And of course, we'll all be wearing facemasks.
How did the lockdown affect you as a business owner, and how did you adapt?
Even through we haven't been able to do construction during the past seven weeks, we have kept the design process going by continuing to talk to folks about upcoming projects. Prior to this situation, we used to have people come into the showroom as a mandatory part of the design process, but we've been able to substitute that by showing people designs on the computer through platforms like Zoom and GoToMeeting.
As a professional contractor, I think I've always been a good, honest communicator; in fact, it's part of being a NARI member—the bylaws require members to always be truthful in their marketing and communication. As a leader, I'm probably over-communicating right now, but people need to have clear communication in order to feel confident and comfortable.
Has NARI been helpful throughout the lockdown, by offering business advice or providing guidance on safety guidelines for the job site?
They have in general. Each state is a bit different, but they have been conducting twice-a-week webinars about topics such as applying for support through the Paycheck Protection Program and how to return to work safely. The attendance has been more than double that of their other webinars, during normal times, so that has been encouraging for us as an industry.
With remodelers now back to work, where do we go from here?
We've been letting everyone know their projects may take a little longer to complete because of the extra precautions we're taking. I do know the owners of some home-improvement companies who have said, "I've had it; I'm retiring." So it's an ideal time for us to hire. I'm hoping there will be a lot of pent-up demand. People are spending so much time at home and looking around and saying, "We need to do this project or that project." I think there will be a fair amount of people that now realize they need a dedicated workspace and want to finish the basement or reconfigure the attic into office space.
Once all this goes away, we can go back to life as normal. In the meantime, we're making sure we have processes that highly respect each individual's concerns, and that applies to workers and clients. Our firm has been using the same tagline for a decade: "We Take Your Home Personally." That continues to be our focus, just in a bit more of a serious way than before.
Gehman Design Remodeling
355 Main Street
Harleysville, PA 19438
(215) 513-0300
Photograph courtesy of Gehman Design Remodeling
Published (and copyrighted) in Suburban Life magazine, May 2020.