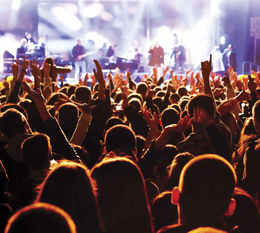 Stealing the Show
Suburban music venues give locals good reason to rock out close to home
In the last few weeks of 2010, local newspaper headlines lamented the abrupt closing of New Hope's storied yet struggling Bucks County Playhouse, a performing-arts venue whose stage once hosted the likes of Grace Kelly. A partnership of local enthusiasts and theater professionals has since assembled in an attempt to reopen the 71-year-old landmark.
Locals such as Montgomery County's Jeneane Brown fear that such troubles could await other suburban entertainment venues, namely the few remaining historic concert halls beyond the glare of Center City's bright lights. Brown and her college-professor husband support the local arts culture by regularly attending performances at the Keswick Theatre in Glenside and the Sellersville Theater in Sellersville—in 2010, they saw Evan Dando, formerly of the Lemonheads, and George Clinton & Parliament Funkadelic, among others—in addition to concert halls in the city.
"It's important to have theaters like this in the suburbs; it's important to have a choice," she says. "We just saw Yo-Yo Ma at the Kimmel Center, and a night at the Kimmel is going to be different than going to Sellersville. But you can see quality performances [at the local venues] without having to go very far, and it offers a nice alternative that isn't necessarily a lesser alternative."
Every big city has its share of notable live-music venues, from cavernous arenas to sticky-floored dive bars, but decent suburban venues for touring bands or folk-singing troubadours are much rarer finds. That's especially true in a time when many music venues—and the concert industry in general, for that matter—are struggling. Combined ticket sales for the biggest concert tours in North America during the first half of 2010 fell to their lowest point since 2005, according to Pollstar, a trade publication covering the worldwide concert industry.
The top 100 tours grossed $965.5 million during the first half of the year, a 17 percent slide from the year-ago period, and the lowest point since the $731 million tallied in the first half of 2005. Overpriced tickets, a persistently weak economy and an ever-widening array of entertainment options were the primary culprits in keeping music fans at home.
Philadelphia's suburban music theaters have been able to remain relevant and in the black by offering unique "programming," often customized to patrons' needs. For the most successful venues, an evolving business model includes much more than the ability to book top talent.
The historic Sellersville Theater, for example, has maintained a dedicated following of approximately 1,200 members for the past five years, according to proprietor William Quigley. Basic membership costs $94 per year and entitles each member to priority seating and other perks.
"Members make the difference between us being here and not being here," Quigley says.
The Sellersville Theater, which spent much of its life as a movie house, began hosting concerts in 2002 under Quigley's proprietorship. Quigley's background was mainly as a restaurateur before then; he's been running the Washington House restaurant, which is adjacent to the theater, since 1985 but immediately "realized the possibilities" when the theater became available in 2000. He sees some significant parallels between the two businesses.
"[Patrons] vote with their feet, so it's tremendously important the way we deal with people," he says. "You can fall down very quickly. … If you serve a steak of good quality, people will like it this year and the year afterwards. But in the music business, styles change quickly and can come and go, so you have to keep an eye on everything. You have to embrace new genres, all the while keeping the risk down in terms of losses.
"Every time you book a show, it's a risk," he continues. "Of course we can follow musical trends, but you can't predict how [a show] will do until you do it."
For Quigley, the key to consistently attracting nationally known talent (see sidebar) such as the Bacon Brothers, Paula Cole and Evan Dando comes from a "tremendously uncomplicated" approach that mirrors his approach to keeping restaurant and theater patrons happy.
"It's a matter of respect," Quigley says. "We say to the staff and the people who come in, 'Treat the performers as professionals.' We're people and they're people. We can have Roseanne Cash come in and do a soundcheck and then come into the dining room [of the Washington House] and not be bothered. That's pretty exciting, and the musicians really appreciate that."
It's not uncommon for a recording artist's career to blossom soon after playing at the Sellersville Theater, according to Quigley, not that the two events are necessarily linked: "We've had artists in that are just starting their career and, in the space of six months or a year, they'll go from playing a 300-seat venue to a 3,000-seat venue."
Getting Closer
In the art-rich community of New Hope, the restaurant/entertainment complex known as Havana New Hope has also become an East Coast destination for touring musicians and their fans. The venue hosts major acts from all genres—from jazz and country to classic rock and heavy metal, according to Dave Maida, talent buyer for Havana New Hope.
"What separates us from other theaters or venues is that we combine music and fine dining," he says of the establishment's Caribbean-inspired menu. "We're not going to get Bon Jovi here, but we still get high-status artists. ... Concert goers can see [musicians] in a small environment, without it being a cookie-cutter experience."
Havana New Hope offers three different concert "tiers," ranging from reserved sit-down gatherings of 140 to general-admission shows with limited seating and a capacity of 500; tickets cost anywhere from $20 to $49, depending on the show. For 2011, scheduled acts include Dave Mason, Jon Anderson of Yes fame and pop-metal band Skid Row.
Another reason local theaters have been able to thrive in a down economy comes from the ability to offer patrons an experience they might not get elsewhere. The Sellersville Theater, for example, has been hosting a "bluegrass jam" for nearly a quarter of a century, and also uses its restaurant ties to host events such as wine tastings and "View and Brew" events, which typically include a beer tasting and film screening. On February 14, the "View and Brew" will feature a showing of the Humphrey Bogart-Ingrid Bergman classic, "Casablanca."
"They are as much for fun as they are for profit," says Quigley. "Not everything we do is a matter of taking someone's money."
At Havana New Hope, patrons not only get some of the finest in food in Bucks County but also have an opportunity to determine exactly which musicians come through town, according to Maida, who has more than 30 years of experience in the music business: "We're bringing in acts [people] want to see. We're taking votes on Facebook, through our e-mail list and through people coming in through the venue. … From the end of March till December, we try to have music seven days a week, and this is high-quality entertainment."
The formula appears to be working. By closely tracking customer demographics, Havana New Hope has discovered that patrons come from as far away as Delaware and the remotest parts of the Lehigh Valley, as well as from Bucks and surrounding counties—including, of course, local music lovers such as Jeneane Brown.
"I want to make sure they're not going the way of the Bucks County Playhouse," she says. "I would hope [the local music venues] are thriving and not in danger like some others are. I know we'll keep going to concerts and help keep them alive."