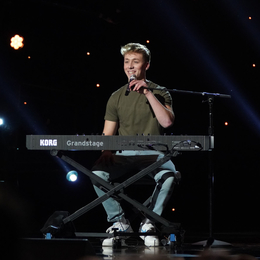 American Dreamer
Narberth's Louis Knight takes center stage on an unprecedented season of American Idol.
American Idol contestant Louis Knight had a panic attack at a particularly inopportune time -- during the show's Hollywood Week. The sleep-deprived 19-year-old woke up, started packing his suitcase, and told everyone around him, "I can't do this!"

He calmed down with support from his family, his manager, and the show's production team, and stepped up to the microphone. In doing so, he secured a spot in the competition's elite Top 7.

"Being able to handle it in the heat of the moment is going to stick with me for the rest of my life because it taught me so much," Knight says. "It taught me about perseverance. No one knows how to sail through a hurricane until you just do it."

The British-born singer-songwriter has been living with his family in Narberth for the past nine years. When heís not writing songs or performing, he can be found delivering pizza for Narberth Pizza. Given the exposure he has received on American Idol, Knight will likely soon trade in his delivery "hot bags" to become a full-time performer.

"The last delivery I made was to the Children's Hospital of Philadelphia," he says. "It was for the doctors, nurses, and staff at CHOP, which has a big place in my family because they helped save my sister's life. Todd Rash, the owner of Narberth Pizza, wanted to donate 20 pies to the workers on the front lines and asked me if I could do the delivery. And I said, 'Absolutely, I'd love to!'"

We spoke with Knight about his experience on American Idol (which he filmed at home because of the COVID-19 lockdown), his interest in using his music to address social issues, and his advice for anyone inspired to reach for the stars.

Q&A
What were your expectations when it came to auditioning and competing on American Idol?
Honestly, I had no idea that I could make it this far; I just knew I had to go for it. I've spent the last six months writing, recording, and putting out an EP (Small Victories), and my plan was to put a band together and start gigging as much as I possibly could around the Philadelphia area, and up and down the East Coast, and try to build from there.

Tell me about the support from your family and what it means to you.
My mom, Amanda, has always been a rock for me. She knew from a young age that I really liked singing, and she knew before I figured it out that it was my outlet. She was always encouraging me to get more into music and to try to start writing songs. There's no better feeling for me in the world than writing a song and then being able to perform it live for people. My family has lifted me up through my hardest moments. I think that especially doing Idol from home has made us even closer.

Talk about the highlights of the season.
One huge moment for me in terms of my personal growth took place during the last round of Hollywood Week. My roommate had just left the night before. And I had never experienced anxiety really badly, and I had gotten maybe four hours of sleep over the course of three days. I woke up in a panic attack for the first time. I was basically planning on leaving the show because I thought I couldn't handle it. So, being able to kind of see that moment through taught me so much. This is going to be a day thatís going to stick with me for the rest of my life.

For your first audition you played an original song called "Change," which you wrote for a friend who committed suicide. Do you hope to continue to highlight social problems in your music?
Music has such a power to heal. Writing "Change" was one of the best days of my life. Not only did it help me come to terms with the loss that I was dealing with, but also seeing that it's able to help other people that are struggling is so gratifying. From all over the world, on Instagram people have been messaging me saying that they're struggling with depression and that my song is helping them. I've also been working with the American Foundation for Suicide Prevention.

What have you learned about yourself as a result of American Idol, and also as a result of the coronavirus pandemic?
I learned what Iím capable of, and that anything is possible as long as you work hard. By working hard and persevering, you can accomplish anything. I think that along this journey there have been many times where it can be very easy to get swayed and lose yourself a little bit. There are going to be hard times. You've just got to persevere, and never sell yourself short.

Photography by Eric McCandless
Published (and copyrighted) in Suburban Life magazine, June 2020.