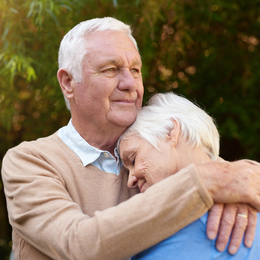 Bright Side
Positive thinking yields positive outcomes, especially as we grow older.
Considering the obstacles and challenges one faces in the course of a long life, "looking on the bright side" isn't always easy. A global pandemic comes to mind. Even so, a positive mindset has tremendous power -- and people can harness this power at any age.

"If you have a positive mindset, you have a much better opportunity for positive things to happen to you," says Steven Rosenberg, Ph.D., a psychologist who has a private practice in Elkins Park. "What I mean by that is that if you think positively, about positive outcomes, things naturally develop within you, and you start taking those small steppingstones toward creating a positive outcome for yourself."

If someone's goal is to maintain strength, balance, and good health in their 60s, 70s, and beyond, for example, he or she may take subconscious steps to achieve that goal: choosing to get enough sleep rather than stay up for one more episode of the latest Netflix series, making dietary decisions that may help them avoid diabetes and other serious health conditions, finding even the smallest ways to exercise and foster resiliency.

On the flip side, negative thinking can nurture potentially damaging behaviors. Turning the corner often comes through self-evaluation and accepting the fact that negative thinking may be stifling oneís happiness.

"If you're not satisfied with the way life is now, you have to sit down and say, 'Well, what did I do to get here?'" Dr. Rosenberg says. "'If I didnít save enough for retirement, why? What did I do wrong?' The answer most often is that they didnít prepare positively, and they didnít allow themselves enough risk to achieve financial success. It does take a little bit of confidence [to attain a positive mindset], but when you find it, life changes in a better way to every degree."

The roller coaster of human life abounds with blessings and tragedies alike. The death of a loved one or the loss of identity that comes from retiring from a fulfilling job can be difficult to overcome. Dr. Rosenberg suggests grieving these losses properly and then focusing on the joy -- "the good things" -- that those blessings brought to oneís life. He speaks from experience, having had to mourn close friends and a sibling who died far too soon.

"Always look at the positive side of what you did and what you had with other people," he says. "If you're feeling negative about leaving a job youíve had for 35 to 40 years, worried that you're losing your identity, look at the accolades you've earned and the goals you've achieved."

Some people require the intervention of a skilled therapist to master a positive mindset. Even at an age when someone might think he or she can no longer make substantive changes, they can learn to circumvent or undo negative thoughts and behaviors.

In other words, old dogs can learn new tricks.

"It's never too late to learn, and that's what therapy does -- it teaches you what you have not learned about yourself for all the years you have been around," Dr. Rosenberg says. "It's never too late to understand how you formed your personality and behavior patterns. You're never finished with your vitality years. You can move forward and do what you really want to do to be happy."

Published (and copyrighted) in Suburban Life magazine, June 2020.