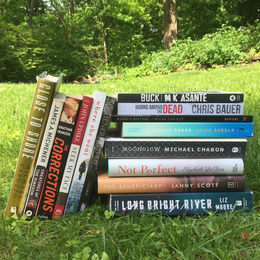 Start a New Chapter
Escape into these 35 must-read books inspired by the people, places, and cultures of the Philadelphia area.
For a lot of us, 2020 feels like a dark cloud we just cannot outrun.
Thankfully, we have books. Books may not have the power to solve the world's problems, but they can certainly put some distance between a reader and his or her troubles. Second only to a walk in the woods, a good book provides the best possible kind of escape, enabling us to view the world through someone elseís lens, even transporting us to distant lands and other points in history.

Philadelphia and its surroundings have inspired a number of literary heavyweights. From the late Pearl S. Buck, James A. Michener, and Jean Toomer, to contemporary authors such as Jonathan Maberry, Anna Quindlen, and Jennifer Weiner, these writers have brought the Philadelphia area to life on the page.

The 35 following books, many of which bear the names of authors with local roots, drew inspiration from the Philadelphia area's people, places, and cultures. Whether you prefer YA novels or memoirs, history or current events, these tomes can take you somewhere else when you need it most. You might disagree with the books on our list, and thatís all right. Surely you have favorites of your own -- and we hope you'll let us know what we're missing.

Track down these titles (or whatever's on your to-read list) at local independent bookstores throughout the area. Their owners and staff would appreciate the support considering the challenges of the past few months.

Ardrossan: The Last Great Estate on the Main Line
David Nelson Wren

As Bright As Heaven
Susan Meissner

The Beneficiary: Fortune, Misfortune, and the Story of My Father
Janny Scott

Blubber
Judy Blume

BUCK: A Memoir
M.K. Asante

Close to Shore: A True Story of Terror in an Age of Innocence
Michael Capuzzo

The Corrections
Jonathan Franzen

Creatures of the Kingdom: Stories of Animals and Nature
James A. Michener

The Dutch House
Ann Patchett

Every Fifteen Minutes
Lisa Scottoline

Green Grass Grace
Shawn McBride

Hell
Kathryn Davis

Hidden History of Bucks County
Jennifer Rogers

Hiding Among the Dead
Chris Bauer

The Imperfects
Amy Meyerson

If Sons, Then Heirs
Lorene Cary

In Her Shoes
Jennifer Weiner

Intermission: How Fervor, Friendships and Faith Took Me to the Second Act
Mindie Barnett

Knots in My Yo-Yo String
Jerry Spinelli

Lilli de Jong
Janet Benton

Long Bright River
Liz Moore

The Lovely Bones
Alice Sebold

Loving Day
Mat Johnson

Marley & Me: Life and Love with the Worldís Worst Dog
John Grogan

Michener and Me: A Memoir
Herman Silverman

Moonglow
Michael Chabon

Not Perfect
Elizabeth LaBan

The Philadelphia State Hospital at Byberry: A History of Misery and Medicine
J.P. Webster

The Removers: A Memoir
Andrew Meredith

Seek My Face
John Updike

The Silver Linings Playbook
Matthew Quick

Such a Fun Age
Kiley Reid

Unique Eats and Eateries of Philadelphia
Irene Levy Baker

Where She Went
Kelly Simmons

Wonderland: A Year in the Life of an American High School
Michael Bamberger

Published (and copyrighted) in Suburban Life magazine, June 2020.