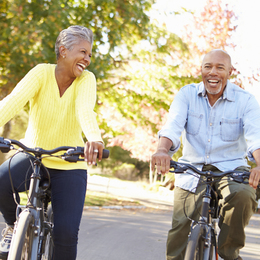 Better Together
Although life feels a little different as a result of COVID-19 precautions, life-plan communities throughout the area continue to safely enrich, inspire, and connect with residents.
Type the words retirement home and COVID-19 into an Internet search engine and it will produce a raft of grim headlines.

"It is a sad time in the news," says Sarah Jolles, executive director of sales and marketing for HumanGood, a nonprofit senior living provider that includes a family of life-plan communities across the country, including several in the Philadelphia suburbs.

While the novel coronavirus has ravaged a number of freestanding nursing homes, Jolles suggests there are significant differences between the hardest-hit facilities and the senior living communities commonly referred to as life-plan communities or continuing care retirement communities.

"In a life-plan community, people are living independently, the same way we're living - in self-quarantine," she says. "They're provided every possible safety precaution, including PPE and extra cleaning. If you need a higher level of care, which is why many people choose a life-plan community, you're going to be in an environment that is widely protected by the community itself."

Dunwoody Village in Newtown Square and Meadowood Senior Living in Worcester, for example, remain largely closed to outside visitors. Anyone who is permitted to visit the campus must submit to ample screening measures, including a temperature reading. Other communities throughout the area have adopted similar measures.

That's not to say life-plan communities, or their residents, have been unaffected by COVID-19. In fact, life feels much different at the moment. Gathering places such as dining rooms, pools, and exercise rooms have temporarily closed their doors. Meals are delivered to residents' doors. Socially distant exercise classes are being held in outdoor courtyards. Performances and other forms of entertainment are live streamed. Facemasks have become as part of a resident's daily wardrobe as shoes and socks whenever he or she ventures outside.

Even so, Jolles says she has been heartened by the way her organization's communities have come together, even while residents must stay apart. At the Mansion at Rosemont, for example, residents call their neighbors regularly to make sure everyone is all right — physically and emotionally. At Rydal Waters, another HumanGood community, a member of the staff dropped off margarita kits to residents on May 3, with the intention of hosting a Zoom-based Cinco de Mayo party two days later.

"At the same time, our residents are looking to get involved," Jolles adds. "They have reached out to the greater community to fulfill the brand promise of inspiring people to live their best lives possible."

Such forms of outreach, she believes, speak not only to the social nature of the human animal, but also to the strong sense of kinship among residents.

"When the residents started calling each other, that happened organically, and the organic stuff is a sign of the power of community — the sense of always feeling that there are people around," she adds. "Our residents may be in quarantine, but they understand what is right outside their door. They care for each other and understand that they are part of something."

Furthermore, life-plan communities have stepped up to provide additional services, often to limit residents' interaction with the outside world. The Mansion at Rosemont, for example, now offers to do grocery shopping for residents.

Although not ideal due to the threat of the pandemic, new residents have continued to move into locally based life-plan communities. Jolles credits the strength of the precautions undertaken and the assurances to protect people's comfort and safety.
As Pennsylvania counties prepare to enter the "green phase" of reopening, life-plan communities are taking a cautious approach. HumanGood's leadership team has held daily meetings since the pandemic began, according to Jolles. Those meetings are now turning toward how and when to safely re-open.

"We're right in the middle of that conversation now," she adds. "As we move forward, we'll ensure that all of our residents are safe."

Well Cared For
Philadelphia and its surrounding suburbs are home to many exceptional life-plan communities that offer comprehensive care for individuals of a certain age. Communities such as the ones listed below strive to enrich, engage, and inspire each resident.

Moving into one of these communities offers peace of mind for residents and their family members. In addition to independent living, many of these communities provide specialty healthcare services such as short-term care, memory care, and assisted living. In other words, residents will be well cared for if they experience any changes to their health.†

Acts Retirement Life Communities
Brittany Pointe Estates in Lansdale, Fort Washington Estates, Granite Farm Estates and Lima Estates in Media, Gwynedd Estates in Ambler, Normandy Farms Estates in Blue Bell, Southampton Estates, and Spring House Estates in Lower Gwynedd††
actsretirement.org

Arbour Square of Harleysville
Harleysville
arboursquare.com

Artis Senior Living
Huntingdon Valley, Princeton, N.J., and Yardley
artisseniorliving.com

Atria Senior Living
Atria Center City in Philadelphia, The Solana Doylestown in Warrington, and Atria Lafayette Hill
atriaseniorliving.com

The Attleboro Community
Langhorne
attleborocommunity.com

Brandywine Senior Living
Dresher Estates, Haverford Estates, Longwood in Kennett Square, and Upper Providence in Phoenixville
brandycare.com

Bryn Mawr Terrace
Bryn Mawr
brynmawrterrace.org

Chandler Hall
Newtown
ch.kendal.org

Cornwall Manor
Cornwall (Lebanon County)
cornwallmanor.org

Dunwoody Village
Newtown Square
dunwoody.org

Five Star Senior Living
Devon Senior Living, Exton Senior Living, Glen Mills Senior Living, and NewSeasons at New Britain in Chalfont
fivestarseniorliving.com

Friends Home & Village
Newtown
fhvpa.org

Garden Spot Village
gardenspotvillage.org
New Holland

HarborChase of Wilmington
Wilmington, Del.
harborchase.com

The Hearth at Drexel
Bala Cynwyd
thehearthatdrexel.org

Hershey's Mill
West Chester
hersheysmill55plus.com

The Hickman
West Chester
thehickman.org

HumanGood
The Mansion at Rosemont, Rydal Park and Rydal Waters in Jenkintown, and Spring Mill Pointe in Lafayette Hill
humangood.org

Lancashire Terrance
Lancaster
lancashireterrace.com

The Manor at York Town
Jamison
themanoratyorktown.org

Masonic Village at Lafayette Hill
Lafayette Hill
masonicvillages.org

Meadowood Senior Living
Worcester
meadowood.net

Pickering Manor
Newtown
pickeringmanor.org

Pine Run Retirement Community
Doylestown
pinerun.org

Pleasant View Communities
Manheim
pleasantviewcommunities.org

Priority Life Care
Symphony Manor of Feasterville and Independence Court of Quakertown
prioritylc.com

SageLife
Locations include Echo Lake in Malvern, Kyffin Grove in North Wales, Daylesford Crossing in Paoli, and Plush Mills in Wallingford.
sagelife.com

Symphony Square
Bala Cynwyd
milestoneretirement.com

Waverly Heights
Gladwyne
waverlyheightsltd.org

White Horse Village
Newtown Square
whitehorsevillage.org

Published (and copyrighted) in Suburban Life magazine, June 2020.