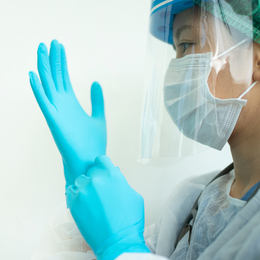 Do No Harm
As COVID-19 cases show signs of creeping higher, hospitals adopt stringent protocols to provide a safe environment for patients and staff.
Stephen Franklin, a 74-year-old retiree from Bucks County, likes to say he "got in under the wire."
He was preparing for outpatient surgery—a parathyroidectomy—at St. Mary Medical Center in Langhorne in mid-March, just as the swell of worrisome news about a highly contagious and potentially deadly virus became a ponderous wave poised to crash. He arrived at the hospital on a Monday morning, the same day nearby businesses and schools announced plans to temporarily shutter their doors. His surgery "went off without a hitch," he says, and was back home recovering later that day.
"Everything hit the fan a few days later," says Franklin, who asked not to use his real name. "I'm glad I had the surgery when I did, because things got pretty hairy almost immediately after."
In the days, weeks, and months since, U.S. medical providers of every size have had to deal with a healthcare crisis of an unprecedented scale: COVID-19, the novel coronavirus. They have had to recover and recalibrate. They have had to plan for the unplannable and ponder worst-case scenarios. And they have had to keep going, even in the face of increasingly dire news about the virus.
Their primary goal, above all others, throughout the crisis: to keep patients and staff safe.
Area hospitals and medical centers say they were well prepared for a surge in COVID-19 cases that never quite came, and they remain vigilant and adaptable as they continue to care for the sick. Patients appreciate these assurances, but—as implied by Franklin's "under the wire" comment—some suggest they intend to avoid medical facilities, barring a life-threatening situation.
Considering the testing, screening, and other precautions in place, Lawrence Brilliant, M.D., president of St. Mary Medical Center, has a message for individuals who are hesitant about seeking care: "It's safe to come back."
'Thoughtful and Precise'
As it became clear COVID-19 would become a serious problem in the United States, Einstein Medical Center Montgomery promptly put a plan in place to provide a safe environment for patients and staff. This included sourcing adequate personal protective equipment and universal masking, measures to screen every individual who steps foot on the hospital's East Norriton campus, and extensive cleaning protocols, as well as a reorganization of the flow in and out of the hospital to limit the number of patient-to-patient interactions.
"We spent quite a bit of time coming up with a thoughtful and precise reactivation plan," says Beth Duffy, president and chief operating officer for Einstein Montgomery. "We allowed for some ramp-up time in a respectful way. We did that at 50 percent capacity, and then 75 percent capacity, and now we are able to accommodate 100 percent of [patient] volume.
"It's incredibly important that people who need care to feel safe in seeking care," she continues. "We are—and I can say this with utmost confidence—able to provide that safe environment. Things are just a little different, like they are everywhere else."
To her point, Einstein Montgomery patients will notice some changes, including the aforementioned screening measures and PPE provisions. Likewise, the hospital has made increasing use of telemedicine for routine consultations and follow-ups; the technology has also helped the hospital conduct childbirth and breastfeeding classes, as well as foster a virtual chaplaincy program. Telemedicine has come into play in Einstein Montgomery's emergency department, too, by way of a pilot program designed to "save time and help us prioritize," as Duffy says. How it works: A patient arrives in the emergency department and receives an in-person assessment; he or she then would have a telehealth visit with a physician to determine appropriate lab work, follow-up care, etc.
Duffy credits the adaptability of Einstein Montgomery's "absolutely incredible" staff for the hospital's ability to effectively treat patients in the midst of a pandemic. At the same time, she acknowledges the challenges of having to contend with sickness and loss of life at a time when a patient's loved ones cannot be by his or her side, as well as near-constant change.
"We've been dealing with a tremendous amount of stress and unknowns," she says. "Every day, especially early on, it felt like we were learning something new, where we would have to tell the staff, 'We did this yesterday but now we're going to do something different and here's why.' The staff has asked a lot of great questions and provided some wonderful suggestions. There is no playbook for this."
Einstein Montgomery reported Montgomery County's first case of COVID-19 in early March. Through April and May, at the height of the pandemic's first wave, Einstein Montgomery cared for 40 to 50 patients per day who were either positive for COVID-19 or suspected to be positive based on their symptoms. By the start of July, the number had dropped to single digits, according to Duffy.
"We would love to get that number to zero, but we don't know when that's going to happen," she says. "The best way to get there is to have people continue to follow the rules: wear a mask, social distance, wash your hands."
'Good Processes'
Abington Hospital, also in Montgomery County, had its first COVID-10 case not long after Einstein Montgomery's. The hospital wasted no time in instituting a number of precautions to protect incoming patients and the surrounding community. This included opening a regional testing center within days of seeing the first case, according to Gerard M. Cleary, D.O., chief of staff and chief medical officer, senior vice president of Abington – Jefferson Health.
"We peaked at 210 cases on April 22, and we were utilizing 90 intensive-care beds at that time," he says. "Since the peak, we've seen a steady decline; we now have 20 to 25 patients per day. We have discharged over 1,000 patients [treated for COVID-19] safely back home. All Jefferson hospitals have had a low rate of employees testing positive. That's a testament to our good processes here."
Every member of Abington's medical staff wears a facemask and face shield, and all patients and support staff wear masks. Also, the hospital employs universal testing, meaning anyone coming to the hospital for a procedure or surgery receives a COVID-19 test and screening. Surgeries and procedures are postponed for anyone who tests positive for the virus.
"We have a very low incidence of COVID-19 in the hospital," Dr. Cleary says. "Only 7 percent of our work at the hospital involves COVID-19-positive patients. At the peak, it was 40 to 45 percent of our work, but we never stopped doing our complex care in stroke, heart attack, high-risk pregnancy, neurologic patients, and trauma. We never stopped any of those services."
Becoming a "pandemic-ready hospital" requires a tremendous amount of teamwork and operational planning, he suggests. The hospital's No. 1 goal throughout the pandemic: keeping patients safe and the workforce healthy.
"The fastest way to fail to meet the demands of the community in terms of the COVID-19 burden is to not have enough people to take care of the community," he adds. "We reorganized the hospital to expand our capacity, so capacity was above demand. That meant converting areas of the hospital to COVID-19 units and redeploying staff. As we doubled ICU staff, we had to make sure we had enough physicians, and we also had surgical intensivists and advanced-practice nurses working in the space, so we always had enough people to take care of the sickest patients."
While COVID-19 will remain a potential threat for the foreseeable future, area hospitals and other healthcare providers have committed to neutralizing the threat.
"We need to be ever-vigilant and understand that COVID-19 will be present in our community to some degree until we establish a vaccine," Dr. Cleary says. "It will be part of our world going forward, so the precautions in place will have to continue. … Keeping patients safe is our No. 1 principle, so we'll continue to do that and go from there."
Like all area hospitals, St. Mary Medical Center continues to pay close attention to incidence rates of COVID-19 in Bucks County and surrounding areas. Dr. Brilliant says signs pointed to a slow uptick in late June and early July.
"We have that in the backs of our minds," he says. "We're closely watching many different dashboards, including county, state, and national trends. We're getting guidance from the state and the Bucks County Department of Health. Patient safety is one of our utmost concerns here, and we will watch and adjust to make sure patients have a safe and quality experience."
There is a risk of exposure in a healthcare setting, just as there is going to a supermarket or picking up takeout from a restaurant. Regardless of the setting, Dr. Brilliant feels the need to reinforce "commonsense precautions," such as wearing a facemask and practicing social distancing.
"People should feel safe right now coming in for necessary care," he adds. "If you need a colonoscopy or mammography, get your tests. If you do a risk-benefit analysis, the benefit is much greater than the risk. Go to the ER if you have an emergency. See your physician if you have a need, but if you have a true emergency, call 911 or come to your local hospital."
Published (and copyrighted) in Suburban Life magazine, July 2020.