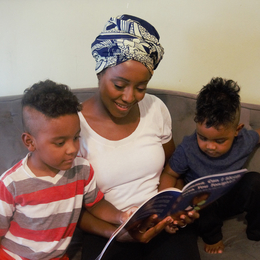 Where to Begin
With her new book, Jenny Delacruz aims to help parents and children cope with topsy-turvy times
When tragedies arise, parents often struggle to help their children make sense of the world around them. Jenny Delacruz would know. Her youngest son woke her early one April morning to express his fears about the COVID-19 pandemic. She turned the experience into a children's book, Momma, Can I Sleep with You Tonight? Helping Children Cope with the Impact of COVID-19.
"I feel like it's so needed, because parents are having a hard time talking to their children," she says. "They just don't know how to start. This book is to help children deal with change, and adults too, because every classic children's story is also for adults."

Originally from Brooklyn, Delacruz came to Philadelphia to complete a master's in counseling at Philadelphia Biblical University, now known as Cairn University. She has since been in practice for more than 10 years; her West Philadelphia practice serves individuals and couples struggling with career and relationship issues, as well as those dealing with grief, loss, and trauma.

While Delacruz wrote the book with COVID-19 in mind, she says the lessons it imparts pertain to any worrisome situation that children might have difficulty understanding. The book also includes a number of resources for parents and educators to help children deal with a rapidly changing, often confusing world.

Momma, Can I Sleep with You Tonight? is Delacruz's second book. Her first, Fridays with Ms. Mélange: Haiti, explores the tumultuous history of Haiti—her parents' home country—in ways that promote emotional intelligence, critical thinking, and diversity. (Danko Herrera illustrated both books.) She's now working on a guide for parents and educators, called How Was Your Summer? Fostering Critical Conversations with Students Post-COVID and BLM, which she expects to publish on
her website later this summer.
We spoke with Delacruz about her new book, her experiences navigating the pandemic as the mother of two young sons, and why adults need comfort during stressful times as much as children.
Q&A
How has dealing with the pandemic been for you and your family?
To be honest, we're taking it day by day. It's been challenging, and the book was created out of that challenge. On April 5, at 4 a.m., my youngest son woke me up, talking about the big fears he had about the pandemic. He shares everything he has to share, and then goes back to sleep. I'm left there thinking about what we talked about, and I did everything I tell my clients not to do: I picked up my phone. All these things were coming to me. … By the time the sun came up, I was done [writing the first draft of the book]. I read it to my husband, who works at a hospital, and he said, "You have to do this."
When your son came to you to let you know he was scared, how did you respond?
I was really just listening. I validated his feelings, echoing him and telling him, "I hear you." That can be really powerful. I also wanted to reframe his experiences. When a child is saying, "Everyone is wearing a mask, and that's scary because I can't see if they're smiling," you have to encourage them and let them know the same friendly person is still behind the mask. … Children are also hearing more sirens right now, especially if those children live in the inner city. Instead of them being afraid of the siren, you reframe that experience by letting them know that a siren means people are on the way to help someone who needs it.
You wrote this book to help children. Looking around the world, it seems it's been equally difficult for a lot of adults to cope with current events. What lessons can adults take from the book?
This is a very frustrating time, and a lot of children and adults dealing with anger. I say it's important to express anger appropriately. A great way for adults to do that is through therapy. I'm a counselor, and I get therapy myself, because I need to heal, too. These are radical times, and radical times call for radical self-care. Make sure to connect with others, because it's so easy to be isolated right now. In my community group, we do a phone tree, where everyone gets checked on. I love that concept, adopting a system to check on people, for their mental health as much as for their physical health.
Published (and copyrighted) in Suburban Life magazine, July 2020.