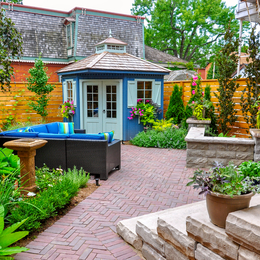 Close to Home
With most of us spending more time at home than ever before, interest in home offices, game rooms, and backyard sanctuaries booms.
It's been a strange summer, to say the least.
Vacationers may not feel comfortable boarding planes or traveling long distances on the road. Summer camps are mostly off limits. Many of our favorite haunts remain either closed or under social-distancing restrictions because of the lingering COVID-19 pandemic.
In other words, most of us are spending more time at home. As our eyes wander over the places and spaces we hold most dear, many of us are seeing a few chinks in the armor—things we would like to improve. As a result, many of us are choosing to invest in our homes and surrounding properties to help these spaces achieve their maximum potential, and even drive up the home's value in the process.
Kitchen and bathroom remodels remain hugely popular, yet remodelers are seeing renewed demand in another part of the home. Many homeowners are reimagining underused spaces—basements, attics, and spare bedrooms, for example—as home offices, according to Dennis Gehman, a Master Certified Remodeler and the owner of Gehman Design Remodeling in Harleysville.
It's not hard to understand why. A number of employers have signaled that they do not intend to bring their work forces back into the office until autumn at the earliest, if at all. A devoted home office may add to one's comfort and even help to spur workplace productivity, offering privacy for Zoom meetings, conference calls, and projects that require focus. It might help if the home office is far removed from the distractions of fellow family members and pets, as well as the lure of household chores. After all, there's only so much time you can spend working at the kitchen table or the couch before your professional life starts bleeding into your personal life.
Aside from having a devoted place to work comfortably at home, homeowners also want to get more enjoyment out of their living spaces. Have you considered remaking the basement into an entertainment mecca, complete with a big-screen 4K TV and theater seating, or perhaps classic games such as a pool table, shuffleboard, or your favorite arcade-style video game? Have you thought about adding a hot tub on a covered patio as part of your efforts to shape your outdoor living space into a backyard oasis?
Likewise, some homeowners are looking to the underused shed or pool house, or even seeing a barren patch of dirt or grass, and envisioning a so-called "she shed," surrounded by lush gardens, a fire pit, and plush chairs for socializing. For those who are unfamiliar with the term, a she shed is much like a "man cave," where a woman—hence the name—can partake in painting, reading/writing, or yoga, among other forms of creative relaxation, to take her mind off the world's many ills in a well-styled space she can call her own.
Thankfully, home remodelers have returned to job sites after a brief delay caused by the COVID-19-fueled shutdown. Homeowners can expect some significant changes from work crews if they hire a remodeler for an upcoming project: fewer people on the job site, most likely, all of them wearing facemasks and washing their hands regularly, and communication limited to cellphone calls or conversations held at a comfortable distance.
"We're also going to have big posters at each project site, letting people know that while we're there doing the work, that we're being safe, and that we're asking them to do the same," Gehman says. "Some of the areas will be temporarily taped off, and usually we're doing that only to prevent dirt or dust from entering other areas of the house. We're also asking the client to not enter the area where we're working while we're working, just to keep up with social distancing. Maybe that means we'll have to talk to them through a plastic dust wall or even phone them from two rooms away; they can always come in and look after we've gone."
More than half of homeowners who were in the midst of a home renovation or design project when the pandemic was declared on March 11, were able to continue with their renovations, according to a Houzz survey of nearly 1,000 homeowners. In light of increasing demand, remodelers suggest they're still playing a bit of catch-up, but delays may run a few weeks rather than months.
Remodelers' advice: Even if you're not quite ready to "jump in the pool," start vetting prospective candidates now. Chances are the preliminary process will look and feel a little different, too, with the planning and design stages being conducted virtually—in the comfort of your own home—rather than in a nearby showroom.
Published (and copyrighted) in Suburban Life magazine, July 2020.