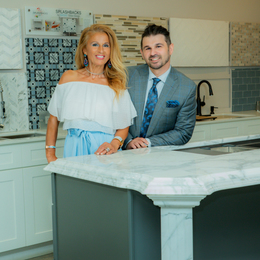 Strong Under Pressure
Colonial Marble & Granite makes unprecedented investments to satisfy rising demand in an unprecedented time.
Just as granite and other natural stones have stood the test of time—weathered the storms and remained rock solid for thousands and thousands of years—it seems fitting that the leading provider of stone materials in the tri-state area, Colonial Marble & Granite, is doing just the same during these unprecedented times. The coronavirus pandemic has taken a toll on many businesses and changed life as we know it in many ways. But Colonial is determined to stand strong for its customers—and its people—even in light of these challenges.
Of course, whereas natural stone is known for its durability and unchanging nature, it has been Colonial's ability to swiftly adapt to changes that has helped the company remain steadfast in the face of so much uncertainty. Nikos Papadopoulos, president of Colonial Marble & Granite, says that the pandemic has been eye-opening and sparked changes to the company's culture and safety protocols—some of which will remain in place indefinitely.
"Our eyes have been opened in terms of ways that we could adapt our cleanliness and our safety so that both our customers and our team members feel safe and comfortable here," Papadopoulos says. "We recognize that visiting the showroom is an important part of the home-renovation experience so we're going above and beyond when it comes to cleaning. That is ultimately for everyone's benefit."
One of the big changes that Colonial has implemented has been to outsource the cleaning to a company that caters specifically to disinfecting. Though such precautions are not required by law, Papadopoulos says the company is taking extra safeguards wherever it can. Plexiglas shields on sales stations have been installed, hand-sanitizing stations have been placed throughout all of the buildings, and there is also an increased level of internal cleaning in addition to the regular disinfecting. Of course, right now, masks are also required when visiting the showroom.
There's nothing quite like a visit to Colonial's King of Prussia showroom, which features more than 5,000 slabs in excess of 500 different colors. Papadopoulos says the pandemic has also opened the company's eyes to the fact that the virtual experience can initiate and even strongly support the renovation process from home. Fortunately, Colonial had already introduced the Kitchen and/or Bathroom Visualizer tools in which customers can build their new space virtually using a laptop or desktop computer. This tool allows homeowners to see how their space can come together, what materials might work best, and even receive a price quote. Papadopoulos says that these tools have been invaluable during a brief shutdown caused by the pandemic.
"Renovating is such a visual process and these tools can help a customer to actually put themselves in their new kitchen or their new bath and look at different color tones and variances and start to narrow their choices," he adds. "What that meant is that customers were still able to keep moving forward with their projects, even during the shutdown. And when they did come into our showrooms, they had already narrowed their choices. They were less overwhelmed and ultimately had to spend less time in person looking at all the options."
No Slowing Down
With people spending more time in their homes than ever before, the demand for forward movement in home renovations remains strong. Papadopoulos says that Colonial is doing everything it can to ensure that team members and customers remain safe as these projects forge ahead. That has also meant doing everything they can to protect the installation teams.
"Our installation crews have disinfectant wipes, masks, booties, and are practicing social distancing," Papadopoulos says. "As installers enter our customers' homes, we know that safety protocols are less in our control but we're doing everything in our ability to keep our team as safe in the field as they are here in the office."
And there's no question that the projects are coming in rapidly. As quarantine lingered on, and more folks turned home spaces into work-from-home spaces, many have been inspired to complete upgrades.
In terms of what's trending for those renovation projects, Papadopoulos says that whites and grays remain hot right now. But countertop color choices always come down to a matter of personal preference.
In terms of material, quartz—which Papadopoulos says is nonporous, doesn't need sealing, and doesn't stain—is getting a lot of buzz. But given the fact that Colonial has more than 700 natural stone selections to choose from in house with thousands and thousands of slabs (each with its own unique variations), there's certainly something for everyone. This even includes incredibly unique materials such as semiprecious stone countertops made from semiprecious gems like amethyst, rose quartz, mother of pearl, and blue agate.
"These are slabs that you can't find anywhere else," Papadopoulos says. "Walking through these selections is like walking through a museum of natural art. This is nature's beauty and when you step inside our showroom, you'll experience slabs you've never experienced before. That makes it very exciting for the customer to have it all under one roof."
Colonial has no intention of slowing down as it works to accommodate increasing demand. It's why the company recently invested millions into the fabrication side of the business. Papadopoulos says it's all in an effort to ensure that the most precise fabrication is producing the finished product customers dream about.
"We're using robotics to ensure we have the best technology available—and that the product we're coming out with is above and beyond what other fabricators are producing," he adds. "We're investing in new technology and adding new machines because we want to keep improving and moving our business into the future. In the end, it comes down to us being the best that we can be for our team and our customers."
Colonial Marble & Granite
475 S. Henderson Road
King of Prussia, Pa.
(610) 994-2222
768 Corporate Circle
New Cumberland, Pa.
(717) 774-2110
2000 Washington Ave.
Philadelphia, Pa.
(215) 732-7800
240 S. DuPont Highway
New Castle, Del.
(302) 947-3000
Photograph by Jody Robinson
Published (and copyrighted) in Suburban Life magazine, October 2020.