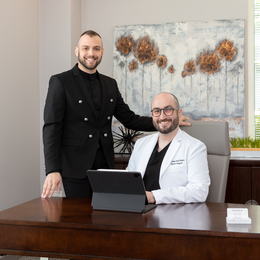 Cut from the Same Cloth
The partnership between Dr. John-Paul Regan and Christopher Palu brings new levels of artistry and service to Modern Aesthetic Plastic Surgery.
Christopher Palu and John-Paul Regan, D.O., met face to face for the first time in July 2015. They forged an immediate connection.
"We had an instant spark between us, and a great conversation from the very beginning," Palu recalls of their introduction, in New York's Central Park. "As we kept talking, we discovered that we both had the same drive to succeed and saw a lot of determination in each other, which is very attractive. We were very different, in that we complemented each other, but we also had a lot in common. We got two-for-one martinis at the bar, and the rest is history."
They have since become inseparable, partners in every sense of the word. In fact, each is intimately involved in the other's career—Dr. Regan, a plastic and reconstructive surgeon with Modern Aesthetic Plastic Surgery, which has offices in Newtown and King of Prussia; and Palu, a designer whose already bright star continues to rise in the world of New York fashion.

Palu's name may ring a bell, particularly for fans of the Bravo network's hit show Project Runway. He starred in the show's 10th season and then returned to the spotlight for Season Three of Project Runway All Stars. A graduate of Fashion Institute of Technology, Palu has worked alongside some of fashion's most iconic designers. He has since established his own brand, Christopher Palu New York, designing high-end contemporary fashions for "the cosmopolitan woman."
Palu says he would not have been able to succeed in this venture without the ideas, support, and artistic eye of his partner, Dr. Regan.
"John-Paul is a fashion designer without being a fashion designer," Palu says. "I might show him a sketch of a garment, and he'll see something that I might not, and that starts us off on a whole other collaboration. His perspective is priceless."
Dr. Regan was by Palu's side during the designer's first interlude with New York Fashion Week—an invigorating yet hugely demanding undertaking, to say the least—"even though he had a full-time job and was on call, working 24-hour shifts," Palu recalls.
"That's where I got my first investor, and things have taken off from there," he adds. "John-Paul helped me launch my brand and has helped me with every collection. He also helped me with taxes, legality, paperwork—things a creative would have no idea where to start—so I was able to focus on the designing and put my heart into everything I wanted to see."
Now Palu is returning the favor, by helping Dr. Regan grow his plastic surgery practice. Dr. Regan joined Modern Aesthetic Plastic Surgery earlier this year, brought on by the practice's founder, the accomplished plastic surgeon Robert Skalicky, D.O. Dr. Regan specializes in all areas of aesthetic surgery, from face-lifts and eyelid surgery, to breast augmentation and mommy makeovers. He's particularly interested in facial reconstruction and rejuvenation procedures, such as rhinoplasty, where even the smallest details can make a dramatic difference. Another area of specialty: breast reconstruction for women whose lives have been impacted by breast cancer.
"In the medical world, we're taught medicine, but the business of it is something we have to pick up over time," says Dr. Regan. "I needed that extra step to push me into being the plastic surgeon I want to be, and Christopher has given me that push. When you're looking for someone to be a good business partner, there's no better person to have on your team than your significant other. No one will want to build my team more than someone who is already on my team."
In an official capacity, Palu will serve as Dr. Regan's patient care coordinator. In this role, he will serve as a direct intermediary between Dr. Regan and his patients—scheduling appointments, answering questions about care, and otherwise making sure they are prepared for any procedures they may be considering. Job title aside, Palu says he's happy to help his partner in any way he can.
Dr. Regan believes Palu adds something special, something indefinable, to the mix.
"When Christopher walks into the room, he's a sparkling star," he adds. "His presence and bright personality naturally demand attention. He's the perfect complement to me, and that's why we're so good together. We bring each other to the next level."
Lining Up
Although their lines of work may seem vastly different on the surface, Dr. Regan and Palu see a great deal of symmetry between their respective vocations.
"I like to say Christopher is a tailor of clothes, and I'm a tailor of the body," Dr. Regan says. "Both require a lot of artistry, and there are even some similarities in terms of getting certain pieces of the puzzle to fit together. Creating a dart in fabric is an example; in our field, that's like taking out a dog ear."
Their enterprises line up in other ways, too. Both gentlemen have bold expansion plans. At the moment Palu sells custom fashions only online, but he intends to open a storefront in New York within the next two to five years. Besides specially made custom designs, he envisions a day when he is also able to offer ready-to-wear fashions for women who wish to come in and buy off the rack.
"That's my ultimate dream—to have something for everyone," he says. "I want to design for every woman. I'm also really supportive of keeping things local, where the clothes are made in-house with a garment maker. That way we're keeping jobs in New York City rather than shipping them far away."
Dr. Regan's growth-oriented mindset sees him and Dr. Skalicky building an expansive surgical practice with multiple locations, from Philadelphia to New York. His dream practice will encompass everything from general plastic surgery and reconstructive surgery to hand surgery and pediatric plastic surgery, as well as nonsurgical aesthetic services.
"I want to cater to the masses, and so does John-Paul," Palu says. "This is a partnership, and we're both in each other's corner. I needed him when I started my business and he rose to the occasion. I'm doing the same for him now. We'll both need each other in order to get to the next level."
Dr. Regan agrees. He expects their bond to guide him as he builds his practice in the Philadelphia area and far beyond.
"We're a team, and we help each other get through life," he says. "Just as Christopher and I have built a relationship, we're looking to develop relationships with patients. What we're really looking to do is build a community. Without a sense of togetherness and a feeling of community, society fails."
Modern Aesthetic Plastic Surgery
Instagram: @reganplasticsurgery
104 Pheasant Run
Newtown, Pa.
700 S. Henderson Road, Suite 230
King of Prussia, Pa.
For more information on Christopher Palu New York, visit christopherpalunewyork.com or @christopherpalunewyork on Instagram.
Photograph by Nina Lea Photography

Published (and copyrighted) in Suburban Life magazine, October 2020.